SMTP Inc. (SMTP) is making major changes and management is aligned with public shareholders
In August of 2013, the company hired a new CEO, Jon Strimling who has the right background and skill set to grow the business
In the first quarter of 2014, the company up-listed to the NASDAQ and raised $11.5M in a secondary offering
The capital raised will allow the company to make bolt on, accretive acquisitions to expand the platform, accelerate growth, and create value for shareholders
The chairman owns a significant stake, 53% of shares outstanding, and does not take any cash compensation other than immaterial expense reimbursements. The CEO is also geared to the equity and takes a modest 180k salary. His 298,690 options are struck at $5. Their interests are clearly aligned with shareholders
What the Acronym and the company name SMTP stands for
SMTP is an email industry acronym that stands for Simple Mail Transfer Protocol, which is the standard by which email is sent worldwide. The company does not own that protocol, however it has done a tremendous job over the past 10 years leveraging its brand to position itself to companies who search for SMTP-related services online. This has led to efficient and successful hits for online searches of its services with limited sales and marketing investments. However, the company is now taking a robust marketing approach to drive additional growth.
What SMTP does for a living
SMTP is a provider of cloud-based email delivery services for companies in over 130 countries.
While most people can easily send individual messages that flow freely through SPAM filters, the risks of non-delivery are much higher for high volume senders. To protect its users, Internet Service Providers (ISPs) have been forced to tighten filters over time resulting in billions of legitimate emails never reaching their intended recipients. It is my view that ISPs will continue to tighten filters making SMTP services more valuable going forward.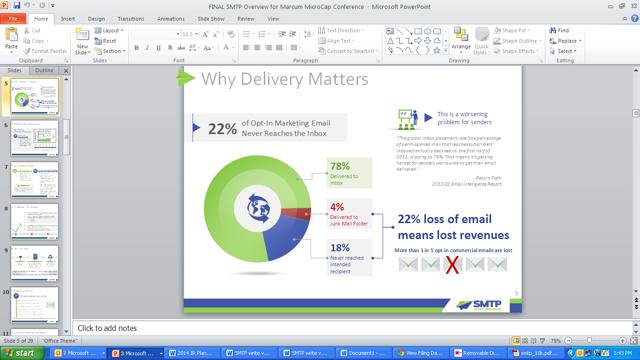 Source: SMTP Investor Presentation (May 2014)
SMTP provides customers with the ability to increase the deliverability of email with less time, cost and complexity, which improves the effectiveness of their email marketing and drives revenue growth.
SMTP operates using a subscription-based recurring revenue model. Customers pay a monthly fee for the delivery services that are provided, up to a set quota, and rely on SMTP for improved inbox delivery and for 24x7 customer support.
Approximately 50% of SMTP's revenues are derived in the United States, with the balance split between Europe, Asia and the rest of the world.
Brief History
SMTP went public through a reverse merger in 2012. At that time, the company was being run by its Chairman, Semyon Dukach, who was and is the company's largest shareholder. Mr. Dukach is an active angel investor and was one of the founding members and team leaders of the MIT BlackJack Team, which was made famous from Ben Mezrich's book Bringing Down the House. SMTP is his largest holding.
Mr. Dukach ran SMTP as an active Chairman without a dedicated CEO and only two sales professionals until August 2013. For almost a decade, SMTP leveraged its brand name and sales were largely driven by leads generated via the SMTP.com website. Over 370,000 unique visitors visited SMTP's website with minimal investments in sales and marketing. The company's name and web address has been a cornerstone of the company's historic profitable growth and drove 3 consecutive years of +50% growth.
That annual growth tapered off to 25% in 2012 and ~8% in 2013. I attribute the drop off in growth to the size they had reached without a dedicated CEO or a robust marketing plan, as well as increased competition and a more competitive market environment. In addition, many potential customers also want email creation services for example along with sending. SMTP is presently scouring for small acquisitions to add complementary services. Adding services is critical to a re-acceleration of growth.
| | | | | | | |
| --- | --- | --- | --- | --- | --- | --- |
| Figures in '000s | 2008 | 2009 | 2010 | 2011 | 2012 | 2013 |
| Net Revenue | $805 | $1,549 | $2,736 | $4,279 | $5,354 | $5,754 |
| Gross Profit | $628 | $1,131 | $2,097 | $3,456 | $4,272 | $4,705 |
| Gross Margin | 78% | 73% | 77% | 81% | 80% | 82% |
| Operating Income | ($196) | $109 | $742 | $1,576 | $1,714 | $1,941 |
| Operating Margin | -24% | 7% | 27% | 37% | 32% | 34% |
The Business of Email
The email market is highly fragmented, with numerous players providing a variety of different services and functions.
SMTP is focused on the area of delivery, which is the largest and fastest growing segment of the $2B email marketing industry. The delivery portion of the email market is expected to grow 10% annually reaching $1B by 2016 according to Forrester Research.
SMTP has a market share of approximately 1% of the email delivery market. Every 1% gain in share more than doubles current revenues.
Why customers pay SMTP and other firms to send their emails for them
Industry data collected by Return Path, an email intelligence firm, indicates that ~22% of opt-in marketing emails never arrive at the intended recipient's inbox as spam and ISP filters often inadvertently block messages that are sent in high-volume because the sender does not have a track record or the know how to properly navigate the email ecosystem. SMTP assists its clients to improve their delivery rates through its robust technical infrastructure and extensive knowledge of international email rules and regulations.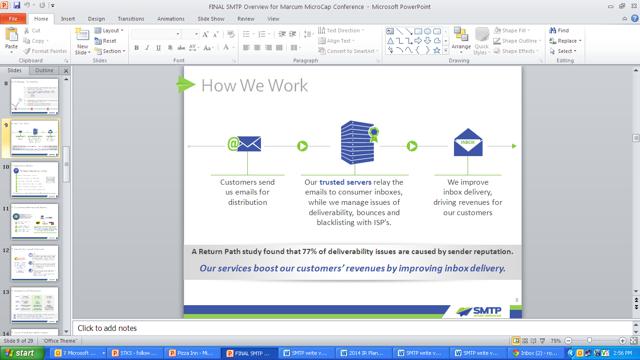 Source: SMTP Investor Presentation (May 2014)
Email continues to be an important and growing marketing function for businesses globally
The New York Times recently wrote on this topic. The article highlights how email marketing and more specifically email newsletters are not only still around, but an effective tool to drive sales.
It is also worthwhile to point out that because of high volumes and high levels of automation; the email delivery business is highly scalable and highly profitable especially when the corporate culture, as driven from the top at SMTP, is to be highly effective at the lowest possible cost.
SMTP's margins are significantly higher than other public companies that operate in this space and compare favorably to Constant Contact (NASDAQ:CTCT) and others as a result of the large volumes of emails that SMTP sends on behalf of their clients against a lean but efficient and customer focused corporate structure. SMTP's net margins in Q1 2014 were 22% compared to Constant Contact's 3%. While Constant Contact has more functionality on its platform, it has smaller margins because it sends lower volume emails and has high customer acquisition cost.

Source: SMTP Investor Presentation (May 2014)
SMTP's offering provides a critical need to the market and because it drives revenues for its clients, it is a value added necessary service.
Overall, the email market is a large market, which can be segmented in a variety of ways. While there is significant overlap in services, SMTP's competitors are typically focused in one of three areas: marketing email creation, marketing email delivery or transactional email delivery.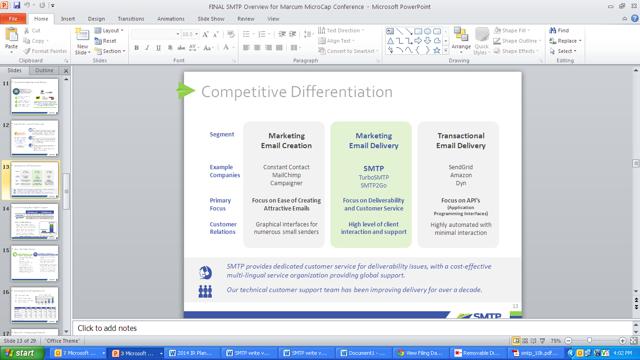 Source: SMTP Investor Presentation (May 2014)
Companies like Constant Contact and MailChimp are well-known brands best known for their tools for marketing email creation. They have a large following in the small business markets, where customers are focused on quickly and easily creating email campaigns, such as newsletters and promotions. The integrated services offered by these firms allow for campaign creation, management, analysis and delivery all in one platform. But typically, the companies spend heavily on sales and marketing to effectively reach large numbers of small business customers.
SMTP does not currently offer customers additional services or any of the bells and whistles one might find with the brands mentioned above. SMTP's new CEO has indicated that there are accretive opportunities to expand its platform, increase its TAM and accelerate future growth through bolt on acquisitions. They now have an $11 mm war chest via their secondary priced 1/30/14. I would like to see them use the cash to accomplish this goal.
New Management & Strategy
In August 2013, the company hired Jon Strimling, a CEO with a passion for email marketing and a track record of strong operational execution. He has 20 years of experience as an executive and entrepreneur. Most recently, Strimling was the CEO of WoodPellets.com, a private online retailer that used cloud based email services, to drive growth. In his 2 years as CEO of WoodPellets.com, Strimling achieved nearly 400% growth each year and positioned the company as one of the world's fastest-growing e-retailers.
Since joining SMTP, Strimling has made a number of strategic hires and doubled the Sales & Marketing team. He has worked to create the necessary backend systems to more effectively manage customer acquisition efforts, monitor ROI and manage churn to maximize profitability.
He is localizing SMTP's website to make it more conducive and welcome to potential international customers as they will be able to read about the company in their native tongue. I feel this simple step is likely to accelerate international growth. For a company that has 50% of its business overseas that relies on web traffic to its homepage it seems like this is an initiative that was probably long overdue.
Jon has also outlined a strategy to rejuvenate growth and stated publicly that the company is looking to acquire accretive businesses that can bolt on to SMTP's existing platform. To take advantage of potential M&A opportunities, the company raised $11.5M in a secondary offering in February of this year and up-listed to the NASDAQ to provide capital and an effective stock currency for M&A.
At a recent conference Jon Strimling stated: "We believe acquisitions are a way to both broaden our product and service offering and gain access to new channels, new customers, and to bolt on earnings which are accretive to investors." SMTP is actively looking to make acquisitions that are strategically, operationally and financially accretive.
According to the company's most recent investor presentation, SMTP has identified over 100 companies in related markets, with nearly half of the companies falling in an appropriate scale range. They believe that many of these companies are orphaned and that there are few, if any, competitive bidders looking to buy them.
M&A is a critical driver of value here for investors
I believe they can use their cash to buy complementary and synergistic companies at reasonable multiples. The chairman has a long track record of being frugal in all areas and the CEO while focused on growth, is aligned. Things can get very interesting for equity if they can add revenues in this manner as accretion can be significant. This is before any multiple expansion that I think the shares can enjoy given they trade at 3 x revenues without any attention on them at all!
We get paid to wait here
SMTP has paid a quarterly cash dividend for the past eight consecutive quarters dating back to April 2012 with a current dividend yield of almost 8%. It has increased its dividend payments 4 times since it implemented its dividend policy and currently pays out $0.48 a share each year. The CEO has consistently stated his intention to continue paying a dividend because it differentiates the company as a profitable microcap stock. The last quarterly distribution of $0.12 per share was made on May 30, 2014 and I expect the company to announce its next quarterly distribution in the near future. SMTP is the chairman's largest personal holding and is incentivized to maximize value via dividend and capital appreciation as he does not draw salary.
Valuation
SMTP has an impressive business model and generates significant cash, which is currently paid out via the dividend. However, I do not feel this is a value stock. They have a long track record of growth. They have raised money to expand the platform and drive growth through expanded marketing and sales efforts and M&A. They currently hold less than 1% share of the fast growing email send segment. This is a growth stock.
Also, while management has indicated they would like to continue paying the dividend, they will reduce or suspend it, if highest and best use for cash flow is reinvestment in the business for growth.
I feel the market will use EV / Sales here. Since Responsys was taken out by Oracle for 8 x revenues at the end of last year, SMTP's only pure public comp is Constant Contact. CTCT trades for 3 x trailing, 2.75 x forward revenues. SMTP currently trades for 3.2 x ttm revenues and 2.6 x the $7.2 mm in revenues that I think they can do in 2015.
The fact that SMTP has profitably grown sales by effectively doing nothing is significant for two reasons: (1) it means that there are significant levers it can pull to dramatically grow sales and (2) it's a testament to the quality of its product that it can grow the top line with minimal customer acquisition costs in a competitive environment.
They are now poised to make accretive synergistic acquisitions to go along with a professional marketing approach to do a lot more business in the huge and fast growing email marketing segment. Oracle, Salesforce.com, Adobe, SAP and others have shown they care a lot about this area and I feel are likely to continue to make acquisitions
SMTP shares have carried 3 x revenues with no one hearing about them. Given the above thinking and their highly scalable and profitable business model, I believe the shares can trade at 3.5 to 4 x revenues. This gets us to a $8.25 to $9.25 stock price in a year. However, things get very interesting to me when I model in acquisitions. If they can buy small complementary businesses for reasonable multiples, then the shares can appreciate more rapidly and to a higher level. That could make for a very exciting stock.
A note about liquidity
The shares currently trade very thin. It is a testament to the quality of the company that they issued stock in January and the shares did not go down despite a difficult period since for small cap.
Management is committed to driving increased liquidity through stepped up investor relations efforts. SMTP hired KCSA in May of this year to lead a new strategic IR program. It is interesting to me that KCSA took on a company of this small a market cap. So far, the company has revamped its investor website, presented at its first institutional conference (Marcum Microcap in May), and indicated they will begin hosting quarterly earnings calls. Given how interesting I feel this story is, and the importance of the segment in which they operate, I feel it is reasonable to assume they will pick up sell side coverage. The company was also included in the latest June 2014 reconstitution of the Russell MicroCap index.
In closing
SMTP is a currently below the radar micro-cap with a track record of profitable growth that did a 1.84 mm share secondary in January of this year and up-listed to NASDAQ. The company was founded and is chaired by a brilliant entrepreneur and has a new dynamic CEO whose interests are clearly aligned with public shareholders. The new CEO has embarked on a clearly defined growth strategy that I believe is both logical and achievable. The business model is highly scalable and set to show wonderful leverage to increased revenues. Strict cost management is part of the company's DNA, which shows in their 22% net margins
Disclosure: The author is long SMTP. The author wrote this article themselves, and it expresses their own opinions. The author is not receiving compensation for it. The author has no business relationship with any company whose stock is mentioned in this article.
Editor's Note: This article covers one or more stocks trading at less than $1 per share and/or with less than a $100 million market cap. Please be aware of the risks associated with these stocks.