As one of the major names in the quick-service restaurant sector gets set to report their quarterly results later this week, I wanted to take a closer look and share my thoughts on what needs to happen in order for Dunkin' Brands (NASDAQ:DNKN) to meet and/or surpass analysts' expectations.
Company Overview
Headquartered in Canton, Massachusetts, Dunkin' Brands along with its subsidiaries, owns, operates, and franchises quick service restaurants under the Dunkin' Donuts and Baskin-Robbins brands worldwide. The company operates in four segments: Dunkin' Donuts U.S., Dunkin' Donuts International, Baskin-Robbins International, and Baskin-Robbins U.S. Its restaurants offer hot and cold coffee, donuts, bagels, muffins and sandwiches, hard-serve ice cream, frozen beverages, baked goods, and other products.
Recent Trend Behavior
On Tuesday, shares of DNKN, which currently possess a market cap of $4.65 billion, a forward P/E ratio of 20.85, and a dividend yield of 2.10% ($0.92), settled at a price of $43.74/share. Based on a closing price of $43.74/share, shares of DNKN are trading 2.92% below their 20-day simple moving average, 2.54% below their 50-day simple moving average, and 6.98% below their 200-day simple moving average.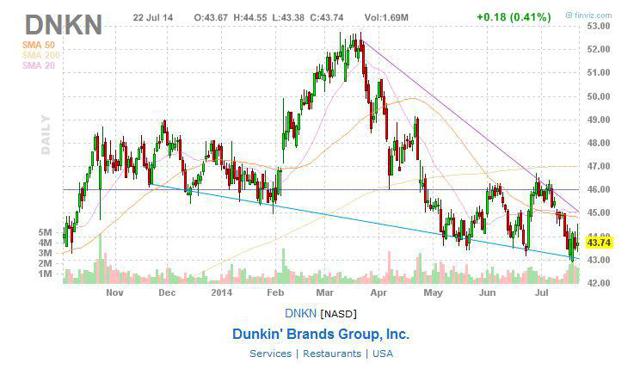 Although these numbers indicate a short-to-long term downtrend for the stock, which generally translates into a selling mode for most near-term traders and many long-term investor, I strongly believe if the company can demonstrate a better-than-expected earnings performance when it announces Q2 results on July 24, there's a very good chance the company's trend behavior will reverse course and begin to move in a very positive direction.
Upcoming Earnings Outlook
When it comes to the company's upcoming Q2 earnings, there are a number of things potential investors should consider. For instance, analysts are currently calling for DNKN to earn $0.47/share in terms of EPS (which is $0.12/share higher than what the company had reported during Q1 2014, and $0.20/share better than what the company had reported during the year-ago period) and $198.51 million in terms of revenue when its latest earnings are released on July 24.
In order to meet and/or exceed its quarterly EPS estimates, I'd like to see a 2%-to-4% increase in the company's Q2 same store sales growth (as compared to Q1's same store sales growth of 1.2%), a 2%-to-5% increase in the company's Q2 net new restaurant adds (as compared to Q1's net new restaurant adds of 96), a 2%-to-2.5% increase in the company's franchisee-reported sales (as compared to Q1's franchisee-reported sales of $168.7 million) and lastly a 3%-to-5% increase in the company's revenues (as compared to Q1's revenues of $171.9 million).
Robusta And Arabica Demand Could Help Fuel Full Year Earnings Growth
Earlier this month it was announced that Coffee prices had been retreating from their highs as improved weather in Brazil and strong output in India pushed up estimates on the global output for both the robusta and arabica varieties. That said, companies such as Dunkin' have the potential to see a significantly higher profit margin especially if they can get their purchasing contracts locked-in at lower levels.
As the direct result of the increased demand for both the robusta and arabica varieties, I've revised my price target on shares of DNKN from $48/share to $51/share and my full-year earning estimates from $1.81/share to $1.84/share.
Conclusion
For those of you who may be considering a long-term position in Dunkin' Brands, I'd actually look to keep a closer eye on the demand for both the Robusta and Arabica varieties of coffee since any sustainable uptrend growth could lead to higher profit margins over the next 12-24 months. In terms of the company's upcoming quarter, steady increases of at least 2% in the company's same-store sales as well as a solid increase of at least 3% in terms of its revenues could help Dunkin' Brands meet or even surpass analysts' expectations when it announces earnings on July 24.
Disclosure: The author is long DNKN. The author wrote this article themselves, and it expresses their own opinions. The author is not receiving compensation for it (other than from Seeking Alpha). The author has no business relationship with any company whose stock is mentioned in this article.