By Steven Carroll
It's important to note that StarMine uses a somewhat different method to calculate its aggregates. It takes the net income for the chosen stocks (in this case, U.S. small/micro caps) and adds them together, including those with negative net income. It then divides the total by the total shares outstanding. This gives you an accurate depiction of aggregate earnings -- and aggregate P/E -- rather than just a simple average of the companies with a positive P/E ratio.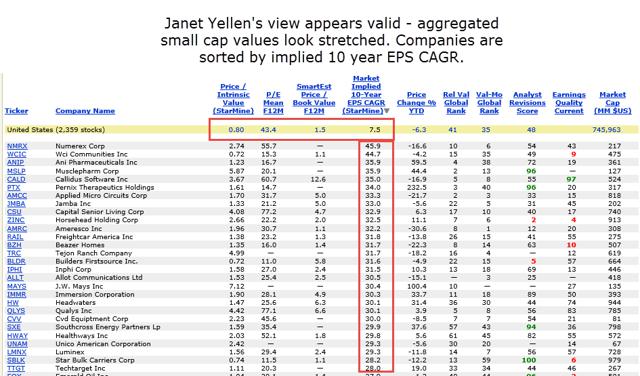 Small is beautiful?
By comparison, the forward 12-month P/E for the mid/large caps is 16.7. That's a notable difference and indicates the market is expecting a surge in the smaller listed firms. That does make some sense; as the U.S. economy heals, the small caps tend to have higher levels of domestic exposure.
Small companies do tend to grow faster over time -- but in general, investors prefer the safety and security of larger companies. They have greater cash flows, more diversified earnings streams and access to better credit terms. When the market gets this excited about the small market -- you know happy days are here again.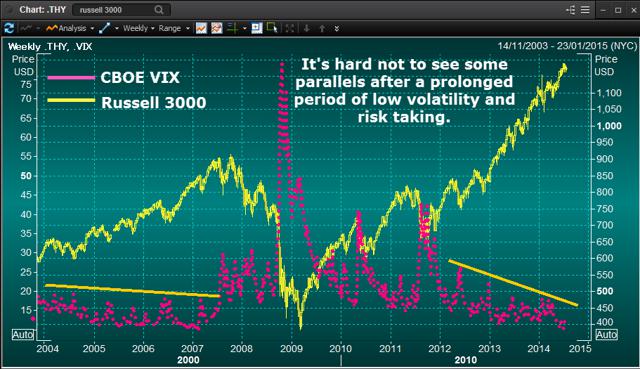 Beta vs. alpha
So far, markets have remained sanguine in the face of various geopolitical challenges -- even the specter of a return to the darkest days of the Cold War has failed to impact sentiment. While the Fed spigots remain open and access to credit is easy -- let the quest for high beta continue. It's only when the bear market emerges that people realize leveraging beta is a little easier than generating alpha.
Other markets appear equally oblivious to the risk that stuff happens. Looking at the U.S. 10-year Treasury bond, you see the greater of former Fed Chair Paul Volcker's two contributions to economic history. It was his Fed that broke the back of rising U.S. interest rates and inflation expectations. Until the recent financial crisis, the market set long-term interest rates. Now, the Fed's balance sheet creaks under the weight of all the bonds it holds.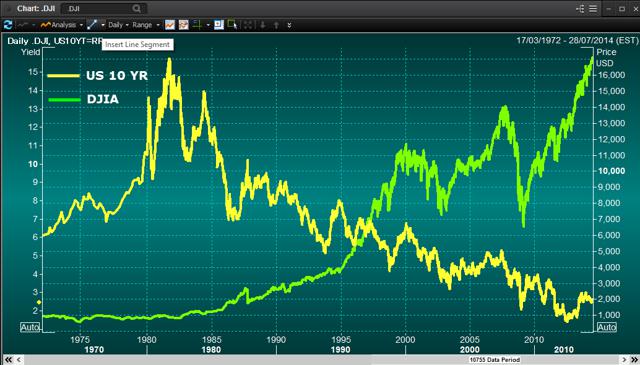 Contradictions abound
It's difficult to reconcile the market's apparently competing views. If, as small cap valuations imply, the U.S. economy is going to continue to rebound strongly, then Fed tightening is going to start sooner rather than later. If the long bull market in U.S. fixed income markets is indeed coming to an end, interest rates will begin to normalize. Then, it's likely the VIX won't stay contained in its current narrow range, and U.S. small caps, or many U.S. indices, will not continue to offer the same returns as the recent past. When the market coughs, small caps tend to catch a cold -- so think carefully as you pile into those expensive small cap names.
Disclosure: The author has no positions in any stocks mentioned, and no plans to initiate any positions within the next 72 hours.
Business relationship disclosure: Alpha Now at Thomson Reuters is a team of expert analysts that are constantly looking at the financial landscape in order to keep you up to date on the latest movements. This article was written by Steven Carroll, independent commentator and analyst. We did not receive compensation for this article, and we have no business relationship with any company whose stock is mentioned in this article.