As the Fed embarks on its QE II printing press exercise in an effort to craft the great "maybe", you have to be somewhat sympathetic to its plight of the duel mandate of price stability and full employment.
If they take their jobs seriously, and I'm sure they do, they are doing what is being asked—despite the prospects of unintended consequences.
Tea Leaves: The chart below illustrates the unemployment rate ("blue") versus the CPI annual percentage change ("red"). The chart demonstrates the surge and plateau of unemployment versus the most recent decline in the CPI.
Given this configuration of the data, the Fed really has little choice—in an environment low inflation and high unemployment—but to "pump up" the economy through additional monetary easing to fuel job growth. This is its job.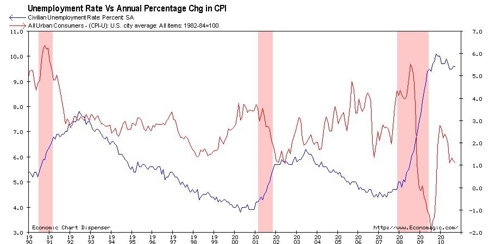 Unintended Consequences: The chart also illustrates the increase in prices as the economic recovery gains momentum—which in turn impacts interest rates and investment values.
The trick for the Fed will be not only to bring inflation down as it begins to flare, but also "game" Wall Street with regards to managing investors' expectations. And, as we know, Wall Street is a perverse crowd.
Inflation Genie: The "Inflation Genie" will likely get out of the bottle sooner than most think—check out commodity prices—and it will be more difficult to get back in. The Fed's record at fine-tuning inflation has not been good. It has resorted to a mallet when forced, e.g., Volcker crunching inflation and the economy at the same time in early '80's.
Trading One Bubble for Another: We seem to be moving from the housing bubble to the Treasury bubble to a yet to be identified bubble to fund the previous ones. Our current fiscal and monetary policy is based on the stylings of Charles Ponzi.
Where's the Opportunity: I view an investment portfolio in three year increments; seeding investments that will germinate in each of those years so there is the potential of rolling annual gains. It's like "pulling a rabbit out of your hat" each year.
Given this philosophy, I continue adding to my position in ProShares Short 20+ Year Treasury ETF (NYSEARCA:TBF) on any significant declines as a way to play the re-inflation trade and the pricking of the bond bubble—which at best is a 2011 harvest. My opportunity cost is funded by this year's gains from muni investments.
Don't Try This At Home! I would not recommend this strategy for those faint of heart because it could be a while for this investment to materialize.
Expect further decline in TBF's stock price—which is the opportunity. Housing prices were rising just prior to its collapse. Remember: most professionals thought housing prices would never go down. Now, they're telling you the Fed is here to help.

Disclosure: Author owns TBF