Introduction
Conventional wisdom and general opinion suggests that retired investors should be more conservative with their portfolios than younger investors. Therefore, their portfolios should contain only the highest quality and safest investments available. When it comes to the common stock portion of their retirement portfolios, this typically implies blue-chip dividend paying stocks.
The logic behind this position is simple and straightforward. Once in retirement, investors should appropriately become more interested in income than they are in growth. Moreover, after spending a working lifetime accumulating assets, retirement becomes the time for harvesting the fruits of their prudent planning and saving. Ideally, they should be harvesting income and not their principal. And most importantly, retired investors cannot afford to suffer huge permanent losses.
In the general sense, I agree that investors should become more conservatively oriented once they reach retirement years. On the other hand, I do not agree that being more conservative should be taken to the extreme. Retired investors without a regular paycheck and the accompanying opportunity for cost of living increases are still faced with the threat of inflation. Therefore, their portfolios must now provide the capacity for enough growth of both capital and income to offset inflation.
I do believe that the proper mix of blue-chip dividend paying stocks can handle the inflation challenge quite well. However, it does require the willingness and ability to hold for the long term and ignore short-term price volatility as it will inevitably occur. High-quality blue-chip dividend paying stocks offer the potential for long-term capital appreciation typically in the range of 6% to 8% or greater (based on typical earnings growth rates).
Additionally, dividend growth will typically track and correlate with earnings growth in the long run. Consequently, dividend growth stocks provide income in addition to capital appreciation. The best-of-breed dividend growth stocks also provide growth yield. The combination of capital appreciation plus a growing dividend income stream can add up to very attractive long-term total returns. Therefore, for the many dividend growth oriented investors, high-quality blue-chip dividend paying stocks are all they need.
Importantly, the critical ability to stay the course is easy for those investors who have learned to focus their attention on the more important matters of earnings and dividend growth. In the long run, earnings drive both market price and serve as the source of current and future dividend income. In the short run, the stock market is an auction, and price action is more often than not emotionally driven. This creates short-term price volatility, which can heighten the emotional response. However, in the longer run, which is what true investing is all about, earnings drive market price and dividend income.
However, this article is about growth stocks, not blue-chip dividend paying stocks, and is focused on answering the question posed in the title. Stated a little differently, are growth stocks appropriate investments for retirement accounts, or should they be systematically ignored? No is my answer, which might surprise several of my regular readers. Personally, I believe that prudent investors should be aware of all of the investment options that are available to them. But more importantly, when utilized judiciously, the right growth stock investments can have a game changing impact on a retiree's financial future.
To summarize this introduction, I don't adhere to the "I don't buy green bananas anymore" mentality that many retirees hold. Life is not without risk, and sometimes taking a little risk can be a very good thing. Consequently, although the majority of my investing is in dividend growth stocks today, I must confess that even now I still appreciate the incredible opportunities that come with investing in great growth stocks. To be clear, I am not advocating that retirees should invest exclusively in growth stocks, but I do hope to illustrate how an appropriate allocation of growth stocks sprinkled into a portfolio can provide an orders of magnitude difference in future returns.
What Is A Growth Stock?
Personally, I prefer the term "growth company" over the term "growth stock." This is simply because when I am investing for pure growth, I believe in positioning myself as a long-term shareholder (partner) in a very fast-growing business. Consequently, what intrigues me is the potential for the business to generate very high levels of earnings growth over a long period of time.
Therefore, for me to consider a business a growth stock, my minimum threshold of earnings growth is 15% per annum. However, there are many growth stocks (companies) that have proven capable of growing much faster than that. For example, there are many high profile established growth companies that have compounded earnings at growth rates of 20%, 30% or higher over long periods of time. But more importantly, long-term shareholders of great growth companies have been rewarded far beyond what the typical blue-chip dividend growth stock is capable of generating.
Growth Stocks' Typical Characteristics
Before I present examples of just how rewarding investing in growth stocks can be, a few words about the characteristics of growth stocks are in order. For starters, most pure growth companies do not pay a dividend because they are utilizing all of their available cash to fund their rapid growth. Consequently, investing in growth companies is all about capital appreciation. However, it's also important to point out that the mere fact a company doesn't pay a dividend does not make it a growth stock. The lack of a dividend can also be the sign of a weak business.
No dividend is often considered a negative by those investors focused on investing for dividend income. This is completely understandable when those same investors are retired and living off of their dividend income. On the other hand, once that same investor has accumulated enough dividend income to meet their daily needs, and if their portfolio of dividend growth stocks has been built and designed to provide a growing dividend income stream, adding a few growth stocks to the portfolio could prove very beneficial, as I will soon illustrate.
The Power and Protection of Growth Stock Investing
As I previously mentioned, I have long appreciated the incredible power and profits available from investing in great growth stocks. In fact, analyzing and evaluating great growth stocks over the years has taught me some of my most important lessons about investing in the stock market. Perhaps the most important lesson of all that analyzing growth stocks has taught me is that it is a market of stocks and not a stock market. Consequently, analyzing great growth stocks has also taught me to ignore worrying about the stock market, and to focus on the prospects of the specific businesses I own instead.
To illustrate my point, I offer the following examples of high profile growth stocks and the incredible historical performance they have produced for their long-term shareholders. If the track records of these great growth companies don't convince you that the stock market has nothing to do with investing, then nothing ever could. Therefore, I ask the reader to ask themselves this simple question after reviewing the historical performance of the following growth stocks compared to the performance of the S&P 500:
Did the stock market (S&P 500) have anything to do with the performance of these great growth stocks? Clearly, the answer is an emphatic NO!
At this point, I want to be clear that I am not recommending these following historical growth stock examples as current recommendations. Instead, I am simply sharing them as examples of the powerful performance results that can be achieved by investing in fast-growing businesses. Additionally, these are all now large established growth stocks, and therefore, their ability to continue growing at historical rates is highly unlikely. Nevertheless, each is expected to continue growing earnings above my minimum 15% threshold.
The Priceline Group Inc.: (NASDAQ:PCLN)
The Priceline Group Inc. operates as an online travel company. The company's products include Booking.com, which provides online hotel reservation services on a worldwide basis with approximately 425,000 properties in 190 countries and territories available in 42 languages; Agoda.com, an Asia-based online hotel reservation service available in 38 languages; and rentalcars.com that offers car rental services in approximately 6,000 locations worldwide.
It also provides reservation services for hotel rooms, airline tickets, rental cars, vacation packages, and cruise trips under the priceline.com brand through its Name Your Own Price service; KAYAK Websites and mobile apps allow people to compare hundreds of travel sites at once; and travel insurance services.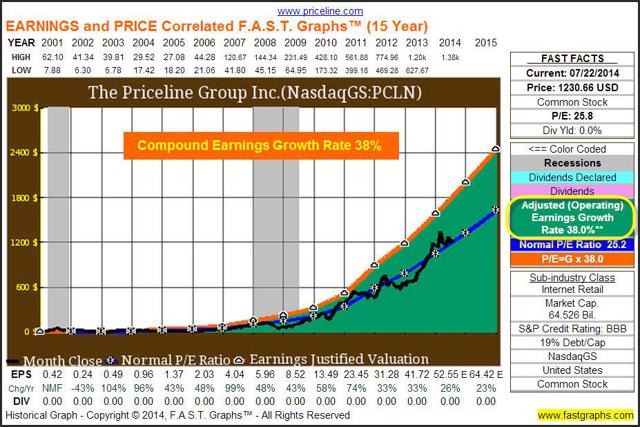 Cognizant Technology Solutions Corporation: (NASDAQ:CTSH)
Cognizant Technology Solutions Corporation provides information technology, consulting, and business process services worldwide. The company operates in four segments: Financial Services, Healthcare, Manufacturing/Retail/Logistics, and Other. Cognizant Technology Solutions Corporation was founded in 1998 and is headquartered in Teaneck, New Jersey.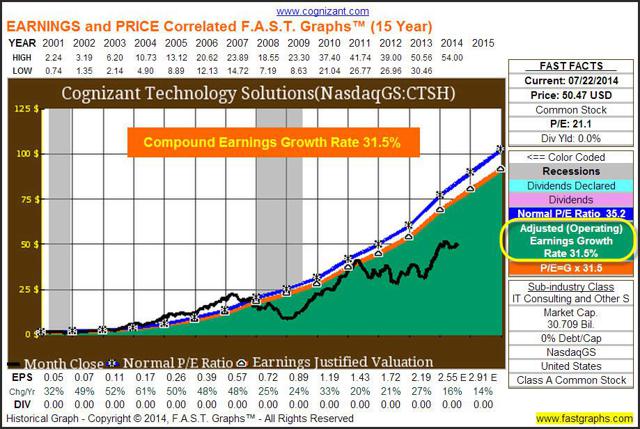 Google Inc.: (NASDAQ:GOOGL) (NASDAQ:GOOG)
Google Inc. is a global technology company. The company's business is primarily focused around key areas such as search, advertising, operating systems and platforms, enterprise and hardware products.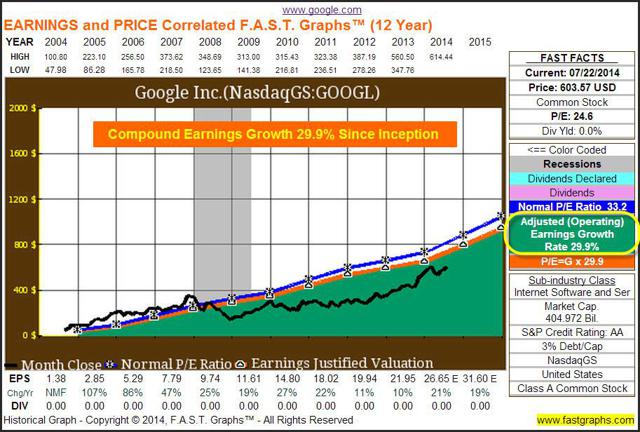 For Perspective: A Comparison of A Blue-Chip Dividend Growth Stock
To emphasize the powerful performance advantages that fast-growing companies can provide, I offer Procter & Gamble (NYSE:PG). Not only is this one of the most high profile blue-chip dividend growth stocks, I also chose this example because it was available at a reasonably sound valuation in 2001. Therefore, I feel that it offers a fair comparison to contrast against the powerful growth stocks presented above.
Investing in a company like Procter & Gamble is a lot less risky than investing in the growth stocks cited above. Additionally, the long-term returns that Procter & Gamble has generated are certainly attractive and better than what the S&P 500 (the market) produced. On the other hand, it's also true that the performance of this blue-chip pales in comparison to the returns generated by great growth stocks. Note: I have presented Procter & Gamble's performance both with dividends not reinvested and with dividends reinvested.
Procter & Gamble: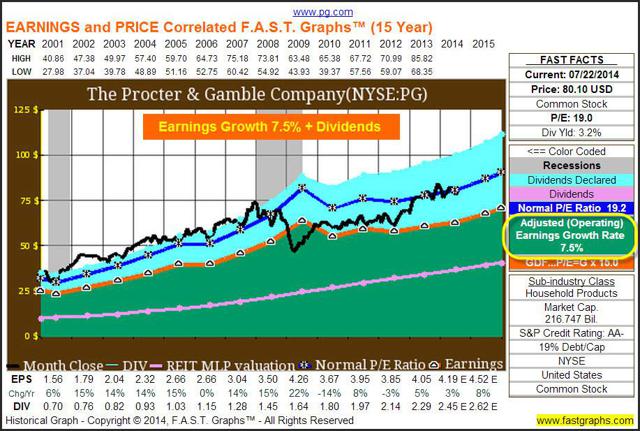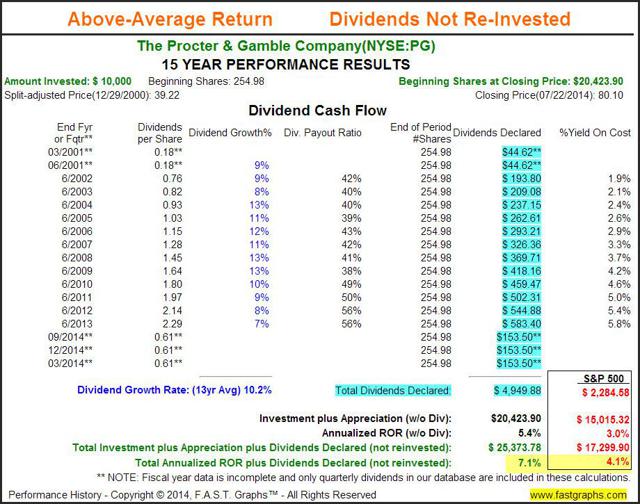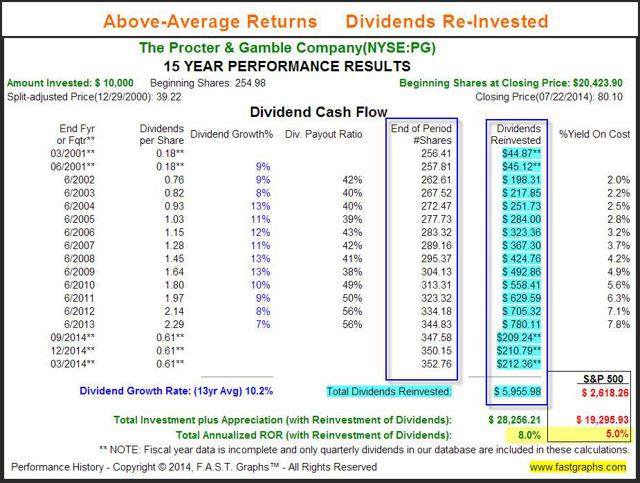 Interesting Growth Stock Research Candidates
In past articles whenever I presented the performance of great growth stocks, I was often met with two strong criticisms. First, I was accused of cherry picking. This is a fair criticism because it is actually what I have done. However, I consider the above presentations both relevant and fair because they simply prove just how powerful growth stock investing can be.
The second criticism I have gotten is that this kind of analysis is all based on 20/20 hindsight and that identifying great growth opportunities early is difficult to impossible. I disagree with this criticism for several reasons. Not only do I believe that tomorrow's great growth stories can be identified early enough to participate in their extraordinary potential, I will also argue that they are often very visible.
Moreover, you do not have to identify them on their IPOs or very beginnings to be greatly rewarded. For example, McDonald's (NYSE:MCD) grew earnings at growth rates of 30% to 40% for several decades; so did Microsoft (NASDAQ:MSFT) and many others. Therefore, it was rather straightforward to identify a decade's worth of high growth or longer and still have had ample opportunity to participate in high future growth.
As an interesting aside, both of those names and many others have gone on to become excellent dividend growth stocks as their businesses matured and their growth slowed down. Therefore, for those investors with a long time before retirement, it is very possible that they could enjoy the rewards of high early growth prior to retirement that automatically would turn into excellent blue-chip dividend growth stocks upon entering retirement.
Even though my primary equity investing strategy is dividend growth stock investing, I continue to keep a portion of my portfolios invested in high-growth stocks. When I was a lot younger, I would invest as much as 50% or more of my portfolios in growth stocks. As I got older, I gradually reduced that percentage over time. Today I favor allocating 80% to 90% in the blue-chip dividend growth stocks for safety purposes. On the other hand, I continue to appreciate and covet a great growth story when I see one. Consequently, I currently monitor a list of over 120 high-growth research candidates.
Here I might add that I continue to favor only investing in high-growth stocks when I consider them fairly valued. On the other hand, a fast-growing company can be purchased at a high P/E ratio and still be attractively valued. This is especially true if the current P/E ratio is reasonably aligned with the company's expected future growth rate. However, one interesting aspect of investing in high-growth stocks is that you can buy them at higher valuations, even higher than their current earnings justify, and still generate a high long-term total return thanks to the power of compounding. I don't necessarily recommend doing that, but the math supports the statement.
With the above said, I offer the following short list of potential high-growth company (stock) research candidates. Some of these I already hold a position in, and others I am currently researching or closely monitoring for an opportunity to invest. Interestingly, some of the following research candidates are small as might be expected, while others are quite large. As you review the F.A.S.T. Graphs™ on each, I suggest focusing on the Estimated Earnings and Return Calculator, or forecasting graph, and notice that each candidate is forecast to grow above my 15% minimum threshold.
Avigilon Corporation: (OTCPK:AIOCF)
Avigilon Corporation designs, manufactures, and markets high definition and megapixel network-based video surveillance systems and equipment for the security market worldwide. Its products include Avigilon Control Center software, a network platform that captures, stores, and manages HD images; HD Internet protocol cameras; analog video encoders; network video recorders; and license/number plate recognition modules.
The company also provides various accessories, including lenses, joystick/keyboard controllers, built-in infrared sensors, night vision enhancement, audio in and audio out, camera enclosures, and outdoor mounting kits for cameras. Its products are used in school campuses, transportation systems, healthcare centers, public venues, critical infrastructure, prisons, factories, casinos, airports, financial institutions, government facilities, and retailers. The company sells its products through a network of resellers. Avigilon Corporation was founded in 2004 and is headquartered in Vancouver, Canada.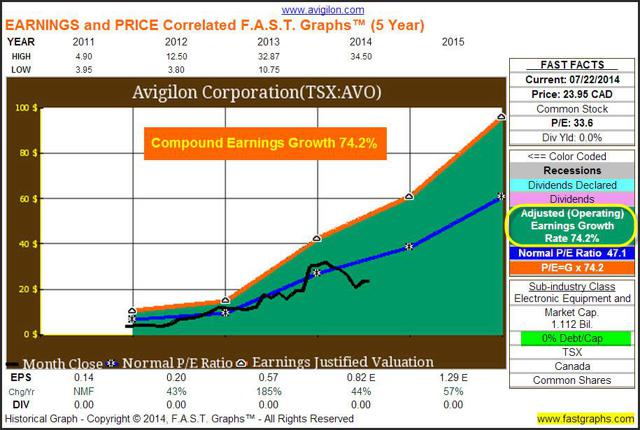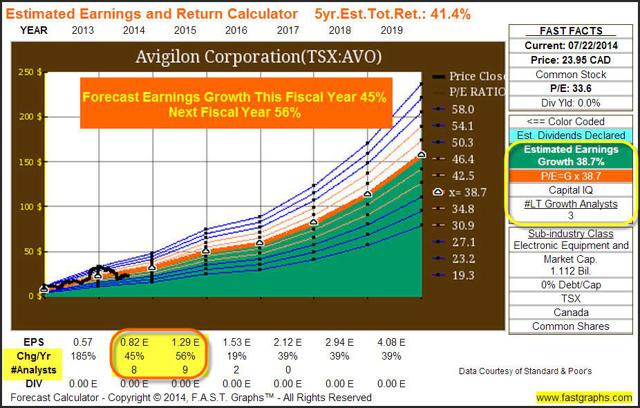 Catamaran Corporation: (NASDAQ:CTRX)
Catamaran Corporation provides pharmacy benefit management services and healthcare information technology solutions to the healthcare benefits management industry in North America. The company operates in two segments: PBM and HCIT.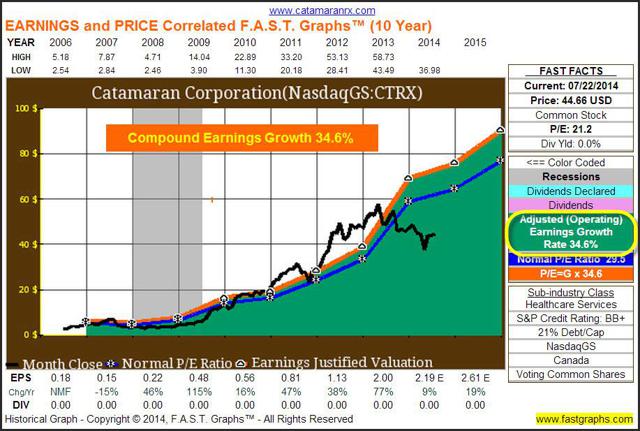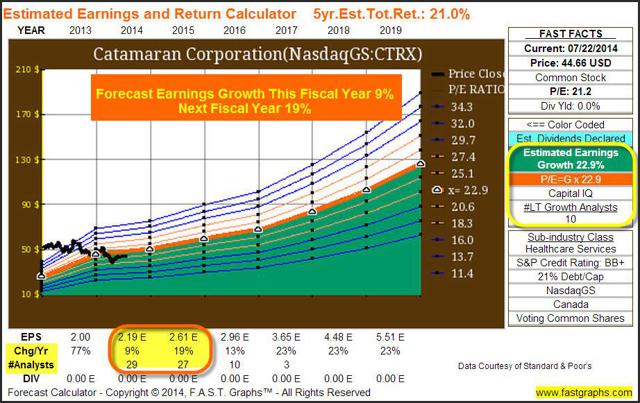 IPG Photonics Corporation: (NASDAQ:IPGP)
IPG Photonics Corporation operates as a developer and manufacturer of a line of fiber lasers, fiber amplifiers, and diode lasers that are used for various applications, primarily in materials processing.
The company's lines of low, mid, and high-power lasers and amplifiers are used in materials processing, advanced, communications, and medical applications. It sells its products worldwide to original equipment manufacturers (OEMs), system integrators, and end users. The company markets its products internationally primarily through its direct sales force.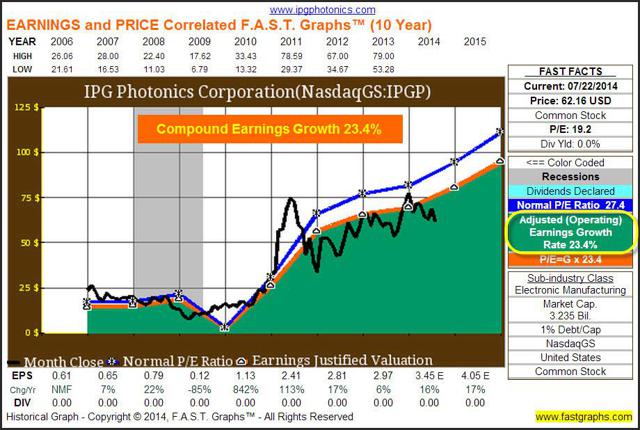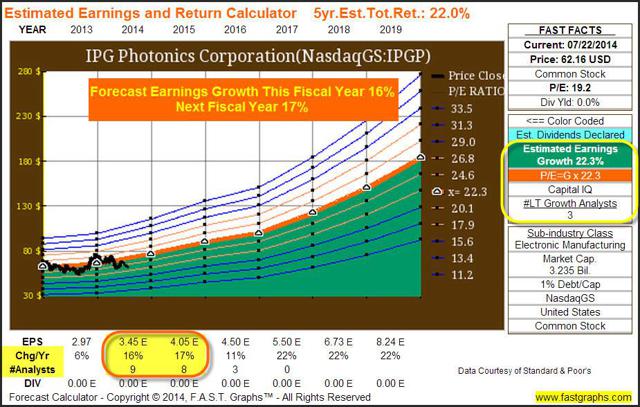 Gilead Sciences, Inc.: (NASDAQ:GILD)
Gilead Sciences, Inc., a research-based biopharmaceutical company, is engaged in the discovery, development, and commercialization of medicines in areas of unmet medical need. The company has operations in North and South America, Europe and Asia-Pacific.
The company's primary areas of focus include human immunodeficiency virus (HIV), liver diseases such as chronic hepatitis B virus (HBV) infection and chronic hepatitis C virus (HCV) infection, oncology/inflammation and serious cardiovascular and respiratory conditions.
The company also continued to advance its research and development pipeline, with approximately 200 active clinical studies in 2013, of which approximately 60 were in Phase 3 clinical trials.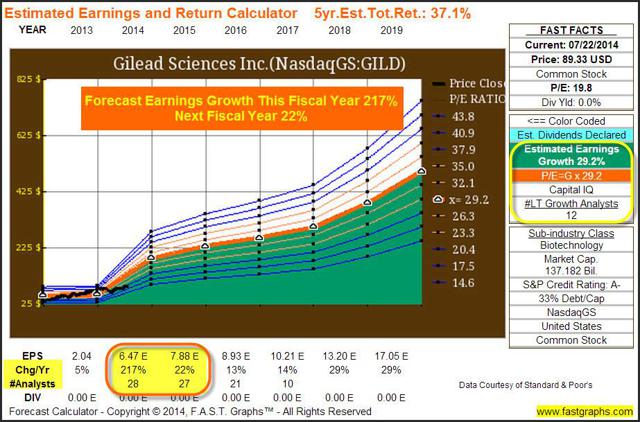 Facebook, Inc.:(NASDAQ:FB)
Facebook, Inc. operates as a social networking company worldwide. The company provides a set of development tools and application programming interfaces that enable developers to integrate with Facebook to create mobile and Web applications. The company focuses on providing developers with unique tools to support their mobile and Web applications. The company supports developers' efforts to build, grow, and monetize their mobile and Web applications.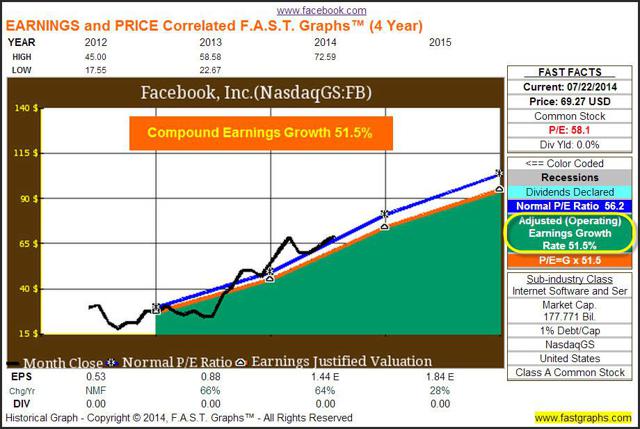 Special note on Facebook: I've included this high profile example because it exemplifies the potential long-term power of high-growth, assuming of course it manifests as forecast. In other words, I consider the company excessively overvalued for the short run, but potentially very rewarding over the long run. Nevertheless, I am personally waiting for a better entry point if possible.
Summary and Conclusions
Investing in high-growth stocks can be immensely financially rewarding as several of the examples in this article clearly illustrate. However, investing in high-growth stocks can also be very risky, and most importantly, due to the volatile nature of these companies' stock prices, successful performance results require long-term ownership. In other words, the prudent investor has to fight off the urge to trade. These companies' compound earnings are at very high rates, and it is that high rate of earnings growth that will ultimately generate high rewards.
Therefore, are high-growth stocks appropriate for retirement accounts? My answer is yes, but only in the context of how they fit into each investor's own risk tolerance and personal objectives. Moreover, they can be utilized in many ways to either turbo-charge a portfolio's total return performance, or assist in increasing the size of the portfolio's asset base. Regardless, the risk associated with investing in this equity asset class is real, and therefore, all growth holdings should be monitored closely and continuously.
Finally, investing in high-growth stocks can be a lot of fun, and even keep you young at heart. In many if not most cases, high-growth stocks are made up of companies at the forefront of great technological change and advancement. In this respect, my thirst for researching great growth stocks keeps me up-to-date with many exciting new frontiers and opportunities.
Disclaimer: The opinions in this document are for informational and educational purposes only and should not be construed as a recommendation to buy or sell the stocks mentioned or to solicit transactions or clients. Past performance of the companies discussed may not continue and the companies may not achieve the earnings growth as predicted. The information in this document is believed to be accurate, but under no circumstances should a person act upon the information contained within. We do not recommend that anyone act upon any investment information without first consulting an investment advisor as to the suitability of such investments for his specific situation.
Disclosure: The author is long CTSH, GOOGL, PG, CTRX, IPGP, GILD. The author wrote this article themselves, and it expresses their own opinions. The author is not receiving compensation for it (other than from Seeking Alpha). The author has no business relationship with any company whose stock is mentioned in this article.
Additional Disclosure: Long CTSH, GOOGL, PG, CTRX, IPGP, GILD at the time of writing.