Aastrom is a late-stage clinical company dealing with stem cell technology. The company is targeting orphan cardiovascular indications in critical limb ischemia (CLI) and dilated cardiomyopathy (DCM). Aastrom (ASTM) already has Phase II B clinical data that is statistically significant in a large phase II clinical trial. Also, the company already has a scaleable, automated, cell manufacturing facility and clear, developed regulatory paths forward as a result of the drug Provenge being recently approved. That was another autologous cell therapy product that was approved in April by the FDA.
CLI and DCM represent large, addressable market opportunities using Aastrom's stem cell research. The advantages of the company's therapy is that it has already demonstrated therapeutic effects as a result of its large Phase II clinical study. It is an autologous therapy where Aastrom starts with a patient's own cells- so it is safe and simple. Aastrom only uses 50 ml of a patient's blood marrow, making it a simple procedure. Aastrom has treated over 400 patients without a treatment-related adverse event. The company also has a proprietary technology, so there is no risk of generic competition.
Four significant events have occurred within the past few weeks with more set to come in November. The most recent were:
Future key catalysts that could drive share price appreciation in the month of November are:
ASTM webcast on Nov 2nd at Oppenheimer Conference:

Aastrom's presentation will take place at 12 PM ET on November 2, 2010.

ASTM VEITH symposium.. "RESTORE-CLI Trial Update: Ask the Experts" on 11-18-10. Link

Late November/early December, the company should hear back from the FDA with a response on its SPA submission. Aastrom hopes to have the SPA completed by the FDA in the early first quarter (mid-January) of 2011.
Click to enlarge: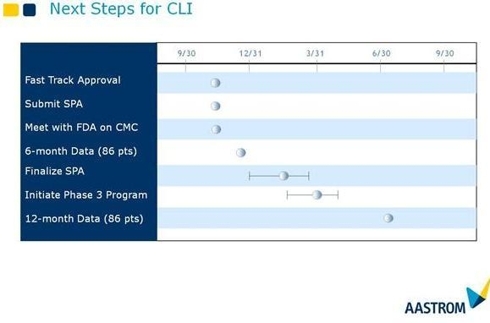 Aastrom biosciences is far out front of any potential competitors in the race to find an effective therapy for critical limb ischemia (CLI). CLI is the most severe form of peripheral artery disease, affecting about 400,000 people in the U.S., with about 160,000 of those undergoing a major limb amputation. The disease kills a quarter of those patients within six to 12 months of a diagnosis, with two-thirds of CLI patients dying within four years.
Aastrom Biosciences has forged ahead on its voyage to market the first expanded autologous cellular therapy for CLI by submitting an SPA to the FDA for a Phase III study. The company met with the FDA in late June of this year and the FDA encouraged Aastrom to submit an SPA for its Phase III program, the CEO has stated. Aastrom was on the fence as to whether to pursue an SPA but decided to because of the FDA's encouragement to do so.
Aastrom has been working for the last few months to draft the protocol and the statistical analysis plan. The FDA has 45 days to respond to the company and the company does expect the FDA to have some questions for them. The date of a response would be around Dec 5th since the SPA was submitted on October 21st.
Interim results from Aastrom's Phase II B trial was reported in June in Boston at the annual meeting of the Society for Vascular Surgery. The results demonstrated a 50 percent to 60 percent increase in amputation-free survival. The study had anticipated enrolling up to 150 patients, but given the positive interim results in 86 patients, the trial's drug safety monitoring board advised discontinuing enrollment and moving forward to Phase III.
There has also been insider buying in the company directly on the open market. Aastrom has 28 million shares outstanding and 26 million in the float. It only has 62.5 million shares authorized, which is extremely low for a biotech company with a market cap of just under $65 million. Aastrom has very little debt ($371,000) and close to $20 million in the bank. About half its cash in the bank makes up 50% of Aastrom's market cap. This means that Aastrom's business, minus the cash on hand, is valued at under $50 million. That is very small for a company with a lot of upside potential.
Aastrom still has a long road to go in terms of bringing its products to market. With the fast track designation and the submission of its SPA the company is well on its way to differentiating itself from other stem-cell companies. The events in the month of November are going to bring increased investor attention to the small growth company.

Disclosure: Long ASTM but position could change at any time.