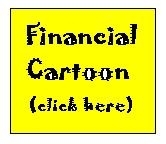 Outlook: This week's outlook article is entitled, "Housing Prices Wouldn't Go Down and the Fed is Here to Help" (10/29/10). The article explores the two financial myths of our time.
Summary: As the Fed embarks on its QE II printing press exercise in an effort to craft the great "maybe", you have to be somewhat sympathetic to the plight of its duel mandate of price stability and full employment.
If they take their jobs seriously, and I'm sure they do, they are doing what is being asked—despite the prospects of unintended consequences.
Little Choice: Given this configuration of the data (see article), the Fed really has little choice in an environment low inflation and high unemployment but to "pump up" the economy through additional monetary easing to fuel job growth. This is its job!
Unintended Consequences: However, the Fed is subject to the law of "Unintended Consequences" which historically has seen inflation and higher interest rates follow monetary easing. The trick for the Fed will be not only to bring inflation down as it begins to flare, but also "game" Wall Street with regards to managing investors' expectations. And as we all know, Wall Street is a very perverse group.
Inflation Genie: With commodity prices already elevated, the "Inflation Genie" will likely get out of the bottle sooner than expected and be more difficult to get back in. The Fed's record at fine tuning inflation has not been good. The Fed had to resort to a mallet in the early '80's to bring inflation under control.
Seeding the Portfolio: I view an investment portfolio in three year increments; seeding investments that will germinate in each of those years so that there is the potential of rolling annual gains. It's like "pulling a rabbit out of your hat" each year.
Given this philosophy, I continue adding to my position in ProShares Short 20+ Year Treasury ETF (NYSEARCA:TBF) on any significant declines as a way to play the re-inflation trade and the pricking of the bond bubble—which at best is a 2011 harvest.
Don't Try This At Home: I would not recommend this strategy for those faint of heart because it could be a while for this investment to materialize. Expect further decline in the stock price—which is the opportunity.
Remember: Housing prices were rising just prior to its collapse. Most professionals thought housing prices would never go down. Now, they're telling you the Fed is here to help.
CEF Weekly Review: The 13 closed-end fund (CEF) types on average posted a 0.2% increase for the week ending 10/29/10. The high-low spread was +0.8% versus +1.9% the previous week on an average price appreciation of 0.2% versus 0.1%, respectively. On an aggregate, unweighted basis, the weekly average price change for the 500 plus CEFs was up 0.2%.
The PowerShares CEF Income Composite (NYSEARCA:PCEF), an ETF that invests in taxable income CEFs, was down 0.1% for the week. The S&P 500 was flat for the week and maintained its positive YTD performance of 6.1%.
(Click here for YTD CEF Performance. The table is based on a smaller CEF sample size as all the data fields are not available for the CEF universe.)
The Eqcome CEF Fear Index for the week eased. The average price was up 0.2% while NAV was down 0.1%. The CBOE Volatility Index (VIX), which typically moves inversely with the stock market—but is mostly a measurement of volatility based on stock options' premiums—jumped 13.2% to register above 20 at 21.2. The VIX climbed throughout the week spiking on Wednesday.
The VIX is still near its lowest point since April. It is now at a point of being regarded as a contra indicator suggesting investors exercise caution with regards to any big upside equity bets.
The S&P 500's average daily share volume again exceeded the 4 billion shares mark for the third week in a row—although off 10.1% from the previous week to 4.1 billion shares.
Money Flow: "Money Flow" into the DJ US Total Stock Market was up 0.13% for the week and up 3.53% for the month. The up/down ratio eased to 0.98 for the week and 1.02 for the month. The Basic Materials sector experienced the greatest weekly change, up 1.37%--the biggest loser the previous week; the Industrial sector the least, down 0.53%.
The total inflows into mutual funds for the week ending 10/20/10 increased 20% from the previous week to $9.5 billion. Investors' added $2.0 billion into equity funds—almost entirely into foreign stock mutual funds. Of note, domestic outflow have been tapering off and may turn positive.
The Bond Bubble Express continues raking it in. Both taxable and muni funds in total increased $6.5 billion versus a $5.7 billion inflow the previous week. Money market funds increased with a contribution of $24.6 billion to a total of $2.8 trillion reversing the previous week's decline of $17.0 billion. Taxable government and non-government split the increase; tax exempt funds decreased by $0.25 billion. Institutional funds are twice the size of retail at $1.86 trillion.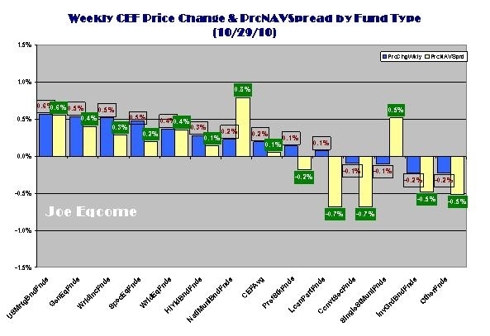 CEF Weekly Fund Type Performance: The 13 CEF fund types weekly performance was bias towards the equity-oriented fund types although there was a narrow price change among the fund types.
USMrtgBndFnds rebounded from the previous week as the foreclosure documentation problem seemed to fade from investors' field of vision with all eyes focused on the Fed's action in the open markets. NatlMuniBndFnds on average saw its price change lag its NAV (0.2% vs. 0.8%). ConvSecFnds which took the lead last week drifted lower this week.
Weekly CEF Winners and Losers: Several SingleStMuniFnds were among those that experienced the greatest positive PrcNAVSprd*. The CEF with the greatest positive PrcNAVSprd was BlackRock Virginia Muni Bond Trust (NYSEMKT:BHV) with a price advance of 7.0% and a decline of 0.4% in its NAV per share generating a positive PrcNAVSprd of 7.5%.
BHV is a small CEF of $37.9 million in total net assets and with $11.7 million of ARPS financing yielding 1.1%. The current pre-tax yield 5.0% and it is trading at a 25.5% premium. Its average daily volume is 3,000 shares.
The CEFs having the greatest negative PrcNAVSprd for the week was Cornerstone Strategic Value Fund (NYSEMKT:CLM) whose price declined 4.7% while its NAV was flat generating a negative PrcNAVSprd of 4.7%.
CLM and its sister CEF (Cornerstone Total Return Fund (NYSEMKT:CRF)) are both engaged in a non-transferable 1 for 3 rights offering. The record date was declared November 1, 2010 and is dilutive for non-subscribing shareholders.
Both these CEFs are the silliest investments in the whole CEF market segment for non-insiders. You essentially pay a premium to get your own money back after management has deducted a fee. Nice work if you can get it. Investment stupidity is not against the law and that's why investments like this exist.
I've written on the Cornerstone funds lack of investment merit for the past year. So, for those of you who are tired of hearing me on this point let me offer another opinion that seems to support my sentiment: Two Closed End Funds at Irrationally High Prices, by SL Advisors.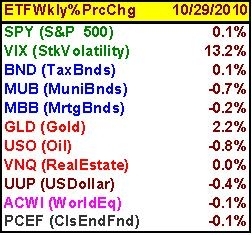 Eqcome CEF Portfolio™: Joe maintains three separate CEF portfolios that have different investment objectives: CEFBig10™, CEFMuni10™ and CEFDisc10™ (see website). The first is a balance equity-income portfolio, the second a tax-exempt income portfolio and the third a portfolio whose objective is capital gains with a secondary objective of current income.
These portfolios will soon be available to retail investors at a nominal fee to maximize equity-income for retirees and retail investors.
Portfolio Allocation: Joe allocates among the different portfolio strategies based on maximization of total return based on his perspective of what portfolios would perform best in different phases of the investment cycle.
Joe has reduced his allocation to the CEFMuni10™ from 25% to 20% and has boosted the percentage allocation to the CEFDisc10. (See website for further details.)
Economic & Earnings Outlook: (Click here for next week's economic calendar; click here for earnings' announcements and estimates.)
ETFs: For a more detailed EFT performance by sectors, click here.
Insider Trading: Rodney F. Dammeyer, a director of several of the Invesco Van Kampen CEFs, continued his insider buying spree. He added an additional $1.275 million to his cumulative holdings this week culminating in a $3.44 million investment this month. Mr. Dammeyer has dominated CEF insider buying for the month.
Mr. Dammeyer significantly added to his position in Invesco Van Kampen Trust for Investment Grade Munis Fund (NYSE:VGM) and accumulated approximately $2.0 million in share value during the month. He's also accumulated approximately a half-a-million dollars each in Invesco Van Kampen California Value Muni Income Trust (NYSE:VCV) and Invesco Van Kampen Muni Trust (NYSE:VKQ) during the same period of time; a quarter of a million dollars each in both in Invesco Van Kampen Trust for Insured Munis (NYSE:VIM) and Invesco Van Kampen Select Sector Muni Trust (NYSEMKT:VKL). Some of the recent share purchases have been for the DRD Family Partnership, LP.
(Click here for a hyperlink to the Joe Eqcome's CEF Weekly Insider Report.)
CEF Distribution Announcements This Week: The following is a link to a table of CEF distribution announcements this week as well as the previous week's with yet expired ex-dividend dates. The list is not intended to be inclusive. (Click here for Joe Eqcome's Weekly CEF Distribution Announcements)
Significant CEF Corporate Events: DWS Dreman Value Income Edge Fund (DHG) and DWS Global High Income Fund (LBF) each announced the commencement of a seemingly economically non-sensical self-tender offer to purchase up to 25% of its issued and outstanding shares of common stock at a 1% discount the Fund's NAV per share as of the its close on NYSE on the next business day after the date on which the offer expires. The offer will terminate at 11:59 p.m. Eastern Time on November 19, 2010, unless extended.
CEF Focus Stock(s) for the Week: The focus of this week is on the CEF muni funds. After a terrific multi-year run its time to consider whether we're at a point of the momentum waning and the stock prices may be getting to "roll-over".
There are four reasons for this perspective:
Muni CEFs are highly leveraged and are likely to be refinancing their debt at higher rates in the next 18 months and likely to reduce their earnings and distributions.

Muni CEFs are on average currently selling at a premium and the last time that occurred was briefly in 1998.

Municipalities are still under duress and it may take years for meaningful revenues gains. While muni professionals see fewer default that may not translate into no reductions in credit ratings.

The time to sell an investment when it's near its peak and there still is a "story" for investors to buy it (potentially higher taxes, lower interest rates).
Wildcard: The wildcard factor is the pending change in tax policy. If taxes do go back to the Clinton years, then investors may take shelter in tax-exempt muni bonds. The common wisdom is that we're likely to get some kind of extension of the Bush era tax-cuts which may on a near-term basis reduce the demand of munis. (See, "Are Muni CEFs Rolling Over?" (10/28/10). The article includes two CEFs that may be "sell" candidates if you have them in your portfolio.)
Disclosure: Author owns a diversified portfolio of CEFs and ETFs and is long stocks in the CEFBig10™, CEFMuni10™ and CEFDisc10™
[*]
All things being equal, price and NAV should move in tandem. A price movement greater than the NAV generates a positive PrcNAVSprd and may be interpreted as negative on a near-term basis and indicate that the stock is overvalued relative to its NAV which in theory is the stock's intrinsic value. The opposite would be true for a negative PrcNAVSprd.