Silver had a big move this week as did gold, but after taking a look more closely I have some doubts as to whether it can maintain it's gains. If you look at a daily chart these indicators are really not in an area where a big move starts or even continues from.
MACD is under it's signal line
ADX has peaked and is declining
ATR is at it's highs
The chart below () shows it's fast move to previous highs. That sometimes is not such a good thing if the move is too fast. We'll know by the end of the week if this is a breakout or a double top but if you want to try and get an edge, keep an eye on Pan American Silver (NASDAQ:PAAS), Silver Wheaton (SLW). These two have had very clear breakouts and should not move below their confirmation line.
One other note worth mentioning is that the actual metal $SILVER hasn't broken to new highs while SLV did. Could be significant ().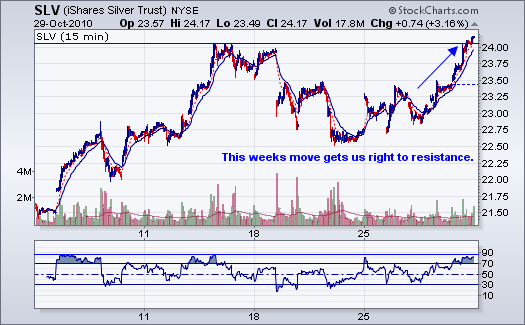 Other stocks in the sector are Coeur d'Alene Mines (NYSE:CDE), Silver Standard Resources (NASDAQ:SSRI), Silvercorp Metals (NYSE:SVM), Mag Silver (MVG), Endeavour Silver (NYSE:EXK) and Hecla Mining (NYSE:HL)