By Dr. Bart DiLiddo and Angel Clark
The Efficient Market Theory states that it is impossible to "beat the market" because share prices always incorporate and reflect all relevant information as soon as it becomes available. Implicit in this theory is the condition that all market participants receive and act on all relevant information at the same time. Of course, this notion is silly and is not true.
The reality is that market participants certainly would like to be among the first to receive all relevant information, but only a few have the wherewithal to do it. The Pros and high frequency traders can do it, but most of us are among the last to hear any market moving news until it's old hat. So how can we deal with this disadvantage?

We have to focus on the primary forces driving the market and not get bogged down or misdirected by useless headlines. That's why I wrote about our Investment Climate Report and S&P 500 Earnings Trend Indicator last week.

The last couple of earnings seasons have seen analysts whittling down their earnings growth estimates from 9% to 7% to 3% as reporting time drew near. Another cautionary sign shows up in the increasing number of companies that have been issuing negative guidance and a trivial few that have had the stones to actually raise their guidance. So what is likely to happen? Is this a temporary set back or the beginning of a financial avalanche reminiscent of 2008?

To handle this question, we took a look at the summary row of VectorVest's S&P500 WatchList. This WatchList summary averages the fundamental, technical, as well as proprietary indicators VectorVest contains, for all the stocks in the S&P. This average of the S&P500 data can also be graphed.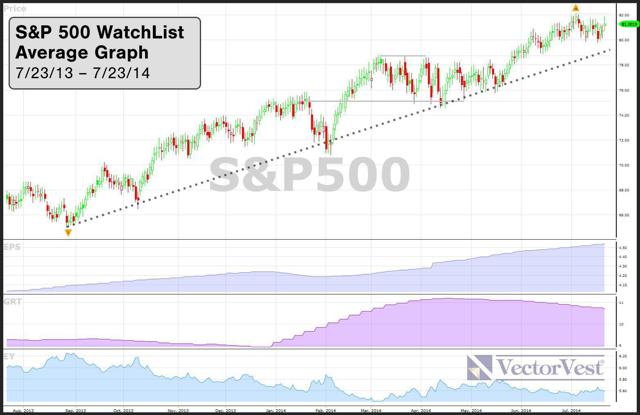 In the graph we see that while Earnings Yields have declined steadily over the past due to ever increasing stock prices, the Earnings Growth Rate (GRT, 1-3 year forecast) has recently slowed but remains quite high and the most critical indicator, Earnings Per Share (EPS) for the S&P, remains relatively unfazed in its upward trend. In addition, the trend line of the S&P500 average stock prices remains intact and still has a ways to go before being broken. What value does this earnings and price analysis have though?
Earnings have provided a tried and true alarm system that has managed to predict bear markets again and again. Simply put, money goes where money grows. As long as earnings are rising and interest rates are unappealingly low, investors will stay true to the market and stock will continue to rise.
Could the current mark pull back snowball into another crushing bear market? Anything is possible, but according to the earnings "early warning" system, it's a little too soon for investors to have their hand on the panic button.
Disclosure: None