The stock market might have enjoyed an excellent run since the lows in 2009, but this has been a bull market that has not garnered much love from investors. Volume has been in steady decline, and there is now increasing concern that valuations are stretched. Nevertheless, the market continues to surge to dizzying new heights as the Federal Reserve presides over a balancing act of extraordinary proportions. In this issue, I examine the rationale behind investors' continued acrophobia by investigating current valuations and trends.
Valuation Indicators
CAPE is one of my preferred value indicators but I also want to briefly discuss a valuation indicator favored by legendary investor Warren Buffett, as well as a sentiment indicator.
1. Cyclically Adjusted P/E (CAPE)
With the US market now trading above 25x CAPE, it is among the most expensive globally. Only Indonesia (28x) and Denmark (29x) are more expensive based on the ongoing work of Mebane Faber. As per my markets article last quarter -- Under Pressure... But is the Market About to Crack? -- it is important to consider both components of CAPE, price (the numerator) and earnings (the denominator).
So firstly, what is driving the recent record highs of the market?
Needless to say, the Fed has played, and continues to play, a titanic role. Despite their recent announcement they would be tapering to the tune of $10 billion, that's still Treasury bond and Mortgage Backed Security (MBS) purchases amounting to $35 billion in July.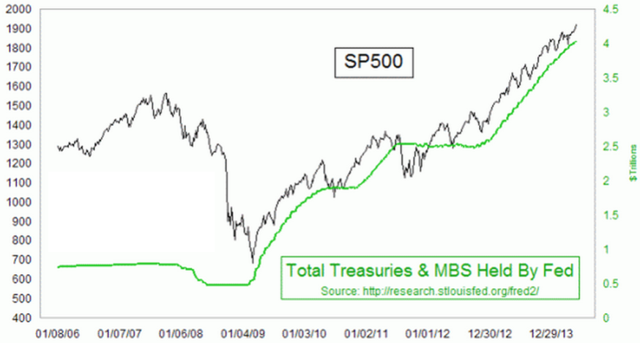 Source: McClellan Financial Publications
It remains to be seen how the market will react once QE is fully withdrawn but there is one powerful tool at the Fed's disposal… low interest rates.
Since low interest rates facilitate borrowing, leverage, refinancing, and consumption, changes in interest rate levels have a profound effect on both the stock market and the economy. Yellen has already confirmed she will keep rates low for a "considerable time," even after QE3 ends, to help meet their stated objectives. Furthermore, once these goals are met, the Fed still believes economic conditions warrant lower than normal levels of interest "for some time."
It has now been nearly six years of ultra-low rates. How much longer this can persist is a reasonable and often asked question. Axel Merk of Merk Funds believes the era of ultra-low rates is over, suggesting low interest rates are too destabilizing and that the natural course of increased inflation from an expanding monetary base will translate into higher interest rates.
Steen Jakobsen, the CIO and Chief Economist at Saxo Bank, takes the opposite view. He argues the world cannot support higher interest rates and lack of inflation will facilitate a prolonged period of loose monetary policy from the Fed.
Of course, the reality is that we simply don't know. However, for those who think the magnitude of this crisis -- the record levels of unemployment and debt -- is reminiscent of the Great Depression in the 1930s, the answer is interest rates could stay low for some time. During this particular period in history, interest rates stayed low for almost 15 years.
Switching to the numerator, earnings, analysts believe the outlook is rosy. I'm more pessimistic. Earnings growth has persisted now for five consecutive years, and brokers are forecasting another three years of growth. However, not once since 1951 have earnings grown for more than six consecutive years. Furthermore, corporate profits after tax relative to GDP are record highs.
ZIRP has had a considerable effect on S&P500 earnings by way of hundreds of billions of dollars in reduced corporate interest expenses and the growth of financial sector earnings over the last few years thanks to reduced loan loss reserves. These benefits cannot continue indefinitely, and both margins and earnings will be affected. This time is not different. Earnings will correct.
2. Market Cap/GDP
In interviews with Fortune in 1999 and 2001, Warren Buffett said that determining whether the market is expensive or cheap doesn't have to be complicated at all. His metric: The market value of all publicly traded securities as a percentage of the country's business -- that is, as a percentage of GNP.
Basically, Buffett divides the total market capitalization of the U.S. stock market by gross national product, or GNP. Not to be confused with gross domestic product, GNP measures the value of goods and services that a country's citizens produced regardless of where they live -- including what American companies produce abroad.
Similar to CAPE, this formula has proven to be a valuable indicator in estimating long-term returns in the stock market. As can be seen from the chart below, 10-year returns according to this metric are actually expected to be in negative territory.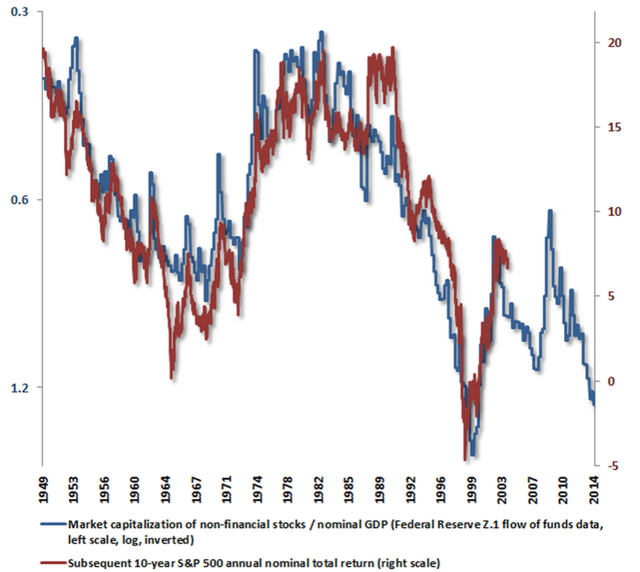 Source: www.husmannfunds.com
3. Sentiment Indicator
At the beginning of June, Investors Intelligence reported that bullish sentiment surged above 60%. This occurred at the same time the market registered a five year high and the price to record trailing earnings was 18 times. The last time such conditions occurred was October 2007. The times before that were January and May 1999, August 1987 and January 1973. Each of these coincided with significant market corrections over the preceding years.
Trend Triggers
Whereas valuations act as indicators, trends provide entry and exit triggers. Here, I evaluate the state of the current trend in the market and a couple of selected sectors.
1. Market Trends
Despite the valuation concerns, the trend in the market continues to move higher. The price of the S&P500 remains above the 12-month MA, a trend line that acts as useful entry/exit trigger, as I highlighted last quarter and in this post to Seeking Alpha -- Proven Triggers Trump Questionable Indicators in the Stock Market.
However, it is also true that at current levels, the market is overbought. In fact, it is among the 10% most overbought in the history of the stock market going back to 1929 based on the metrics I use. Historically, the market endures a 10% correction every 18 months, but the latest run is 33 months without such a correction.
As for whether the inevitable market decline will prove to be a mere correction or something far greater remains to be seen. However, the valuation indicators would suggest the extent could be severe. With regard to timing, I'll let the price and momentum triggers dictate that rather than trying to predict it. However, it is interesting to note that since 1945 the fewest pullbacks have been in June, whereas October has seen the most with 11%.
2. Sector & Stock Trends
Amidst the recovery in the stock market from 2008-2013, the Consumer Discretionary sector led the way, surging 213%. The sector was also the best performer over the three year period from 2010-2013 (+79%) and it was more of the same in 2013 with a gain of 41%.
However, as we noted in our Q1 edition, there were signs that the winds were changing direction. Although the sector has clawed back some early-year losses, it is still the worst performer of the year and the only one to register losses through June (-0.1%). Within the discretionary sector, the Internet & Category Retail subsector stood out. It has plunged 7% year-to-date and is the third worst performer: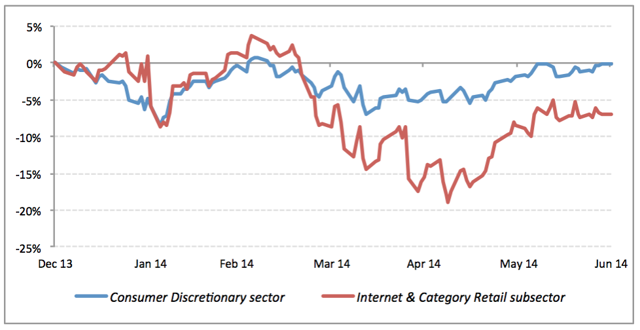 Source: Bloomberg
Amazon (NASDAQ:AMZN) accounts for 60% of this subsector so it is the direction, momentum and condition of this trend that investors need to pay attention.
In my last update, I suggested that "now, the price is threatening to confirm the break below the 50-week MA, suggesting the support at the 100-week MA could next be tested at $288. Momentum is also in free fall and looks to be heading into negative territory. Despite the 20% selloff, the stock has not yet reached an oversold condition so it should not come as a surprise if over the coming months, Amazon continues to head lower".
I reiterated these views in my article -- Amazon: Healthy Correction or Set to Plunge Lower.
As it so happened, this is exactly how things have played out for Amazon. The stock continued to fall throughout April and in May, challenging the 100-week MA. However, as I had suggested, the support held and investor began to buy once more.
The lowest closing price during this correction… $288!
Since then, the price has rallied 13% and threatened to break the 50-week MA resistance. Momentum also looks to have bottomed and suggests the share price has further to run. Provided the market can continue its uptrend, I would expect to Amazon to break through this 50-week MA and make its way back into overbought territory once again.
Rather than the cyclical sectors, the S&P500 has this year been led higher by the defensive Utilities sector (+16.4%), as I highlighted in Q1. This is a significant turnaround considering the sector has been the worst performer over one, three and five year periods. The sector remains above the MA support levels, but momentum looks toppy and as such, a correction toward the 50-week MA at $202 (currently $216) should not be ruled out.
Within this sector, Gas (+23.7%), Electric (+16.8%) and Multi-Utilities (+15.1%) have all enjoyed a good year thus far. Over a 1-year and 5-year period, the Electric Utilities subsector has been among one of the worst 10 performers. In fact, it was the third worst performer over these respective periods. Now, price is still above the MA support but similar to the broader Utilities sector, momentum looks to have topped out and correction toward the support at $213-$226 a strong possibility.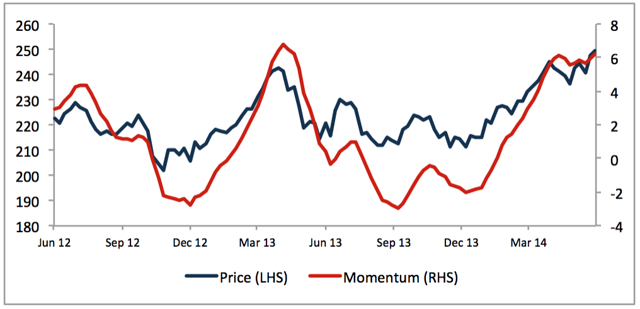 Source: Bloomberg
From a stock perspective, there are 13 Electric Utility companies in the S&P500. The average dividend yield across this list is an attractive 4.2%. However, what is also noticeable is the lack of sales and earnings growth expected from the analysts.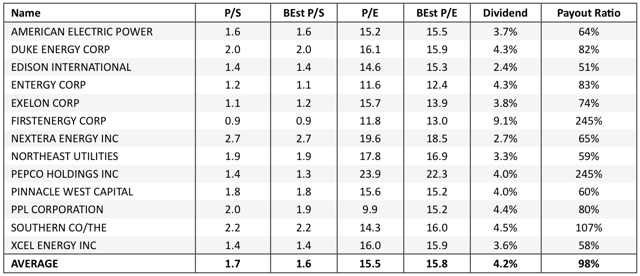 Source: Bloomberg
CONCLUSION
While it is true that the market is overvalued and tapering is upon us, investors do not need to get ahead of themselves in trying to call the top of the market. The trend remains up and the Fed remains committed to a low interest rate environment. Fighting the Fed is not an option and the correct call is to stay long the stock market. This is particularly true of the late cycle sectors such as Healthcare, Energy and Utilities. Needless to say, this will change in time, but that time is not now. The balancing act continues. We may be hitting new highs but vertigo has not yet kicked in.
Disclosure: I/we have no positions in any stocks mentioned, and no plans to initiate any positions within the next 72 hours.
I wrote this article myself, and it expresses my own opinions. I am not receiving compensation for it (other than from Seeking Alpha). I have no business relationship with any company whose stock is mentioned in this article.
Editor's Note: This article covers one or more stocks trading at less than $1 per share and/or with less than a $100 million market cap. Please be aware of the risks associated with these stocks.