By Todd Shriber & Tom Lydon
In her congressional testimony last week, Federal Reserve Chair Janet Yellen reiterated that interest rates will remain low for the foreseeable future as the central banks continues to search for ways to stimulate the U.S. economy.
Despite Yellen's commentary and the 10-year Treasury yields that reside at their lowest levels in a year, some bond market participants appear to be betting on higher, not lower, rates. Since the start of the third quarter, investors have pulled capital from some longer-dated bond exchange traded funds, including a combined $438 million from the iShares 20+ Year Treasury Bond ETF (NYTLT) and the iShares 7-10 Year Treasury Bond ETF (NYIEF).
Earlier this year, IEF and TLT were two of the best asset-gathering ETFs of any stripe with IEF spending some time as the top ETF for 2014 inflows.
"Yellen's testimony, combined with elevated tensions in Eastern Europe and the Middle East that we believe has caused a recent flight to the quality, via U.S. Treasuries, contributed to the yield on the 10-year government bond falling further. However, Yellen's views also serve as a reminder that rates will ultimately move higher," said S&P Capital IQ in a new research note.
Rising rates are apt to punish longer duration bonds and the corresponding ETFs, but investors have options for defending against higher interest rates.
"As such investors concerned about rising rates should give a close look to those ETFs that have relatively low duration. But also they should look inside since not all short-term ETFs are the same. In ranking bond ETFs, S&P Capital IQ takes into account the credit quality, duration, yield into account, in addition to reviewing performance and cost attributes," said the research firm.
Although 10-year yields have fallen 12.4% this year, the Vanguard Short-Term Bond ETF (NYBSV) has hauled in over $433 million in new assets. Rated overweight by S&P Capital IQ, BSV, one of the largest short-term bond ETFs, has an average duration of 2.7 years.
Two-thirds of the bonds held by BSV are U.S. government issues with a significant portion of the rest being rated Aaa, Aa or A, according to Vanguard data.
In another sign of investors' appetite for short duration bond funds, the iShares Short Maturity Bond ETF (BATS:NEAR) is just 10 months old and already has $326.1 million in assets under management. NEAR, also rated overweight by S&P Capital IQ, has a 30-day SEC yield of 1.1% and an effective duration of 0.93 years.
NEAR's yield, "we believe, is the result of holding mostly corporate bonds with lower-investment grade (A-rated or BBB-rated) bonds," said S&P Capital IQ.
Investors seeking an actively managed to short-term bond investing can consider the PIMCO Enhanced Short Maturity ETF (NYMINT). Home to $3.7 billion in AUM, MINT is the largest actively managed ETF.
MINT currently has 631 holdings and an effective duration of just 0.54 years. The 30-day SEC yield is 0.52%. Over half of MINT's portfolio is allocated to short-term investment-grade corporate bonds with another 17% going to mortgage-backed securities.
Vanguard Short-Term Bond ETF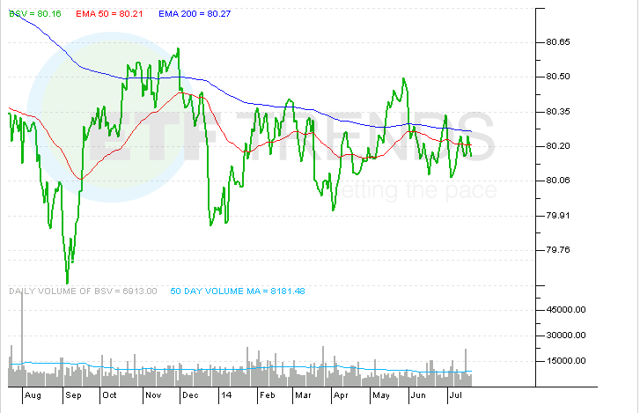 Tom Lydon's clients own shares of TLT.
Disclosure: The author is long TLT. The author wrote this article themselves, and it expresses their own opinions. The author is not receiving compensation for it. The author has no business relationship with any company whose stock is mentioned in this article.