General Electric (NYSE:GE) used to be the world's most admired company under its previous CEO Jack Welch from 1980 to 2001. Unfortunately, part of the reason why it was able to consistently generate strong EPS growth was due to Welch's ability to engage in financial engineering, particularly earnings management through its GE Capital financial operations. GE's current CEO Jeff Immelt has shifted the company's business mix away from financial operations and towards large scale industrial manufacturing operations. This is epitomized by GE's recent announcement that it will split-off its private-label credit card operations as Synchrony Financial (NYSE:SYF) while it will spend $10B to acquire most of Alstom's energy assets including gas and steam turbines for power plants, while selling its own rail signaling division for $800 million to reinforce Alstom's transport offering, which includes TGV trains. GE is also in talks with potential acquirers to sell its home appliance unit, which may generate $1.5B-$2.5B for GE and projects as much as $4B in divestitures this year.
GE also recently released its Q2 2014 financial results and it was a bit of a mixed bag. The overall performance of GE's industrial business units generated solid revenue and operating income growth year-over-year in Q2 2014 and H1 2014 versus Q2 2013 and H1 2013 respectively. GE's industrial revenue grew by 7% and its operating income grew by 9% in Q2 2014 (8% revenue growth and 10% operating income growth in H1 2014). However, its GE Capital division saw a 5% operating income decline in Q2 2014 and a 2.45% decline in H1 2014. GE's industrial businesses generated a wide range of performance in Q2 2014 and H1 2014.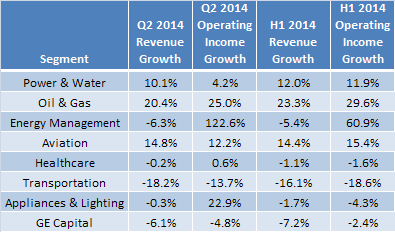 Source: GE's MRQ Earnings Release
GE Capital's businesses have generated unremarkable performance in Q2 2014 and H1 2014. Positive revenue and profit growth from GE Energy Financial Services and GE Capital Aviation Services was more than offset by declines from its Real Estate, Consumer and Commercial Lending and Leasing businesses. GE Capital continued its strategy to decrease the size of its non-core portfolio. ENI (excluding cash and equivalents) was at $371 billion at quarter-end, down $2.4 billion from last quarter and down 5% from the year-ago period. GE Capital Corporation's estimated Tier 1 common ratio (Basel 1) rose 51 basis points from the year-ago period to 11.7%, and net interest margin was strong at 5%. Through the first half of the year, GE Capital has returned $1.4B in dividends to the parent. GE Capital recorded tax benefits in the quarter to reflect a lower expected tax rate for 2014, primarily driven by its planned tax-efficient disposition of the consumer bank in the Nordics.
Notable shareholders in GE include the following:
Fisher Asset Management (29.4M shares, $762M worth of equity)
D.E. Shaw (22.85M shares, $591.6M worth of equity)
Berkshire Hathaway (10.6M shares, $274M worth of equity)
Adage Capital Management (7.3M shares, $188M)
AQR Capital Management (5.6M shares, $145M worth of equity)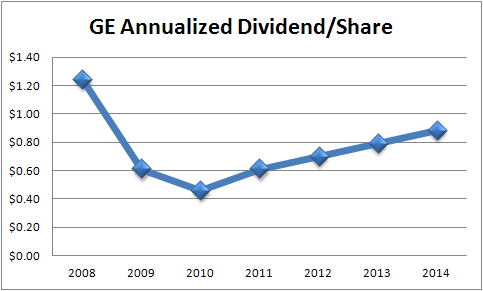 Source: GE Investor Relations
In 2009, GE slashed its dividend by a shocking 68% ($1.24/share to $.40/share annualized) in the wake of the financial crisis. This was especially jarring to investors because this was the first time since 1938 that GE cut its dividend to shareholders and came after 33 consecutive years of dividend increases. GE cut its dividend in order to reduce its dividend outflows by $9B annually and has steadily increased the dividend since then in order to partially restore the pre-crisis dividend levels to $.88/share annualized. GE's dividend payout ratio is 52% of its adjusted FY 2014 EPS, which would enable the company to maintain and incrementally increase the dividend payment in line with company performance. GE has also spent over $18B to repurchase shares net of the issuance of new common shares from the beginning of 2008 to the first half of 2014. As a result of the financial crisis, GE has sharply cut the amount of outstanding debt from 2009 ($479B) to H1 2014 ($303B).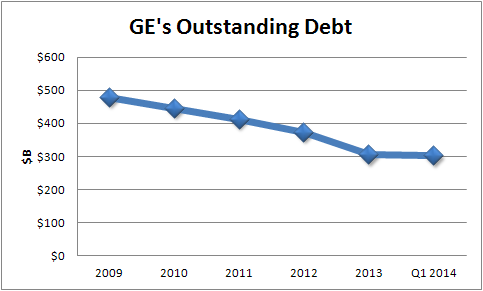 Source: Morningstar Direct
Conclusion:
In conclusion, we are neutral on GE though there is potential for us to change our mind. We are intrigued by GE's 3.4% dividend yield as well as its recent strategic reorganizations. GE's days of strong growth are behind it and its future long-term expected growth is expected to be around 8% according to the analyst community. GE's share price of $26 is within 7.6% of its 52-week high (which we believe is its fair value) and we'd be more inclined to consider GE as a strong buy if its share price was ~$22.50. We believe investors who have made strong gains in GE may want to lock in some of their profits as we believe the market is fairly valued and headed for a correction. While GE's business mix includes fast-growing sectors such as its Aviation, Oil & Gas and Power & Water, its other businesses have seen choppy performance this year. Investors may want to consider if GE is too big to successfully generate any substantial alpha for its equity investors due to its massive size as well as its diverse mix of businesses. At least it is making an effort to prune non-core businesses such as its Appliance & Lighting business and its private-label credit card operations.
Disclosure: The author has no positions in any stocks mentioned, and no plans to initiate any positions within the next 72 hours. The author wrote this article themselves, and it expresses their own opinions. The author is not receiving compensation for it (other than from Seeking Alpha). The author has no business relationship with any company whose stock is mentioned in this article.