This article is an update to my "Total Return Portfolios" for Q3 2014. Please read "Part 1" for a complete description of the portfolios but basically they are for investors that want dependable regular dividends and the potential for special dividends as well as long-term capital appreciation from increased stock values. The other four portfolios that I will cover in following articles are 'High Yield', 'Risk Averse', 'Value' and the 'Underdog' portfolios that will be updated on my "Portfolio Updates" page.
Projected Total Returns
The following table is similar to the one used in Part 7 but with each BDC placed into a lower or higher risk category mostly based on portfolio mix and yield. Projected total return combines the current regular dividend yield with the projected dividend growth (from Part 5) and special dividends (from Part 6) along with net asset value ("NAV") per share growth (from Part 4). I have assumed that the BDCs with declining NAV per share find a way to stabilize and at least maintain 0% growth and BDCs with positive growth over the last 12 months I have discounted by 50% and assume that they continue to grow at least half the rate of the last 12 months (shown in the 'actual' column). For more detail please read Part 7. Lower risk BDCs usually have lower regular dividend yields but more growth potential as well as special dividends and growing NAV per share as shown below.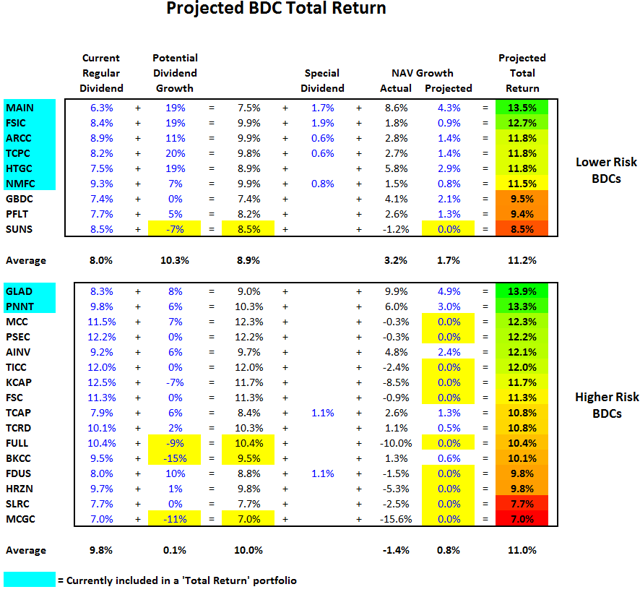 Projected Vs. Expected Returns
The table below shows the projected total returns with the average and the 'standard deviation' that statistically measures the variation of returns compared to the average, with 68% of BDCs within one standard deviation from the average or between 9.3% and 12.8%. I believe this is an acceptable rate of return and maybe a little conservative because of the NAV per share growth discounts and may favor BDCs such as Prospect Capital (PSEC), TICC Capital (TICC) and Medley Capital (MCC) that pay a higher dividend with little to no expected NAV per share growth. I believe that investors expect higher rates of return for higher amounts of risk and using this range of returns along with my relative risk rank (see risk profile articles for more) of each I assign an expected total return.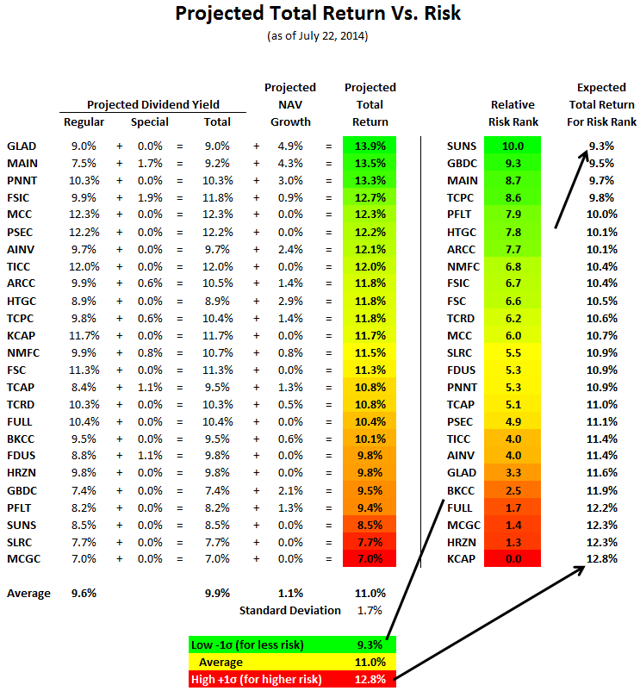 Implied Total Return Pricing
Many investors consider Triangle Capital (TCAP) to be overpriced using its current NAV multiple of 1.74 which is the highest among the BDCs that I cover. But some BDCs are priced based on projected returns. The following is a simple calculation using TCAP as an example: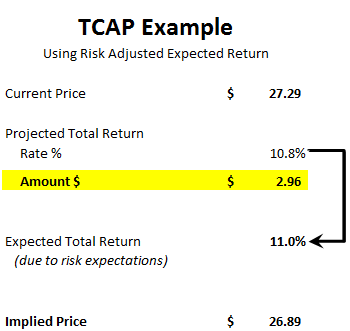 Basically each share of TCAP is likely to return around $3.00 over the next 12 months: $2.16 from its current regular dividend, $0.30 from special dividends and $0.50 from price appreciation and/or dividend growth. If an investor is expecting 11.0% for the amount of risk then the proper price for each share would be closer to $26.89. This would imply that the current price is slightly higher than it should be for its risk vs. projected return.
Revised Total Return Portfolios
The table below uses the projected and expected returns to generate the proper price for each company. I have also indicated the portfolios I have suggested for each including a lower risk total return portfolio and the higher total return portfolio.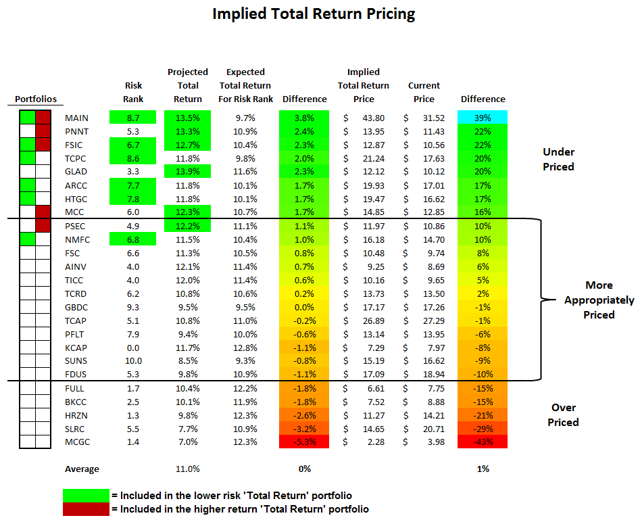 The lower risk portfolio is my personal favorite and includes Main Street Capital (MAIN), FS Investment Corp (FSIC), TCP Capital (TCPC), Ares Capital (ARCC), Hercules Technology Growth Capital (HTGC) and New Mountain Finance (NMFC). There were no changes to this portfolio.
The higher return portfolio now includes PSEC and MCC mostly due to favorable pricing giving them higher dividend yields. Also included are PennantPark Investment (PNNT), MAIN and FSIC. I have not included HTGC and NMFC mostly due to strong price performance recently reducing the current yields. I did not include Gladstone Capital (GLAD) because it will most likely report lower NAV growth later this month.
Strong contenders and possible replacements are Fifth Street Finance (FSC) and Apollo Investment (AINV).
BDCs that have recently cut dividends were not considered including BlackRock Kelso Capital (BKCC), MCG Capital (MCGC) and Full Circle Capital (FULL). BDCs that are likely to have dividend coverage issues in the coming quarters were also not considered including TICC and THL Credit (TCRD).
The next portfolio updates will be the 'high-yield' and 'risk averse' portfolios. Lower risk BDCs usually have lower return potential including Solar Senior Capital (SUNS), Golub Capital BDC (GBDC) and PennantPark Floating Rate Capital (PFLT) and will be considered for other portfolios. I also have a list of 22 other BDCs that I will be looking to add to my coverage for this quarter but will only include higher quality BDCs with adequate dividend coverage potential. Investors should only use this information as a starting point for due diligence and please see my frequently updated "Index to BDC Articles" for more information.
Disclosure: The author is long ARCC, FSC, FSIC, GBDC, HTGC, MAIN, NMFC, PFLT, PNNT, PSEC, TCPC. The author wrote this article themselves, and it expresses their own opinions. The author is not receiving compensation for it (other than from Seeking Alpha). The author has no business relationship with any company whose stock is mentioned in this article.
Editor's Note: This article covers one or more stocks trading at less than $1 per share and/or with less than a $100 million market cap. Please be aware of the risks associated with these stocks.