Talisman energy (NYSE:TLM) has fallen on tough times in the past few years. In 2013, the company posted a massive loss and production was cut significantly mostly because of the sale of some of its North Sea assets. Simply put, Talisman had grown too big for themselves. The company had spread themselves very thin. It owned and operated in 12 countries worldwide which the company has since cut to only 9. The company's core areas consist of two regions, the Americas and Asia-Pacific. The Americas consists of the Canadian, American, and Colombian properties and Asia-Pacific is focused mainly in Indonesia, Malaysia, and Vietnam. After a very dismal 2013, it looks as though the company is back on track.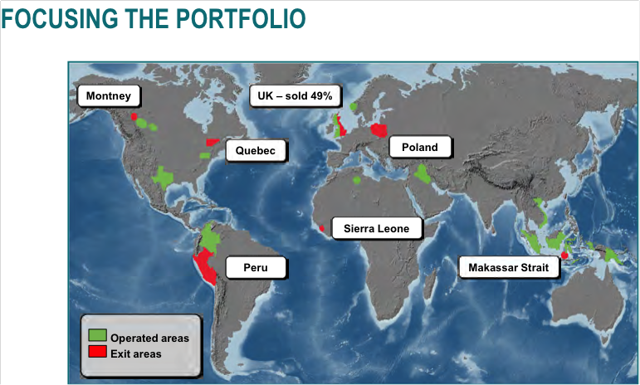 (Source: Talisman Website)
Although Talisman have lost a good amount of production from sales of noncore assets, it still has seen fairly strong production growth. With continued sales of land ongoing in the next 12 months I would expect production to finally settle and then grow at a great pace from there. Production averaged 384,000 boe/d in Q1 which was an increase of 3%. The Americas and Asia-Pacific averaged 349,000 combined, representing about 91% of production. The company continues to seek higher value liquids, and in North America for the year it saw a 45% increase in liquids production.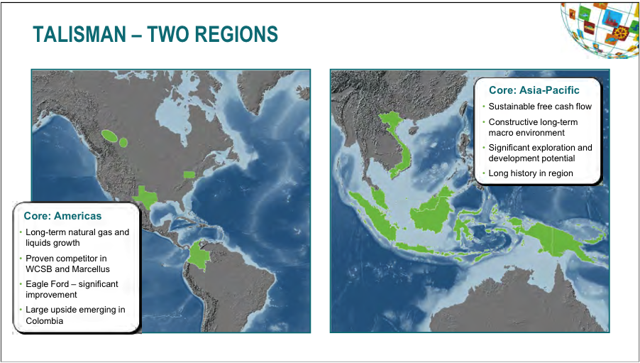 (Source: Talisman Website)
In total, North American production saw a 9% increase Y/Y. At its Eagle Ford properties, which total about 60,000 acres, it saw a 57% increase in production and a 75% increase in liquid production.
The Canadian assets are a very safe and sustainable play currently. The company holds over a million acres spread between three areas, Chauvin, Greater Edson, and Duvernay. It currently has 5 active rigs in Canada and also own 5 gas plants at its Edson land. Chauvin is currently producing about 12,000 boe/d and provides about $80 million in FCF annually. Edson is Talisman's largest holding in Canada and it currently produces over 40,000 boe/d. Edson is FCF positive as well. Duvernay is a highly prospective area. It does not produce yet but exploration and the drilling of new wells continues and the goal is to be producing around 40,000 boe/d by 2017. One great thing about the Duvernay land is that it is close enough to the Greater Edson area to be able to utilize the infrastructure already in place there.
Colombia is a long-term bet that looks very promising thus far. Production Y/Y grew 18% to 20,000 boe/d and the company is still working on getting things developed. It has substantial exploration upside, with an estimated 2.5 billion bbls OOIP at the Akacias land in block 9. The company's plan is to further develop the land greatly over the next two years, which includes drilling 50 development wells and setting up a central processing facility that will be able to process 50,000 boe/d. This is given that an environmental permit is processed quickly enough, which management gave an estimate that it would be by the end of 2014.
The Southwest Asia properties averaged a total of 128,000 boe/d in the first quarter which was a 5% increase from the year prior. Guidance has them producing over 140,000 boe/d by year end in Asia. Currently Asia is generating the largest cash flow, with the 2014 target at $1.2 billion. This is significantly higher than the ~$750 million capital expenditure forecast for Asia. Malaysia was the strongest grower in Asia with production up 8% to 40,000 boe/d compared to last year.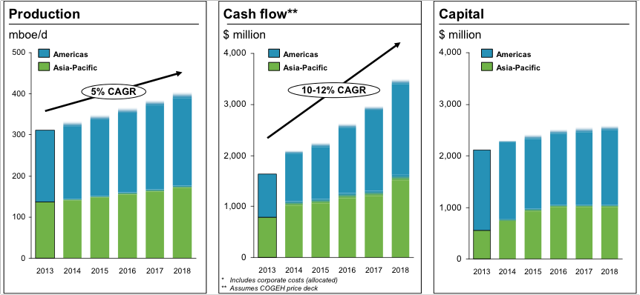 (Source: Talisman Website)
Cash flow is something Talisman has and is really trying to focus on as they turn the corner. Cash flow for the first quarter was $616 million which was a 19% increase Y/Y and a 6% increase from Q4. For the full year, Talisman estimates it will generate $2.3 billion in cash flow.
Net income was $491 million for Q1 which is substantially better than the $213 million loss in Q1 of 2013. In 2013, the company posted over $1 billion loss in total, but with the sale of majority of its Montney assets and more dispositions in the future, its situation is starting to look much better. The sale of the Montney assets netted about $1.5 billion (Canadian) most of which was put toward paying down debt. As of March 31st, the net debt was $3.8B, compared to $4.8B at the end of the 4th quarter.
The company is due to report 2nd quarter results on Tuesday July 29th before the market opens. Estimates have them posting EPS of 5 cents compared to a loss of 3 cents a share over the same period last year. Full year estimates have them posting 29 cents EPS versus a loss of 24 cents a share in 2013. Analysts are fairly neutral on the company with 4 maintaining buy ratings, 8 with hold ratings, and 1 with a sell rating. The Average price target though is $12.00 which still points to upside even at this level.
An important note to add would be that Carl Icahn owns a 7.4% stake in the company. In December, two of his representatives were put on the board at Talisman and obviously he believes there is great upside potential.
I wrote this piece and originally submitted it before Bloomberg came out with news that Repsol (OTCQX:REPYY) is possibly going to make a bid for the company. Jason Kenney, an equity analyst at Banco Santander SA, said this about it,
"Can never say never, but hypothetically speaking, Talisman would be a big step. There might be assets in the Talisman portfolio that could be of interest -- but a full company bid would be a surprising move."
Trading was halted on Wednesday, and Talisman responded with a press release in which they confirmed they had been approached by Respol about "various transactions." There is lots of speculation as to whether it is a full bid for the entire company or if it is just for some of Talisman's assets. It would be unwise to jump to conclusions, but either of those outcomes would most likely be good for shareholders.
In conclusion, Talisman has seen a troubled past year, but the plan to focus on core areas and continue to dump non-core areas should see them stabilize and grow better in the future. By switching to "quality over quantity" they will be able to better utilize their key assets and provide better long-term value. If a potential sale happens in the near future, I see shareholders being rewarded nicely. So either way Talisman looks to be in a good position moving forward.
Disclosure: The author has no positions in any stocks mentioned, but may initiate a long position in TLM over the next 72 hours. The author wrote this article themselves, and it expresses their own opinions. The author is not receiving compensation for it (other than from Seeking Alpha). The author has no business relationship with any company whose stock is mentioned in this article.
Additional disclosure: I originally wrote and submitted this article before the Bloomberg news was released. At that time the price was hovering around $9.80. Always do your own research before investing.