The electronic manufacturing services company, lexus (NASDAQ:PLXS), is seeing increases in programs which are expected to positively impact net sales for fiscal Q4 in three out of four of the company's sectors. Interestingly, CEO Dean Foate, stated in the recent Q3 conference call that one program is "episodically strong" for this quarter and that revenue from the program will continue into fiscal 2015. Since the company is being cautious with its customers, the sector that this program pertains to has not been mentioned. However, the company did mention how it expects each sector to perform for fiscal Q4. The company is indicating that it will have a strong finish to fiscal year 2014 which ends in September. Plexus' business can change quickly, so I think investors have to look at the stock one quarter at a time. This is not a buy and forget type of stock.
Sector Outlook
The Networking/Communications sector comprised 37% of 2013 revenue, making it the largest of the company's sectors. The good news is that Plexus expects a mid-teens percentage point gain for Networking/Communications for fiscal Q4. This will build on the 25% revenue gain from fiscal Q3. Plexus also thinks that this may be a near-term revenue peak since customers are taking advantage of favorable market conditions resulting from new product launches. Therefore, I'm comfortable with how this sector will perform in Q4, but I think we'll need to see what the company says in its Q4 conference call to get a better handle on its performance for the next fiscal year. Things can change quickly and significantly for Plexus. For example, Juniper Networks (NYSE:JNPR) accounted for 13% of Plexus' net sales in 2013, or $289.6 million. However, Juniper disengaged from Plexus that year and Plexus does not expect any shipments for Juniper in fiscal 2014. This is why investors need to keep a close eye on Plexus to see where the business is heading.
The Healthcare/Life Sciences sector accounted for 25% of Plexus' 2013 revenue. The company sees revenue growth in the low single-digits for this sector in fiscal Q4 to follow the 6% increase achieved in Q3. There are new programs being increased by existing customers which will contribute to the expected Q4 gains for this sector. Plexus helps Healthcare companies gain a competitive advantage by decreasing the time to market and by reducing fixed costs. The expected increases for Q4 reflect the growth in customer business due to those advantages.
The Industrial/Commercial sector accounted for 25% of Plexus' 2013 revenue. Plexus is expecting flat growth for this sector in fiscal Q4. The market is weakening for semiconductor capital equipment, but this is being balanced by increases in new programs for an expected overall result of flat growth for the sector. This sector reflects how the business can fluctuate and currently semiconductor equipment is dragging it down.
Finally, the Defense, Security, & Aerospace sector accounted for 13% of the company's 2013 revenue. The company is seeing strength with Aerospace and Security customers. The company expects the sector to achieve a high single-digit percentage point gain for fiscal Q4. This follows the sector's 4% increase in Q3. The numerous security threats in today's world are likely to keep this aspect of Plexus' business growing for the foreseeable future.
After looking at all of the sectors, we have three sectors that are expected to show increases for Q4, with one expected to be flat. The largest sector, Networking/Communications, is expected to achieve the largest percentage point gain. Looking at this and with the company's positivity regarding the 'yet to be named' customer with the 'episodically strong' program in place, I think Plexus will achieve EPS in the high end of its range of $0.74 to $0.80 for fiscal Q4. This implies the revenue increases that were discussed, a gross margin of 9.3% to 9.6%, a tax rate of 8% to 10%, SG&A costs of $29.5 million to $30.5 million, and a depreciation and amortization expense of $12.9 million.
Valuation Comparison to Peers and S&P 500
Plexus is currently trading at 13X analyst's expected EPS of $3.11 for fiscal 2015. The company's competitors Flextronics International (NASDAQ:FLEX) and Jabil Circuit (NYSE:JBL) are trading at 10X and 12X analysts expected earnings for 2015 respectively. Taking the tax implications out of the equation shows similar results. Plexus, Flextronics, and Jabil Circuit have EV/EBITDA ratios of 8.8, 6.9, and 5.0 respectively. Therefore, Plexus is overvalued as compared to its peers. However, things can change quickly for these companies, so the 2015 earnings forecasts may not be an accurate reflection of what will actually occur. Currently, Plexus has positive things going for it in Q4, so although the stock may lag its peers due to valuation, it is still likely to perform well over the next few months due to its sector growth.
The good news for Plexus is that the stock is still undervalued as compared to the S&P 500. The S&P 500 as measured by the SDPR S&P 500 ETF (NYSPY) is trading at 16.7X next year's expected earnings. Therefore, Plexus is about 22% undervalued in relation to the broader market. Plexus' undervaluation as compared to the market is a result of the unpredictability of the printed circuit boards industry. Since programs can fluctuate significantly, the net sales of the printed circuit boards companies can also fluctuate significantly.
To see how Plexus is priced in relation to its future cash flow, I performed a discounted cash flow analysis. This was based on future free cash flow growth of 6.6%, in line with what the company averaged for the past two years. I then factored in Plexus' weighted average cost of capital (WACC) of 11% as stated in the 10-K report. The DCF calculation shows that Plexus is worth $49 today. With the current price at about $42, Plexus is about 14% undervalued on a cash flow growth basis.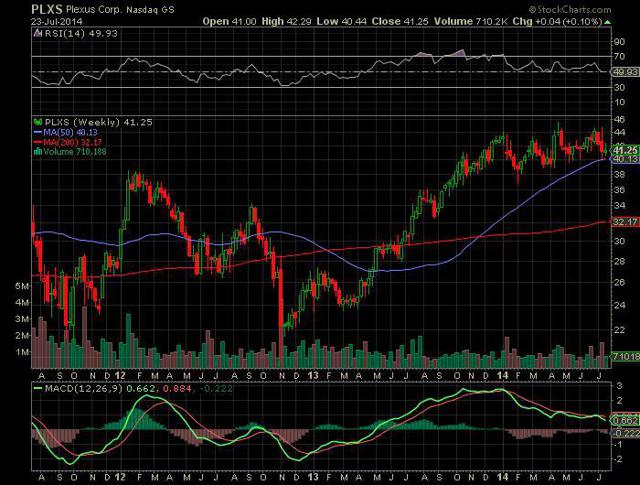 Defining the Downside
Plexus' stock is risky since the company derives the majority of its revenue from a relatively small amount of customers and from only four sectors. The company's 10 largest customers accounted for 55% of fiscal 2013 net sales. I mentioned earlier that Juniper disengaged, creating a loss of 13% of Plexus' net sales. On the bright side, positive announcements of significant new business can also happen suddenly. Since these fluctuations exist, I think that Plexus is a company that needs to be watched like a hawk. It is not a buy and forget stock holding. It's a stock for nimble investors that are willing to keep abreast of the company's news. For that reason, I would only look at owning the stock between quarters. If the company guides lower for fiscal 2015, the stock is likely to sell-off on the news.
The stock has a beta of 1.9, so it will move 90% higher than the market during a bull run or 90% lower than the market during a market sell-off. It is common for the stock to have swings of 10% in both directions within a few months. Since the market is due for a correction, Plexus would likely decrease by 19% if the market dropped by 10%. That would bring the price down to $34. However, no negative catalyst exists yet to warrant a 10% market correction.
Defining the Upside
Although Plexus' stock is likely to lag its peers due to its overvaluation in relation to FLEX and JBL, I think the stock will outperform the S&P 500 since it is undervalued in relation to the overall market. I expect the fiscal Q4 earnings report to be positive in terms of revenue and earnings, but the key will be how the company guides for fiscal 2015. Since the current guidance for Q4 is positive, I expect the stock to run higher up to the Q4 earnings report which will take place in the second half of October. Since the business can change quickly, I won't forecast beyond the next earnings report. With that in mind, I think it would be reasonable for the stock to approach its discounted cash flow value of $49 by the Q4 earnings report in October - if the bull market continues without a correction. The catalyst for this is the positive guidance that the company gave for its Q4 performance, emphasizing significant customer program ramps for the quarter. There is also $7.4 million remaining on the company's stock buyback program that is expected to be completed during the current quarter, which will provide additional support for the stock.
Disclosure: The author has no positions in any stocks mentioned, and no plans to initiate any positions within the next 72 hours. The author wrote this article themselves, and it expresses their own opinions. The author is not receiving compensation for it (other than from Seeking Alpha). The author has no business relationship with any company whose stock is mentioned in this article.