On Thursday, July 17th, a CNBC analyst recommended a viewer sell their Trimble Navigation (NASDAQ:TRMB) investment. He described Trimble as a "Garmin without the extra bells and whistles". It seemed like an odd statement considering Trimble's vision and goals. Granted, it could have been a cagy ploy to antagonize Trimble's management into conducting a television interview since just such an invitation immediately followed the "sell" call.
Purely GPS?
Some may view Trimble Navigation as purely a GPS play. If so, they haven't taken a look at Trimble since the mid-80's. They're short-changing themselves and the company. Actually, Trimble was never a pure GPS play. Regardless, it has evolved into so much more. First of all, an organization doesn't acquire 100 companies in 15 years without some level of transformation. Secondly, an organization doesn't invest over $1 billion in research and development in the past five years bringing its total of filed U.S. patents to over 1,000 without some level of transformation. Third, an organization with a long-term goal of increasing the adoption of technology in industries that are underserved by technology is likely to either simply fail or adapt. Lastly, an organization with compound annual growth rates of 16% in revenue and 21% in net income from 2003 to 2013 is probably not clinging to a single product as a revenue generator.
No, Trimble is not a pure GPS play. Instead, it is better described as a designer, developer and integrator of hardware, software and communication systems solutions that improve work tasks and/or processes. Trimble is actually a PCMA play - Position, Connect, Model, Analyze. It claims it will tackle any challenge to deliver value to its customer.
Trimble Navigation's mission is to "transform the way the world works". It serves five large industry segments: heavy civil construction, building construction, agriculture, geospatial and transportation & logistics. Technology adoption in these industries has been slow and is still in the early phases. Trimble estimates the opportunities in these industries are only 25% penetrated.
"The core of our strategy will be to be the leader in the penetration of these markets and thereby, claim a disproportionate share of that future penetration."
Trimble Navigation is redefining the purpose of technology in these industries. The PCMA model migrates customers from simply using sensors to integrating technology solutions into the work process by using the collected data in modeling and analytics. Some examples of the challenges Trimble wants to help its customers address include:
produce more food per acre at a lower cost while reducing environmental impact,

decrease the construction time and costs while increasing the safety of roads, railways and other civil infrastructure,

decrease the construction time and costs while improving the quality of residential and commercial buildings,

decrease the costs and time required to transport goods while improving safety and reducing the carbon footprint,

decrease the costs of managing large fleets of service vehicles while improving safety and reducing the environmental impact and

produce and distribute energy, water and other natural resources quickly, safely and efficiently.
Trimble believes the addressable market will grow 67% in four years from approximately $15 billion to approximately $25 billion.
The Markets
In the construction industry, both heavy civil and building, Trimble projects its growth will come from deeper relationships with existing clients, geographic expansion and extending its product solutions. The market is projected to grow from $4.5 billion in 2014 to $8 billion in 2018 (numbers are approximations). While nearly 80% growth in four years may seem aggressive, it must be viewed in a perspective relative to the opportunity. The charts below detail Trimble's estimates of market opportunities in the heavy civil construction industry and the building construction industry.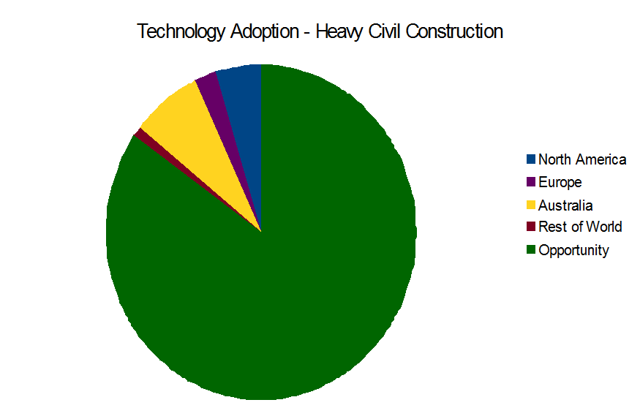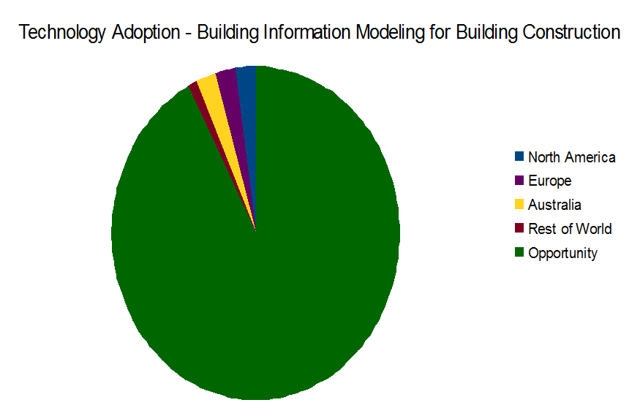 It could possibly be argued that the opportunities would already be met if they truly existed. This slide from Trimble's Investor Day presentation on June 4, 2014 speaks for itself: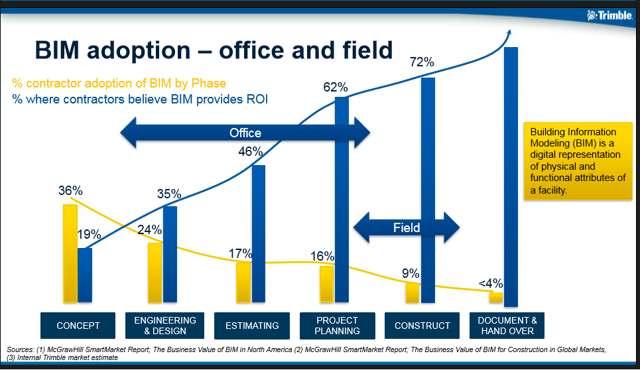 The agriculture industry, as a whole, is transforming to a manufacturing-like process. The agriculture market is projected to be around $2.5 billion in 2014 with 60% growth over four years to around $4 billion in 2018. Trimble's approach is to help the industry identify which factors are controllable and which are uncontrollable. By understanding the controllable, productivity can be maximized. As well, understanding the uncontrollable helps growers minimize the impact. The chart below displays the opportunity in large machine guidance, just one factor of the agriculture industry.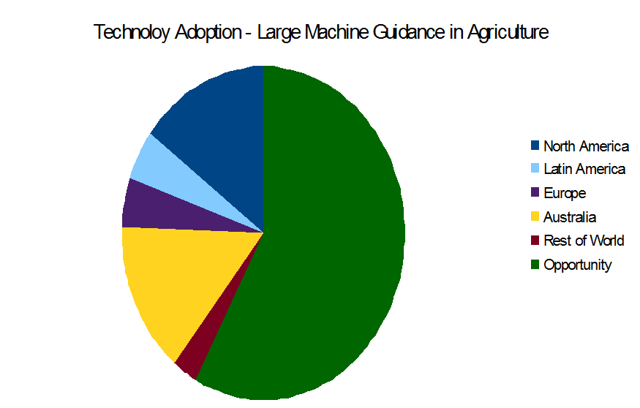 At its June Investor Day, Trimble offered case studies validating ROI in the same three of the five primary industries it serves. In the heavy civil industry, two identical road designs were built. Using technology, the road was built in half the time with 43% fuel savings and twice the accuracy over conventional methods. In the building construction industry, Trimble measured the construction of its own office building in Colorado against industry metrics. There were reductions in site prep and erection time. Costs were reduced in field engineering and rework costs were cut. In the agriculture industry, Trimble produced recurring returns on investment as a result of implementations such as large machine guidance, irrigation solutions, fleet management, and adopting imagery. In only 5 examples, Trimble documented savings of a recurring $1.6 million per year for its agriculture clients.
The Vision
Trimble Navigation's CEO, Mr. Steve Berglund, summed up the company's vision in layman's term in the first quarter 2014 earnings conference call:
"We're selling cost reduction. We're not selling capacity."
He stressed the entire organization has adopted:
"a fierce view on value creation".
Regarding the state of the three industries, heavy civil construction, business construction and agriculture, Mr. Berglund shared:
"our fundamental belief, as a company, is that both construction and agriculture are going to go through another technology -- or fundamental technology transformation based on the availability of data, and we are planning on participating in that. So I think that our longer-term view at the moment is probably clearer than our short-term."
There certainly appears to be much more upside in Trimble's story even if one were to limit it to the five traditional industries it has served. When considering Trimble is expanding its offerings to other industries such as the rail, environmental & waste, water utilities, electrical utilities, mining, forestry, field services and oil, gas & chemical industries, the opportunities seem boundless. Likewise, considering the opportunities in emerging markets such as China, India, Latin America and Africa are primarily unmet, the potential for Trimble's growth seems quite reliable. With all of that on the horizon, why has Trimble's share price nosedived in the past 90 days? Why is a CNBC analyst recommending it is time to go?
Trimble's Position
One should remember Trimble is teaming with industries that have a reputation of being extremely slow to change. Yet, even with that impediment, Trimble more than doubled revenue from $1.13 billion in 2009 to $2.29 billion in 2013. In the same time frame, net income more than tripled from $63.96 million to $218.17 million. Trimble management is just now beginning to see a change in approach by its customers and potential customers:
"Five years ago our conversations tended to be with functions deeper within the enterprise, focused on operations or technology adoption. The current trend is towards significant engagement with senior executives who understand their future success depends on the effective adoption of technology."
Coupled with the factor of "slow to change" is the migration of Trimble's own business model:
"we'll remain focused on a bundled hardware, software and services. Much, if not most of the expanded solutions set will be built around providing answers based on analytics associated with very large data sets and access through a SaaS solution. The physical implementation will then typically require a tight integration between the software solution and hardware."
Because of slow adoption and changing offerings, any glitch along the way runs the risk of being over-magnified.
The glitch reported in May for 2014's first quarter was the impact weather had on the agriculture industry in the United States. Drought conditions occurred in the west while extremely wet conditions kept farmers from planting in the east. Every other Trimble business segment saw high single-digit to double-digit growth. Overall, revenue was up 9% year-over-year while net income was up 38%. It didn't help that this was the second year in a row that weather impacted Trimble's agricultural segment. It probably encouraged analysts to linger on the associated risks. Mr. Berglund lamented the circumstance:
"This break in momentum is unfortunate because it camouflages what is occurring strategically."
Off Course?
In early May, Trimble's share price spanned the $38 - $39 range. After the first quarter earnings report, Trimble's stock price lost nearly 9%. When an analyst downgrade from "buy" to "neutral" and price target adjustment from $40 to $36 on July 2nd reiterated the agricultural impact, the price fell another 6%. It has since slipped into the low $30 range for a cumulative loss of at least 20%. Is this glitch being overworked?
In general, there is a growing need for food. Mr. Berglund stated in the conference call that he still believes "the agricultural market can support double-digit growth over the long term". He explained:
"This next stage of growth in the agriculture technology market will be driven by a transition from a focus on vehicle guidance and control to a full integration of hardware, software and services that will maximize productivity across the entire farm. Agriculture is migrating towards whole farm modeling, which will balance input decisions, planting and fertilizing options and investments."
He did not minimize the risks though:
"I think it really is something of a test in terms of, okay, who can accumulate all the elements of the solution and bring them successfully with an effective go-to-market strategy, to bring it directly to the farmer.

We're all, in some sense, selling a degree of futureware here."
Looking Back
The chart below displays the volatility in the Field Solutions segment of Trimble's business where the agricultural market impact is felt. It's important to understand that the geographic information system (NYSE:GIS) sales are also reported in this segment and that they can be just as volatile.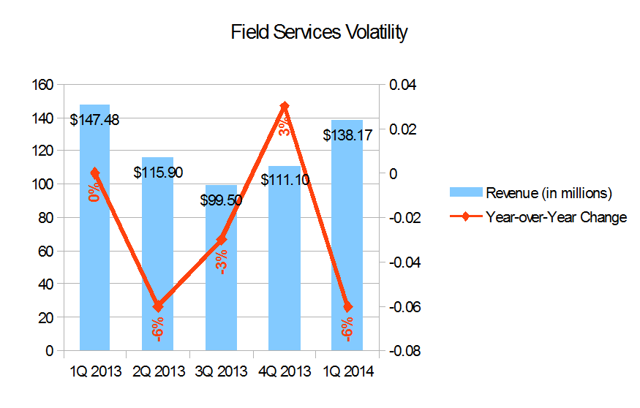 When viewed in terms of its contribution to revenue, it is hard to imagine that the Field Solutions segment could trigger such a change in share price. The pie chart reflects the contributions to revenue of each of Trimble's four segments.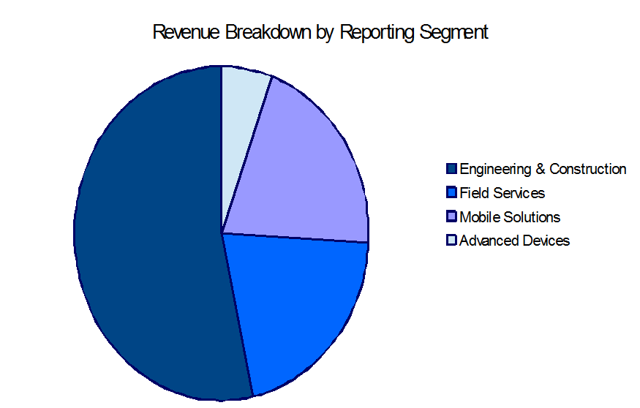 However, when viewed in terms of its contribution to operating income, the Field Solutions segment is clearly a more critical component. The slices of the pie chart shift dramatically when operating income by segment is input.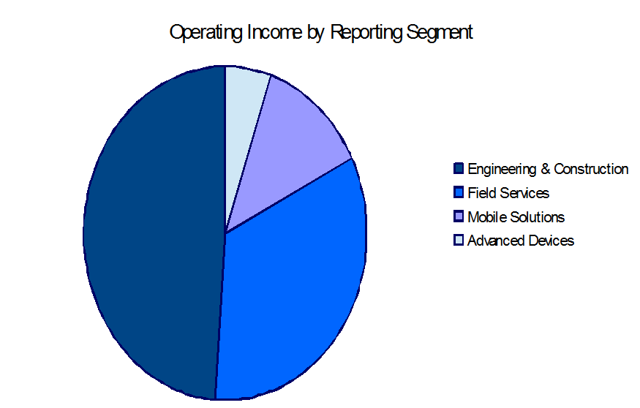 Because its operating margin averages 38.3%, the Field Solutions segment accounts for just over 33% of Trimble's operating income.
There are global corporate costs that are covered by all of the segment operating incomes. Acquisition costs, amortization for purchased intangible assets, general corporate expenses, amortization for inventory step-up and restructuring costs are examples of such corporate costs. For the full year in 2013, these costs accounted for 51% of segment incomes. After these adjustments, operating income as a percentage of total revenue was 11%. The chart below displays Trimble's performance in increasing its operating income percentage for the past four years and most current quarter.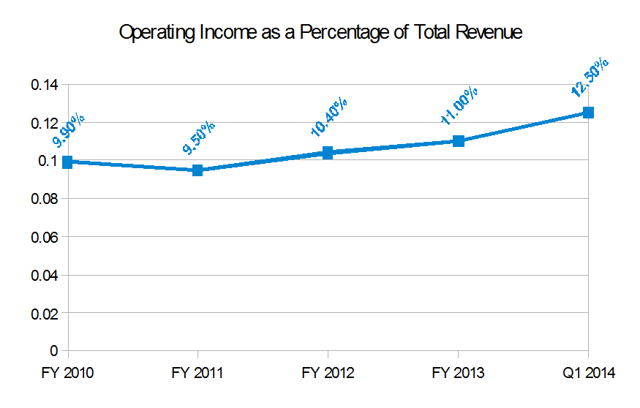 Net income as a percentage of total revenue and non-GAAP net income as a percentage of total revenue for the same time frame are displayed in the charts below. While the degree of improvement is not as positive as the changes in operating income, there is still a positive trend line.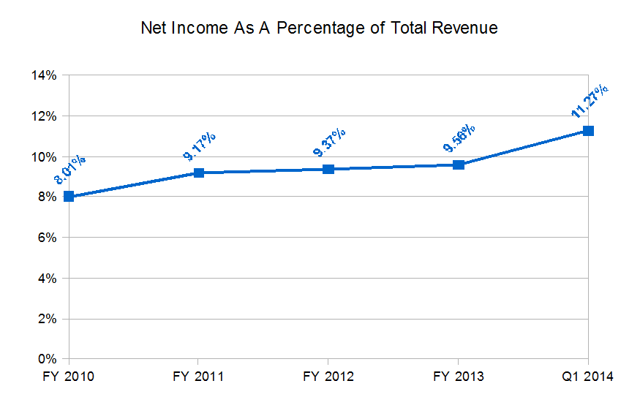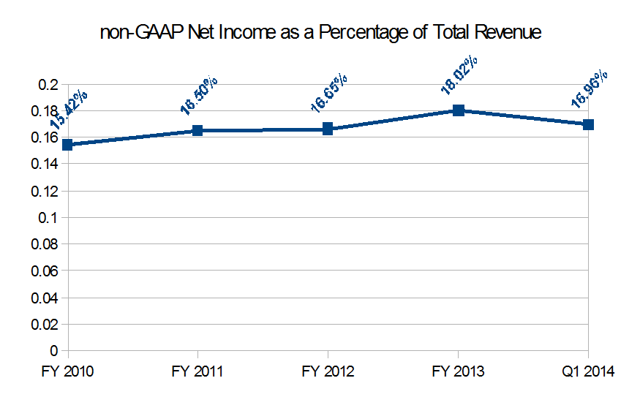 There is little question the agricultural market is carrying the blame for the slips in Trimble's first quarter earnings miss and the share price tumble. However, it does not appear that everything is being considered in context. Minus the Field Solutions segment, the other three segments increased revenue by over 14%. Trimble failed to deliver on the low end of its first quarter revenue guidance of $610 million to $630 million by just over $5 million. With its non-GAAP EPS guidance at $0.40 to $0.43, it missed the low end by $0.01. Trimble management did admit to guiding cautiously for the second quarter.
"Currently, we are anticipating agriculture sales to stabilize in the second quarter, but given the surprises of the first quarter, we have been cautious in our outlook."
It guided total revenue would be $605 million to $630 million and non-GAAP EPS would be $0.38 to $0.42.
And Looking Forward
Deciding to sell or lowering recommendations and price targets was likely based on future expectations rather than past performance. After all, a one-cent miss on EPS (three cents based on analysts' estimates) hardly warrants a 20% share price decline and/or a 10% one-year price target decrease. But, for a reference point, a quick look at Trimble's recent history should help set the stage for the look toward 2018. The chart below shows both the diluted EPS and the non-GAAP diluted EPS as well as the ratio between the two. For 2014 and 2015, current analyst estimates for non-GAAP EPS are used. The ratio for 2014 and beyond is an average of the ratios of the past four years and 2014 first quarter. The non-GAAP EPS projections for 2016 through 2018 were derived by using Trimble's data and extrapolating it into the future as shown in the charts below.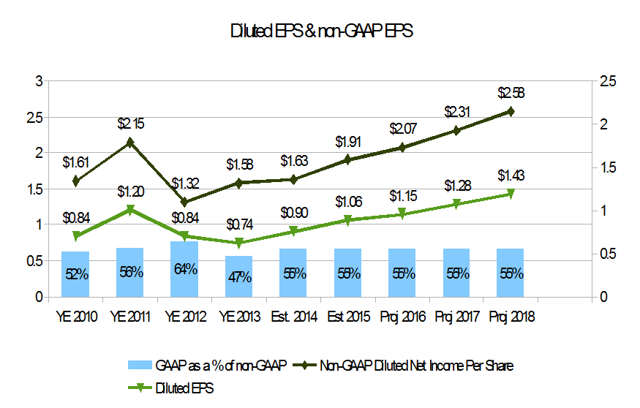 As mentioned above, Trimble projects its addressable market as $15 billion in 2014 and growing to $25 billion in 2018. The chart below maps that progression using a compound annual growth rate of 13.6%.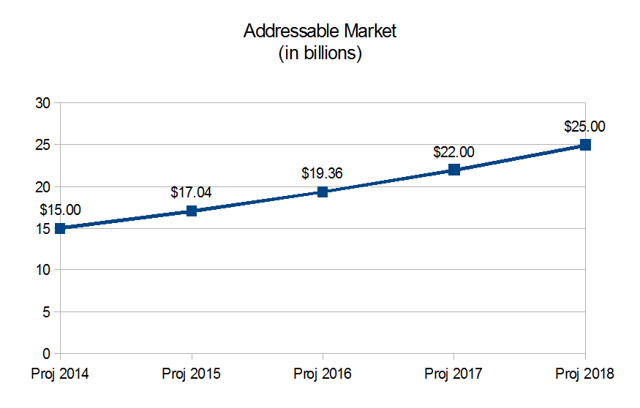 By using the CAGR of 13.6%, an addressable market for 2013 was estimated to be $12.96 billion. Trimble's share of that market, based on its 2013 annual revenue, was 17.66%. Using that market share equates to revenue projections for 2016 through 2018. Analyst estimates are used for 2014 and 2015 in the chart below. The non-GAAP EPS for 2016 through 2018 shown in the chart above was then calculated using a historical growth rate for share count and a historical average for the non-GAAP net income to total revenue ratio. These estimates are all displayed in the chart below. Note the amounts are displayed in differing amounts to aid in the chart's readability. Also, the EPS line is tied to the secondary Y axis to better display the correlation to revenue and net income growth.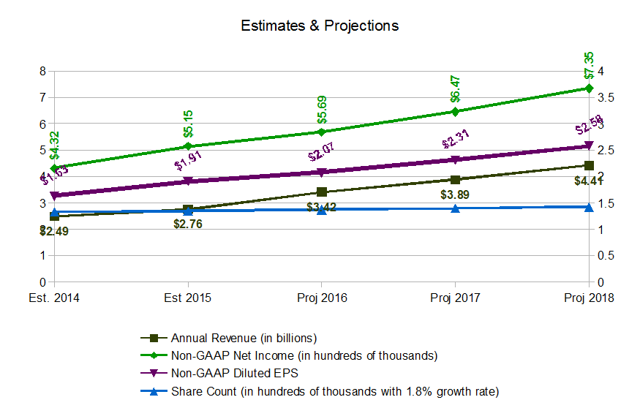 Using analysts' estimates doesn't necessarily raise any flags on Trimble's recent share price, even considering the drastic drop. Using 2014 estimates, the current P/E tops 19. Using 2015 estimates, the forward P/E tops 16. It could be reasoned Trimble's share price had run ahead of itself as that is a common question in the market of late.
The factors used to extrapolate into 2018, especially those based on historical performance, may be exactly the factors which can change the trajectory for Trimble, even justify another share price run. Knowing Trimble's targets for these factors also helps validate or invalidate the projections.
Beginning with Trimble's market share of the addressable market, the above calculations use 17.66% as Trimble's rate. As a reminder, this percentage was determined by using a reverse calculation to determine 2013's addressable market and Trimble's 2013 annual revenue. Dividing the 2014 estimated annual revenue from analysts evenly across the quarters results in a $622.5 million rate per quarter. But breaking down the trajectory into evenly growing quarters equates to needing revenue of $591.6 million in the 2014 first quarter. On the positive side, Trimble's 2014 first quarter performance paced ahead of the market share ratio at 18% and the revenue rate at $604.7 million. It is pertinent, here, to understand that Trimble's quarterly performance does not, historically, flow evenly. For the past four years, the second quarter has topped the first (in all four), the third has slipped below the second (in three of the four), and the fourth has topped the third (in all four). The chart below displays the historical flow for the past four years using the first quarter each year as a base. It is interesting to note there's only been one quarter in twelve that slipped below the first quarter bases. The table below the chart plots several paths to the 2014 year-end.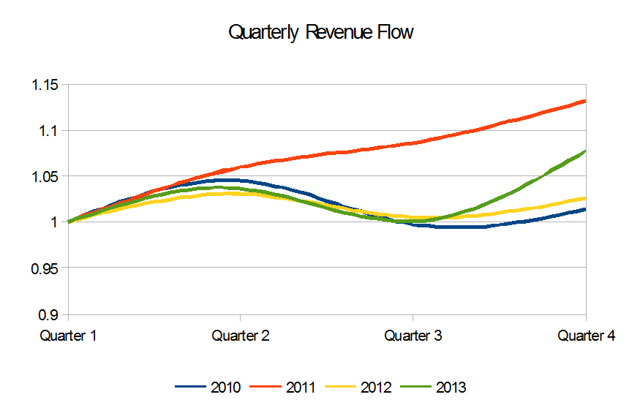 | | | | |
| --- | --- | --- | --- |
| Amounts in millions unless noted | Based on an even compound growth to addressable market of almost $15 billion by year-end 2014 and 17.66% market share | Based on historical quarterly performance averages | Actual & Analysts' Estimates |
| Quarter 1 | $591.64 | $604.72 | $604.72 |
| Quarter 2 | $611.75 | $628.91 | $621.23 |
| Quarter 3 | $632.55 | $616.82 | $616.24 |
| Quarter 4 | $654.06 | $641.00 | $647.81 |
| Total | $2.49 billion | $2.491 billion | $2.49 billion |
All three paths shown in the table above fit easily into Trimble's guidance for the second quarter of $605 million to $630 million. The key to watch in the second quarter report is not whether Trimble hits its guidance but rather where it hits. Hitting low puts excess pressure on Trimble's second half performance and would require breaking out of historical quarterly performance trends. Hitting high may very well signal the agricultural glitch was indeed just a glitch.
Executing the same set of exercises for non-GAAP EPS results in the chart and table below. One option shown displays the results of trusting Trimble's intent to expand non-GAAP operating margin by 2% to 3% by leveraging operating expenses. In the first quarter of 2014, the non-GAAP operating margin for three of Trimble's segments, (excluding Field Solutions), grew by almost 40% year-to-year. Even with the inclusion of the Field Solutions segment, the first quarter operating income increased to 21.2% of revenue as compared to 19.8% of revenue in the same quarter of 2013. As a reminder, Trimble's guidance for second quarter's non-GAAP EPS was $0.38 to $0.42.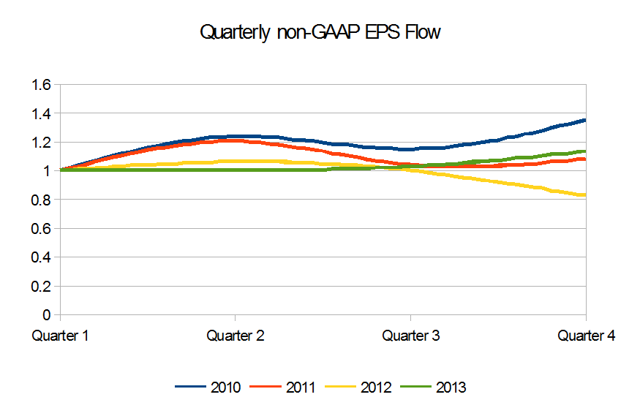 | | | | |
| --- | --- | --- | --- |
|   | Based on Trimble expanding non-GAAP operating margins | Based on historical quarterly performance averages | Actual & Analysts' Estimates |
| Quarter 1 | $0.39 | $0.39 | $0.39 |
| Quarter 2 | $0.42 | $0.44 | $0.40 |
| Quarter 3 | $0.43 | $0.41 | $0.41 |
| Quarter 4 | $0.45 | $0.43 | $0.43 |
| Total | $1.69 | $1.67 | $1.63 |
Should EPS register on the low end of guidance in the second quarter, it would not be surprising to see the stock price take another tumble. But, if it hits on the high end or exceeds, it should not only stabilize the price but may trigger a round of positively resetting full-year expectations.
Position, Connect, Model & Analyze
Trimble Navigation is scheduled to report second quarter earnings on August 5, 2014. A quick checklist of metrics related specifically to the second quarter which would help grant integrity to Trimble's projections into 2018 follows:
Total revenue exceeds $621 million. The closer it moves to $630 million, the more validity Trimble's projections have and the more market share it is capturing.

Field Solutions revenue exceeds $109 million (the average of the last three quarters in 2013).

Non-GAAP diluted net income as a percentage of total revenue tops 17%. An increasing percentage signals Trimble is leveraging operating expenses.
The verbal "sell" recommendation on Trimble Navigation seems a harsh overreaction or an uneducated view of the company's plans and track record. The downgrade from "buy" to "neutral" isn't as alarming when looking at this particular point in the agricultural industry's cycle and management's guardedness, both short-term factors. It could basically be interpreted as a "hold" recommendation. The recent leveling of the share price seems to offer a fair-value buy-in opportunity if an investor is interested in Trimble's longer-term growth story. The recent price range is not a bargain nor is it a reach.
Trimble may be an expert in global positioning but it has chosen to position itself as a technology provider. Analysts ignoring this position aren't connected to what's happening. The models and analytics are falling into position for projecting through 2018. For investors desiring steady and healthy growth performance, Trimble Navigation is worth their due diligence, their attention on August 5th and may even be worth establishing a position.
Disclosure: The author has no positions in any stocks mentioned, and no plans to initiate any positions within the next 72 hours. The author wrote this article themselves, and it expresses their own opinions. The author is not receiving compensation for it (other than from Seeking Alpha). The author has no business relationship with any company whose stock is mentioned in this article.
Additional disclosure: I may recommend TRMB to my investment club at the August meeting after it reports on August 5th.