The following is a list of high growth stocks, as defined by the projected EPS growth rate over the next 5 years. All of the stocks mentioned in this list have EPS growth rates projected above 30% over the next 5 years.

In addition, all of these stocks are more efficient than their competitors, according to the trailing twelve month (TTM) receivables turnover, inventory turnover and asset turnover ratios.

We're not going to go into detailed analysis for each company. The goal here is to give growth-oriented investors a starting point for their own analysis.

Efficiency data and industry comps sourced from Reuters, short float data sourced from Finviz.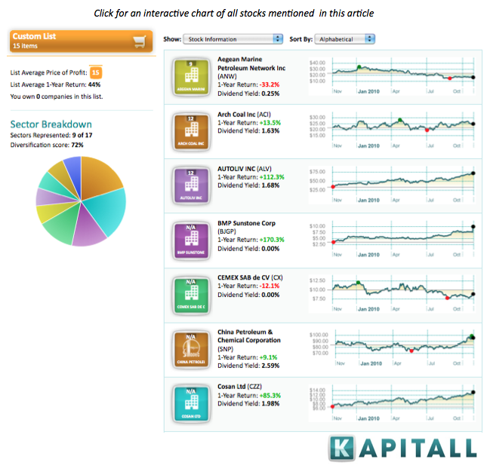 The list has been sorted by TTM inventory turnover.

1. Aegean Marine Petroleum Network Inc. (NYSE:ANW): Basic Materials Wholesale Industry. Market cap of $763.52M. EPS projected to grow by 31.17% over the next 5 years. TTM Receivables Turnover at 10.89 vs. industry average of 7.1. TTM Inventory Turnover at 27.9 vs. industry average of 21.41. TTM Asset Turnover at 3.61 vs. industry average of 0.47. Short float at 10.36%, which implies a short ratio of 4.82 days. The stock has lost -33.07% over the last year.

2. International Coal Group, Inc. (NYSE:ICO): Industrial Metals & Minerals Industry. Market cap of $1.15B. EPS projected to grow by 67.00% over the next 5 years. TTM Receivables Turnover at 12.33 vs. industry average of 6.04. TTM Inventory Turnover at 13.09 vs. industry average of 6.0. TTM Asset Turnover at 0.81 vs. industry average of 0.43. Short float at 7.39%, which implies a short ratio of 8.16 days. The stock has gained 30.39% over the last year.

3. Silvercorp Metals Inc. (NYSE:SVM): Silver Industry. Market cap of $2.73B. EPS projected to grow by 68.00% over the next 5 years. TTM Inventory Turnover at 12.23 vs. industry average of 2.93. TTM Asset Turnover at 0.47 vs. industry average of 0.42. Short float at 0.14%, which implies a short ratio of 0.32 days. The stock has gained 78.78% over the last year.

4. TiVo Inc. (NASDAQ:TIVO): CATV Systems Industry. Market cap of $1.3B. EPS projected to grow by 40.00% over the next 5 years. TTM Receivables Turnover at 17.94 vs. industry average of 3.72. TTM Inventory Turnover at 11.28 vs. industry average of 3.57. TTM Asset Turnover at 0.78 vs. industry average of 0.24. Short float at 13.68%, which implies a short ratio of 6.5 days. The stock has lost -1.59% over the last year.

5. Cosan Ltd. (NYSE:CZZ): Confectioners Industry. Market cap of $3.56B. EPS projected to grow by 53.90% over the next 5 years. TTM Receivables Turnover at 17.18 vs. industry average of 11.46. TTM Inventory Turnover at 11.06 vs. industry average of 3.32. TTM Asset Turnover at 1.05 vs. industry average of 0.74. Short float at 0.44%, which implies a short ratio of 0.68 days. The stock has gained 89.88% over the last year.

6. China Petroleum & Chemical Corp. (NYSE:SNP): Independent Oil & Gas Industry. Market cap of $82.64B. EPS projected to grow by 40.90% over the next 5 years. TTM Inventory Turnover at 10.73 vs. industry average of 2.06. TTM Asset Turnover at 1.99 vs. industry average of 0.22. Short float at 0.3%, which implies a short ratio of 3.12 days. The stock has gained 13.1% over the last year.

7. Autoliv, Inc. (NYSE:ALV): Auto Parts Industry. Market cap of $6.33B. EPS projected to grow by 44.15% over the next 5 years. TTM Receivables Turnover at 5.58 vs. industry average of 4.21. TTM Inventory Turnover at 10.58 vs. industry average of 7.38. TTM Asset Turnover at 1.28 vs. industry average of 0.68. Short float at 4.88%, which implies a short ratio of 4.98 days. The stock has gained 107.15% over the last year.

8. Arch Coal Inc. (ACI): Industrial Metals & Minerals Industry. Market cap of $4.B. EPS projected to grow by 41.80% over the next 5 years. TTM Receivables Turnover at 14.54 vs. industry average of 6.04. TTM Inventory Turnover at 10.26 vs. industry average of 6.0. TTM Asset Turnover at 0.64 vs. industry average of 0.43. Short float at 5.27%, which implies a short ratio of 2.31 days. The stock has gained 8.37% over the last year.

9. Methanex Corp. (NASDAQ:MEOH): Specialty Chemicals Industry. Market cap of $2.56B. EPS projected to grow by 46.00% over the next 5 years. TTM Inventory Turnover at 9.99 vs. industry average of 0.85. TTM Asset Turnover at 0.61 vs. industry average of 0.11. Short float at 0.54%, which implies a short ratio of 1.48 days. The stock has gained 56.1% over the last year.

10. DexCom, Inc. (NASDAQ:DXCM): Medical Instruments & Supplies Industry. Market cap of $798.72M. EPS projected to grow by 32.50% over the next 5 years. TTM Receivables Turnover at 11.61 vs. industry average of 3.18. TTM Inventory Turnover at 9.58 vs. industry average of 2.51. TTM Asset Turnover at 0.62 vs. industry average of 0.52. Short float at 6.06%, which implies a short ratio of 10.07 days. The stock has gained 96.16% over the last year.

11. United Microelectronics Corporation (NYSE:UMC): Semiconductor Equipment & Materials Industry. Market cap of $8.03B. EPS projected to grow by 31.30% over the next 5 years. TTM Receivables Turnover at 6.96 vs. industry average of 1.08. TTM Inventory Turnover at 9.24 vs. industry average of 1.02. TTM Asset Turnover at 0.49 vs. industry average of 0.11. Short float at 0.41%, which implies a short ratio of 3.7 days. The stock has lost -8.04% over the last year.

12. USG Corp. (NYSE:USG): General Building Materials Industry. Market cap of $1.26B. EPS projected to grow by 49.08% over the next 5 years. TTM Receivables Turnover at 7.23 vs. industry average of 1.19. TTM Inventory Turnover at 9.2 vs. industry average of 0.47. Short float at 13.4%, which implies a short ratio of 7.95 days. The stock has lost -9.88% over the last year.

13. iRobot Corporation (NASDAQ:IRBT): Appliances Industry. Market cap of $530.14M. EPS projected to grow by 53.60% over the next 5 years. TTM Receivables Turnover at 10.12 vs. industry average of 4.06. TTM Inventory Turnover at 8.68 vs. industry average of 2.23. TTM Asset Turnover at 1.89 vs. industry average of 0.72. Short float at 10.05%, which implies a short ratio of 15.63 days. The stock has gained 50.87% over the last year.

14. BMP Sunstone Corporation (BJGP): Drug Related Products Industry. Market cap of $414.76M. EPS projected to grow by 37.00% over the next 5 years. TTM Receivables Turnover at 3.58 vs. industry average of 1.99. TTM Inventory Turnover at 7.65 vs. industry average of 1.24. TTM Asset Turnover at 0.63 vs. industry average of 0.27. Short float at 6.86%, which implies a short ratio of 6.96 days. The stock has gained 177.97% over the last year.

15. CEMEX, S.A.B. de C.V. (NYSE:CX): Cement Industry. Market cap of $8.43B. EPS projected to grow by 56.30% over the next 5 years. TTM Receivables Turnover at 10.35 vs. industry average of 1.19. TTM Inventory Turnover at 7.18 vs. industry average of 0.47. Short float at 5.46%, which implies a short ratio of 4.76 days. The stock has lost -21.84% over the last year.

Disclosure: No positions