Growth by acquisition stories can work well, but they are also notorious for running into difficulties. It pays to be wary of them because frequent, rapid acquisitions can lead to integration problems and acquisition accounting can distort the true underlying performance of the business. I believe that third party logistics provider Echo Global Logistics (NASDAQ:ECHO) is such a case, and the company has significant quality of earnings issues.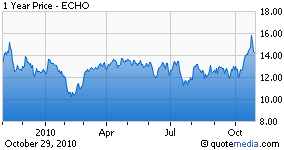 According to its business description, Echo provides technology-enabled transportation and supply chain management services using its Web-based technology platform, Evolved Transportation Manager. This is a fancy way of saying Echo is a freight brokerage firm with some internally developed IT. In essence, the company's salespeople attempt to match shipping customers with the lowest-cost acceptable trucking transportation options. Over its history, the company has grown by completing at least seven acquisitions as well as rapidly hiring an outbound calling sales force. The company went public last year, and bulls believe it could be the next CH Robinson (NASDAQ:CHRW). I am not so sure.
The Trucking Industry and Echo's Growth
Analysts split the trucking transportation market into LTL ("less than truckload") and TL ("truckload"). As a classic fixed capacity industry, trucking ran into severe difficulties during the Great Recession, especially the LTL space. Margins plunged, and the LTL market was faced with enormous overcapacity. Many industry observers thought that the LTL industry would shrink primarily through the elimination of YRC (NASDAQ:YRCW), which has been flirting with bankruptcy for over a year. However, YRC managed to stave off the wolf at the door long enough for pricing and industry volumes to improve in the economic recovery this spring.
Perversely, Echo may have been one of the primary beneficiaries of the industry's overcapacity and the difficulties of YRCW in particular. As Echo's primary value proposition is lower transportation prices, Echo's salespeople were able to obtain capacity at very low prices from trucking companies (especially YRCW) desperate for business, and turn around and offer customers substantial savings from the company's existing shipping rates. This helped Echo grow rapidly, and the company enjoyed net revenue margins (revenue minus cost of transportation) of as high as 22%.
However, this dynamic has reversed as the economy has improved and both LTL and TL carriers have been able to increase prices, shrinking the net revenue margins of third party logistics providers. In fact, several LTL carriers have announced rate increases in the past month, indicating potential further pressure on third party logistics net revenue margins. Echo's net revenue margin has shrunk from 22% in Q3 2009 to 18.2% in Q2 2010. At the same time, the commissions Echo paid on sales have also increased as a % of net revenues from 27.8% in Q3 2009 to 31.5% in Q2 2010.
Normally, a newly public company that experienced rapidly declining margins would be in trouble, as most growth stories involve margin expansion as the business grows. Echo's already skinny operating margins have shrunk from 3.5% in Q3 2009 to 2.8% in Q2 2010. They have been saved from total decimation by substantial leverage on "other G&A" expenses, which have shrunk from 10.7% of sales to 8.1% in the most recent quarter. Indeed, the company has specifically called out its G&A leverage, saying operating margins on net revenue expanded "primarily due to growing leverage over our G&A expenses" in its Q2 conference call.
A Closer Look at the Accounting
Examining Echo's financial disclosures closely casts doubt on whether it is really getting the claimed leverage on G&A costs. As I mentioned earlier, Echo does a lot of acquisitions, and these typically have an earn-out provision. When the acquisition is completed, Echo has to estimate the likely amount of future earn-outs, which show as a contingent liability on its balance sheet. Naturally, when a business that Echo bought performs better or worse than Echo expected, the company has to adjust the amount of earn-out liabilities.
What I believe is not understood by investors is that Echo has been reducing its contingent earn-out liabilities during each of its quarters as a public company, and running the reductions through the income statement as a decrease to G&A, increasing operating profit. Thus, much of the vaunted leverage on the G&A line that has enabled Echo to "beat the number" while its margins in other areas were contracting is simply due to one-time non-cash earnings benefits that actually indicate Echo's acquisitions are doing worse than expected. These reversals can be seen in a line titled "Reduction in contingent consideration due to seller" in Echo's cash flow statements.

Note that I am not accusing of Echo of accounting fraud here. I have spoken to a technical accountant, and it is indeed proper to book reductions of contingent liabilities in this manner. However, I feel it is disingenuous at best for management to point to leverage on its G&A line while not mentioning that this is only due to one-time, non-cash benefits resulting from poorly performing acquisitions. InfoSpace (NYSE:INSP) had the opposite issue in Q2 of 2010, when an acquisition with an earn-out performed better than expectations, and you can be sure Echo called it out as a separate, one-time expense. Suspiciously, in the last two quarters Echo's contingent liability reduction has been the exact amount needed for ECHO to beat Wall St. earnings expectations by a penny- or a little less, as I will show below.
Quarterly Magic
Like a good public company should, Echo has reported Q1 and Q2 2010 earnings a penny above the Wall St. consensus. Q1 EPS was $0.06 vs. the $0.05 consensus and Q2 was $0.09 vs. $0.08 consensus. However, this was after taking a $1.3M benefit to SG&A in Q1 and a $1.4M benefit in Q2. While these are not huge numbers, together they represent a whopping 52% of Echo's first half 2010 operating income! If Echo had not reduced contingent liabilities, I estimate (assuming a constant tax rate) it would have reported Q1 EPS of $0.02 and Q2 EPS of $0.05, badly missing estimates and possibly causing its stock to tank. Of course, the company would have demonstrated minimal margin leverage on the G&A line and operating margins substantially lower than analysts' estimates.
I looked back, and they started this practice in Q4 of 2009. The company reversed nearly $1M in contingent consideration in Q4 2009, representing just under half of the reported operating income from Q4 of 2009. Exhibit 1 shows the impact of Echo's consideration due to seller contingent liability reversals on reported operating income and EPS. Exhibit 2 shows quarterly operating margins with and without liability reversals.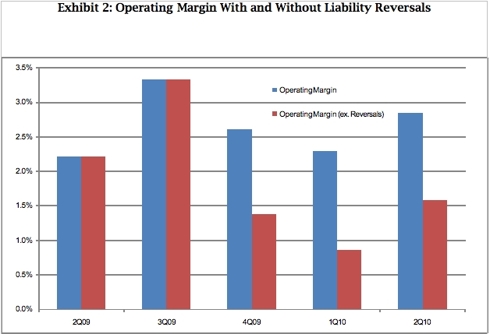 Sources: ECHO SEC filings, my estimates.
Further arousing my suspicions, if you take Echo's Q1 and Q2 2010 EPS calculations out one more decimal place, you find that the company did not beat earnings estimates by a penny, it was closer to half a penny. If you take Echo's net income divided by its shares outstanding, you get $0.056 (rounded up to $0.06) in Q1 and $0.087 (rounded up to $0.09) in Q2.
These numbers are very reminiscent of the "Quadrophobia" academic study which showed that companies are likely to report EPS numbers that are barely rounded up (i.e. the third decimal place is frequently a 5 or a 6) but unlikely to report EPS numbers that are barely rounded down (i.e. the third decimal place is a 3 or a 4). In short, while Echo's accounting is technically proper I find it very hard to believe the amount and timing of these one-time non-cash G&A benefits are a coincidence.
There is other evidence the company was desperate to reduce reported SG&A expenses to meet short-term earnings expectations. Echo's salaried employees actually went down from 294 in Q1 to 282 in Q2, which is very unusual for a company that grew at a 23% sequential rate. As always, looking at the cash flow statement gives a better picture of the real performance of the business. Despite the great headline growth year-over-year the company's negative operating cash flow is roughly equal and free cash flow continues to be deeply negative once capital expenditures and acquisition payments are factored in.
INWK All Over Again?
If you think you have heard the Echo story before, it's because InnerWorkings (NASDAQ:INWK) is virtually the same concept applied to print brokerage instead of freight brokerage. Both companies took a fragmented industry that essentially consisted of middleman beating up on suppliers for price and consolidated it through acquisition while attempting to wrap the company in shiny technology packaging.
But Echo and Innerworkings have something else in common: They were founded by Eric Lefkofsky and Richard A. Heise, Jr., who continue to hold substantial ownership stakes. Barron's published an expose on InnerWorkings and did a better job of describing the story than I can. Unfortunately for investors, despite a drop in the stock price after the Barron's report, INWK was successful in completing a follow-on offering that cashed out much of Lefkofsky and Heise's ownership. The deal was still completed at $13.50, much higher than its current $6.75ish price.
Conclusion
From what I can tell, Echo Global Logistics may be running into margin difficulties that are masked by its acquisition accounting. Given Echo's upcoming Q3 earnings announcement, it will also be interesting to see if the company "beats by a penny" again and how much of its operating income comes from contingent liability reversals. Perhaps Echo can keep taking non-cash benefits to G&A until LTL and TL trucking pricing improves for the company and it can show adequate operating margins. Better yet, Echo should just keep making acquisitions and over-estimating the earn-outs, enabling it to later reverse the earn-outs and show unrealistically low G&A. In fact, if the company over-estimates acquisition payments by a large enough amount, it could show zero G&A! That would be impressive G&A margin leverage indeed.

Disclosure: Short ECHO