Copper has been in the news for all the right reasons from an investment point of view. Supply shortages have been a major factor behind the surge in copper prices due to a combination of falling ore grades in major producing nations, labor problems and project delays. Copper prices had however fallen last week Tuesday after the rise of the US dollar, retreating from a 27-month peak hit earlier in the session and tracking choppy currency trading ahead of a key Federal Reserve meeting next week but with the launch of new physically backed exchange-traded products [ETPs] the copper market has been generating a lot of speculation about their effect on prices and demand.
There is no denying the fact that copper markets have been phenomenally buoyant over the past quarter, rising from USD 6,500 PMT and reaching nearly USD 8,500 PMT over the past couple of days (+30%). Analysts at Deutsche Bank have underlined the strong performance of copper due to the following main reasons.
The China Factor: The Resilient Chinese imports of cathode, scrap and concentrate although its effect could have a downside as and when the Chinese government takes some steps to cool residential property prices that rose at a record pace in April. If that happens, it will further dampen hope for an extended copper rally. The metal is heavily used in pipes and wiring.
The Weakening US Dollar and investor anticipation of new ETFs: JPMorgan Commodity ETF Services registered to launch an exchange-traded product [ETP] for copper in a filing late last week with U.S. regulator the Securities and Exchange Commission. Earlier this month, UK-based ETF Securities said it would launch ETPs for base metals, while producer RUSAL said its aluminium-supplied ETF would hit the market within the next three months.
Correlating US Congress Elections- QE2 And Copper Trends: The Dollar index has been hovering near support for three weeks now, unclear if it wants to rally or break down. This week is crucial for dollar's direction. Two key events this week can push the dollar, the US Congress elections and the Federal Reserve's meeting where it will decide on the extent to which to debase (quantitative easing) the dollar. Although if Republican party does indeed win the elections as largely believed by political analysts hence their victory has been largely discounted by the dollar index already. The Fed's dollar decision meanwhile is been keenly awaited across the spectrum and will have long-term consequences on the global economy. If the dollar eases, other currencies could rally, increasing the cost of commodities and spurting inflation in developing economies.
Projections: Analysts at Deutsche Bank however remain skeptical that more injections of money USD500bn or USD1,000bn or QE3/4/etc. will meaningfully impact US copper consumption.
China Copper Consumption Growth Outlook: Although 2009 witnessed an unprecedented period of buying by the Chinese in the copper market and has largely been maintained through 2010, analysts at Deutsche Bank have projected that there is a danger that Chinese copper consumption disappoints in 2011, with growth close to zero.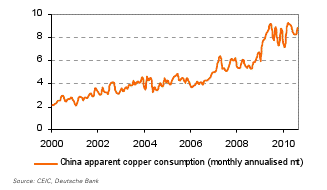 Copper Premium vs. US Fed funds: A Look at the copper premium vs. US Fed funds chart underlines the strong correlation. Low interest rates spur higher prices, and even as the Fed starts to raise rates the copper price can continue to rise as the market anticipates the lingering inflationary impact of accommodation.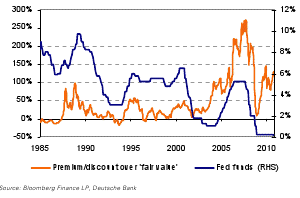 Copper Outlook 2010 And Beyond
Long Term Upside: Despite some near term weakness with respect to Chinese demand, the overall physical fundamentals for the copper market appear very strong.
Base Metals Projections: World Market Pulse analysts believe that new investor interest in products such as commodities exchange-traded funds will also boost base metals demand and prices from 2010 until 2015. Analysts at consultancy CRU Group are also bullish as evident from its 2014 against 2010 commodity price performance forecast thermometer, CRU sees gains of 15 percent or more for copper and tin. During this same period, the group also sees 0-15 percent gains for lead, zinc and aluminium, and 0-10 percent for nickel.
Copper ETFs Investment Options include: Copper ETFs
ISE Global Copper Index Fund Profile (NASDAQ:CU): The index is a modified linear weighted index designed to track public companies that are active in the copper mining industry based on analysis of revenue derived from the sale of copper.
Expense Ratio: 0.70%
iPath DJ-UBS Copper Total Return Sub-IndexSM ETN (JJC): The index includes the contract in the Dow Jones-UBS Commodity Index Total Return that relates to a single commodity, copper (currently the Copper High Grade futures contract traded on the COMEX).
Expense Ratio: 0.75%
PowerShares DB Base Metals Fund (NYSE:DBB): The Index is a rules-based index composed of futures contracts on some of the most liquid and widely used base metals - aluminum, zinc and copper (grade A). The index is intended to reflect the performance of the industrial metals sector.
Expense Ratio: 0.75%
Disclosure: No positions