Always up for a turn-around story, this review of Pacific City Financial Corp. (OTCQB:PFCF) started with a search for a regional bank that was still holding TARP Preferred shares. We are now entering the time where the interest paid on these securities has reset to 9%, which only adds to the already growing pressure to get them off of the books once and for all. While investing after a redemption can be profitable, more upside tends to come to those who got in before the purchase is announced, or like in this case, after a partial redemption. With that, let's see if Pacific City would make a profitable investment (spoiler-I think it's a pass).
Note: Spike below is due to reverse-stock split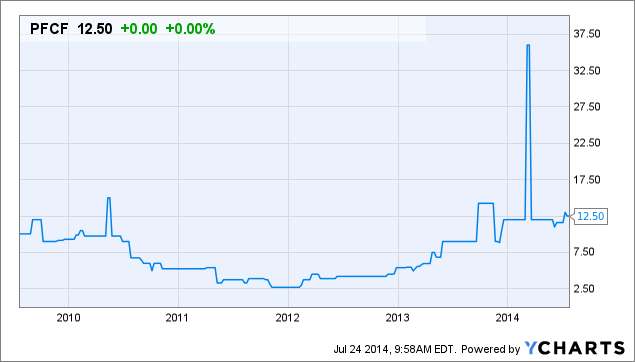 About the Bank
Founded in 2003, Pacific City Financial specializes in commercial banking and real estate lending. The bank has 9 branches in Los Angeles, and 7 loan production offices that operate in six states. Like East West Bancorp, Pacific City has found a niche providing services to the Asian communities throughout the state, though, on a much smaller basis. The bank has $760 million in assets, and currently trades with a market cap of $105 million (good for a 48% premium over common shareholder equity).
Pacific City did not escape the financial crisis without a few scars, but last year's healing continued with the redemption of $8.7 million of the $16.2 million outstanding TARP preferred shares in the middle of last November. Up to that point, the bank was behind on dividend payments, and the interest on those dividends, but more than half of that liability was also paid, and in April, regulatory approval was given to the bank for up to $7 million in additional TARP related payments.
We will find out what the bank did with this amount of money when the second quarter earnings are announced (in August), but news of the $7 million approval came with one from management saying that they expected to use the new amount to settle the rest of the unpaid dividends, and repurchase more of the Series A preferred shares (approximately 5,853 shares). If this was accomplished, we should see the bank's earnings offset by these transactions in the equity accounts, along a drop in the total preferred shares outstanding (1,691 Series A shares and 810 Series B shares after redemption).
Based on the $201 thousand quarterly preferred dividend payment that was due on May 15, 2014, these additional purchases will save the bank close to $700 thousand a year (or $0.08 per diluted share).
Performance
Paying off expensive debt like the preferred shares will increase the bottom line, but the bank has already seen several improvements on the back of a surging loan portfolio. The portfolio is up 18.4% YOY, with the main growth seen in commercial real estate (up 19.4% YOY) and home mortgage lending (up 58.9% YOY). This has required the bank to attract more funds from depositors, which has moved up interest expenses some, but net interest income of $7.3 million before provisions was 19.5% higher than the same time last year. And, just as important, net interest margins are up 1% (not a big improvement but impressive that it hasn't fallen) to 4.04%, which means the bank hasn't completely opened up the floodgates by sacrificing profitability for a larger loan book.
Based on where the portfolio is now, I wouldn't be surprised if net interest income for 2014 came in at $29 million (11% higher), which by itself would completely cover last year's non-interest expenses by ~$7.5 million (pre-tax, pre-preferred dividend).
Non-interest income, on the other hand, is heavily dependent on gains from the sale of loans that have been declining over the past few quarters. Last quarter's total non-interest income line, for instance, was $1.1 million less than the last quarter of 2013.
The majority of last quarter's gains came from the selling of SBA loans that were down 25% to $15.1 million, but before that, the selling of mortgage loans was the main driver. Down 90% in just one quarter, we are reminded of how volatile this income is. With that in mind, last year's non-interest income of $11.3 million looks high, and I wouldn't expect it to be much more than $7.5 million this year. This figure allows for more declines on loan sales and it brings my estimate of pre-tax earnings for 2014 up to ~$15 million. Based on the current market price, this would have shares trading with a forward pre-tax P/E of only 6.6Xs. BUT, even though this looks cheap, a market cap of $150 million is a very full value to give to Pacific City right now.
Concerns
The bank may look attractive based on my pre-tax income projections, but $15 million pre-tax would actually be a 5% decline on last year's earnings. On top of this, investors were shown earnings of $2.44 per diluted shares last year, but 25% of that came from the reversal of a deferred tax asset. In addition to this earnings help, $2 million of allowances were released when the portfolio grew 11%. And, last quarter the portfolio continued to grow when management recorded another provision benefit of $386 thousand, and had write-offs releasing an additional $345 thousand from allowances.
Moves like this may help compensate for declines in mortgage sales, but allowances as a percentage of total loans are down 34% YOY, to 1.88%. Nonperforming assets are completely covered, but nonperforming loans are up 8.5% YOY, and I wouldn't be surprised for them to continue to grow some based on the amount of new loans being added to the loan portfolio. Allowances are a regular cost of doing business, and it's hard not to think this is a form of earnings manipulation when the portfolio is growing and equity is taking a hit from the redemption of the preferred shares.
I've written several times about how little value I place in deferred tax assets (check out my last few Bank of America articles), so I will spare my regular readers from a repetitive speech, but striping this from tangible equity ($7.9 million) leaves us with only $62.8 million at the end of last quarter. This adjusted number implies a market premium of 67% to where shares currently trade, which makes our jobs as investors a little harder when coupled with projected earnings. Based on earnings, I'd say we have a bargain, but I tend to like a little more value for my dollar when those earnings come from high variable sources (like mortgage sales).
With that said, investors will see the bottom line improve after the TARP preferred shares are redeemed, but this looks like it's already priced in. And, it would be a miss to not point out that while I have mainly been focusing on pre-tax income, investor's should brace themselves for a nosedive in reported after-tax net income when the deferred tax asset is no longer in play. $21 million last year came from this benefit, and applying a regular tax rate of 35% to my projected $15 million pre-tax translates into more than a 50% drop. Continued growth from the loan portfolio will help, but it would need to be by a lot more than 10% a year for 2015 to show any bottom-line improvements.
Bottom Line
It's hard to put a value on Pacific City when earnings and book value are pointing in opposite directions, but it's not hard to pass by moving along the path toward my next investment. Pacific City's loan quality looks positive and the redemption of the preferred purchases will help, but a lot of this is priced in, and the presence of the deferred tax asset and constant loan releases make me think that at least a small part of the financial crisis clean-up efforts have been only accounting related. With that said, management may prove me wrong, but I'm still not buying.
Note 2013's tax benefit, and the still high percentage of income coming from the sale of loans (last quarter's gains of $1,272 million were down 42% from the 4Q2013).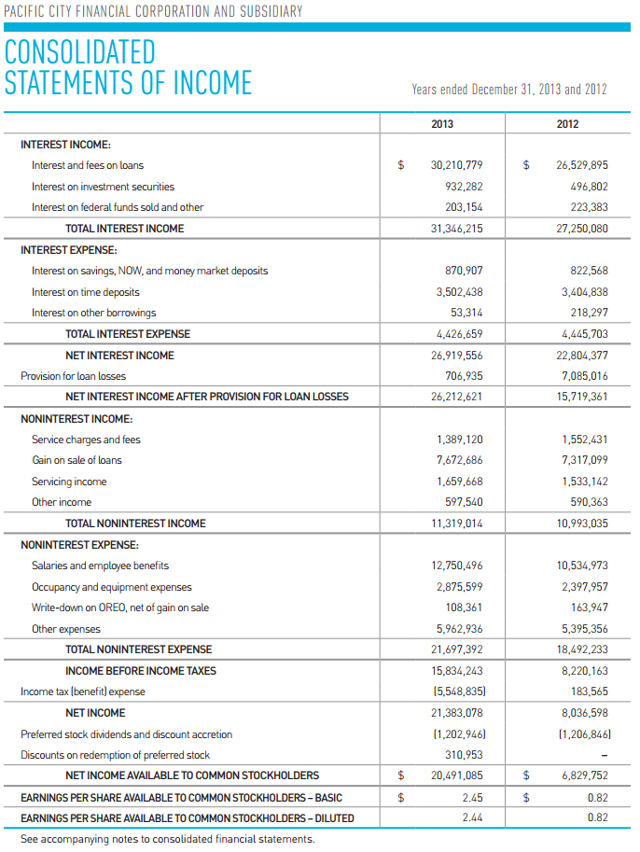 Disclosure: The author has no positions in any stocks mentioned, and no plans to initiate any positions within the next 72 hours. The author wrote this article themselves, and it expresses their own opinions. The author is not receiving compensation for it (other than from Seeking Alpha). The author has no business relationship with any company whose stock is mentioned in this article.
Editor's Note: This article discusses one or more securities that do not trade on a major U.S. exchange. Please be aware of the risks associated with these stocks.