This earnings season has been a success thus far with the vast majority of companies in the S&P 500 having either met or exceeded consensus estimates. Technology has seen some of the bigger surprises, with last night being another showcase event for Big Tech, and based on forward guidance and industry trends it does appear that technology should be a winner through the end of the year.
Thus far in 2014 we have been underweight in tech with our focus being upon the value names in the sector. The returns have been solid, and based off of the returns with our portfolios being overweight in energy we have not really missed out on any gains. We will be reviewing our allocations to tech in the coming months because we do see some headline events which could boost the sector.
Chart of the Day:
It seems just yesterday that we were calling for investors to look to 4,000 as support and not be scared off by the pullback. Yes we were worried at the time, but the weak hands and fast money were chased out with those moves downward. The key is to balance any allocation in tech among various industries and different sized companies. Although not a perfect tool to accomplish this, we like to look to the PowerShares QQQ (NASDAQ:QQQ) for exposure to tech as it tracks the Nasdaq 100 and has a heavy weighting towards tech names.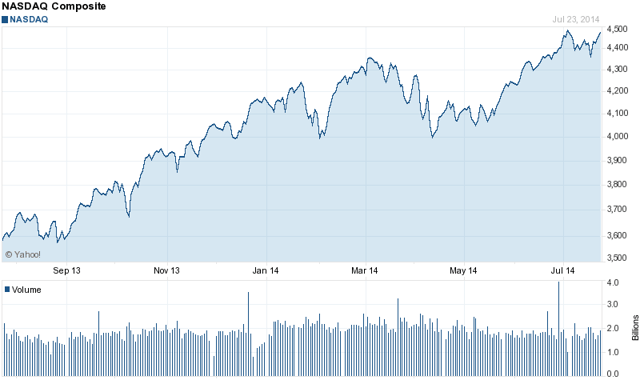 Source: Yahoo Finance
We have economic news today, and it is as follows:
Initial Claims (8:30 a.m. EST): Est: 308k Act: 284k
Continuing Claims (8:30 a.m. EST): Est: 2533k Act: 2500k
New Home Sales (10:00 a.m. EST): Est: 475k Act:406k
Natural Gas Inventories (10:30 a.m. EST): Est: N/A Act:90 bcf
The Asian markets are mostly higher today:
All Ordinaries -- up 0.20%
Shanghai Composite -- up 1.28%
Nikkei 225 -- down 0.29%
NZSE 50 -- up 0.55%
Seoul Composite -- down 0.08%
In Europe, the markets are higher this morning:
CAC 40 -- up 0.67%
DAX -- up 0.39%
FTSE 100 -- up 0.09%
OSE -- up 0.61%
Tech Moving Strongly
Last night Facebook (NASDAQ:FB) blew the estimates out of the water. They not only beat on the bottom line, but they reported a revenue figure that was $100 million over what analysts were expecting. That might not sound all that impressive, but one has to remember that the company is expected to grow exceptionally fast and that the market is extremely bullish on the company so they are not facing watered down analyst expectations. Beating optimistic estimates is always impressive, and the market is rewarding the company this morning.
The driver for Facebook is their mobile ad business, which now accounts for over 60% of their revenue. The company's ability to monetize mobile, as well as the growth in mobile ad pricing, should continue to drive the top and bottom lines as well as increase margins as it appears that the company has slowed down their spending on talent.
With the high put in today, investors have now seen Facebook shares double from their IPO price.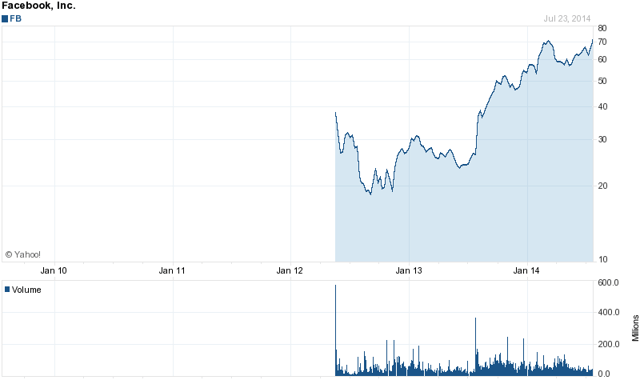 Source: Yahoo Finance
The Facebook quarter gives us hope that Twitter (NYSE:TWTR) can catch on in the mobile space as advertisers look for other social network platforms to spend ad dollars on. We have laid out our thoughts on Twitter before, and although their mobile business has yet to catch on with buyers, Facebook is educating the market which could lead to some looking to lock up ad space elsewhere.
Mobile Ads The Focus
Now that Facebook, Google (NASDAQ:GOOG) and Yahoo (YHOO) have reported their quarters, we know that Yahoo's properties continue to lag and lose market share to the likes of Facebook and Google. While Google's ads have proven to be effective over the years, advertisers are shifting more of their spending to Facebook. Looking at the numbers tells this story as Facebook saw its overall digital ad market share increase by about 25% as it more than doubled the price of its ads while showing fewer.
Facebook might be able to take further market share from Google and Yahoo as video plays a larger role on the web, and if this is the case we would expect the big loser to be Yahoo. We say this because Google has YouTube and Twitter has Vine, two of the top video sites on the web.
Disclosure: The author has no positions in any stocks mentioned, and no plans to initiate any positions within the next 72 hours. The author wrote this article themselves, and it expresses their own opinions. The author is not receiving compensation for it (other than from Seeking Alpha). The author has no business relationship with any company whose stock is mentioned in this article.