The Bureau of Economic Analysis reported that Personal Income decreased by 0.1% in September, compared with a 0.4% increase in August. If you remove the effects of emergency government unemployment benefits, which boosted personal income in August, personal income was up 0.1 percent in September. Wages and salaries were flat.
Disposable personal income, after adjusting for inflation and taxes, fell 0.3% in August while Real consumer spending, which is spending adjusted for price changes, increased 0.1%. The personal savings rate expressed as a percentage of disposable personal income was 5.3%, lower than the 5.6% rate in August.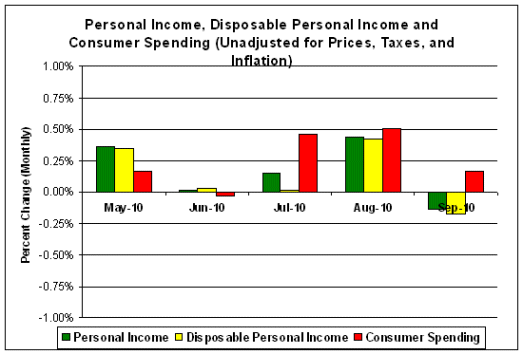 Chart Source: The Mays Report; Data Source: BEA
The unadjusted rise in consumption was .17%. The rise in personal consumption expenditures (PCE) were primarily attributed to increases in spending on durable goods of .75%, followed by non-durable goods (.07%), Services (.11%) and Food (.40%). These increases were offset by a large decrease in spending on Energy goods and services of -1.69%.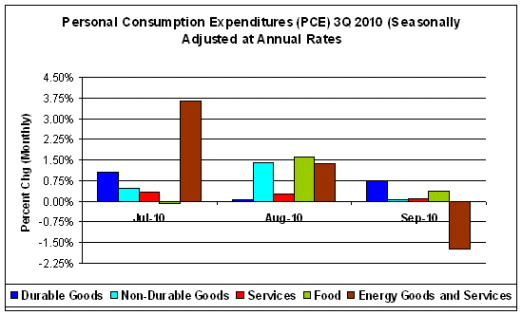 Chart Source: The Mays Report; Data Source: BEA
Based on the preliminary numbers for September personal consumption, I would expect a reduction of the 2.6% increase in personal consumption originally reported. The PCE number in the advance GDP report is in part estimated. The lower savings rate suggests that unless consumer credit expansion is funding the spending increase, there is not much upside in the coming months. We will have to wait until the Federal Reserve releases the G.19 Consumer Credit Report on November 5th. The preliminary consumer credit numbers for July and August suggest that consumer credit expansion is not the case.
Disclosure: No stocks mentioned