When the world's top central banker speaks, markets pay very close attention.
Last week, Federal Reserve Chair Janet Yellen was on Capitol Hill delivering her semi-annual testimony on monetary policy.
And in her remarks she stuck mostly to the script signaling that a high degree of monetary policy accommodation remains appropriate for a "considerable time."
Too much slack in the labor market, low wage growth and price inflation running below the Fed's longer run goal were the reasons cited for maintaining monetary stimulus.
No real shocker there.
But during the Q&A session in front on the Senate Banking Committee, she was asked to address the growing concerns of asset bubbles forming in the stock and bond markets.
Things Get Interesting…
Her response was that asset prices are not outside historical norms, but when pressed further on the subject…
She added this.
"Valuation metrics in some sectors do appear substantially stretched – particularly those for smaller firms in the social media and biotechnology industries, despite a notable downturn in equity prices for such firms early in the year."
And that comment immediately sent tremors rippling through all the securities in those sectors.
Suddenly, the Chair of the Federal Reserve morphed into an investment banking analyst who just slapped a sell rating on the sector she covers.
That was indeed quite a shocker for a person who is supposed to be guiding financial markets with a broad or macro perspective. When she commented on a relatively microscopic scale, that slice of the market went into a tizzy.
Biotech gets slammed by the Fed's "valuation downgrade"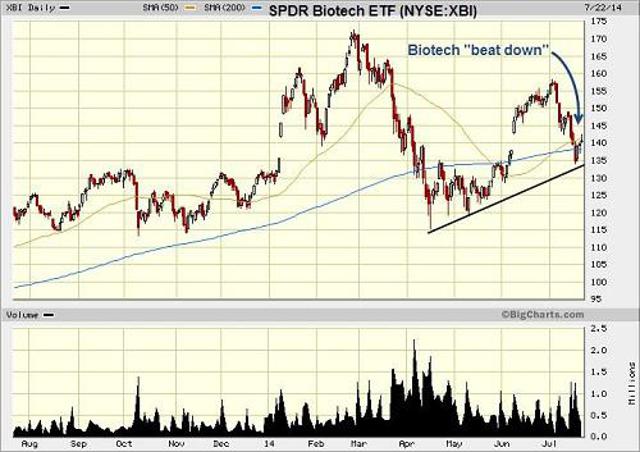 And you can imagine that her words also ruffled the feathers of the Wall Street analysts who actually have responsibility for covering those specific sectors.
Take ISI Group's Mark Schoenbaum for example who was named the No. 1 analyst in the biotech sector for the past nine years by Institutional Investor.
He immediately fired back at Fed Chair Yellen in a note to his clients.
"When I look at P/E ratios in biotech, I'm really asking the question, Are we in a bubble? And according to my data, I would argue that the answer is clearly no."
But I'll have to say that hearing Fed Chair Yellen communicate more candidly than her predecessors is quite refreshing and I can definitely appreciate her honesty and willingness to deliver a pointed response.
Yellen Makes a Big Mistake…
And her analysis in many respects may be spot on, but her decision to make targeted comments on a specific sector can leave many investors confused or even terrified of that segment of the investing universe which could turn out to be a mistake.
Take yesterday's meteoric move in Puma Biotechnology (NYSE:PBYI).
The company announced positive data in a clinical Phase III trial of its experimental breast cancer drug and the stock price exploded more than 280% in just one day!
This is a company that has yet to earn one dollar of revenue and now it sports a market capitalization approaching five billion dollars!
Talk about high expectations… or exuberance?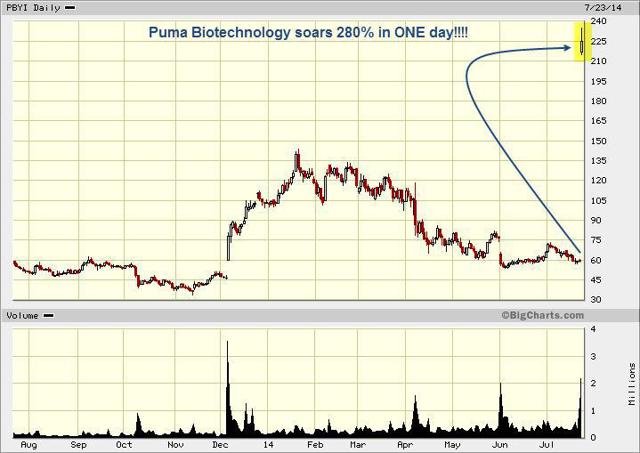 Developmental biotechnology companies like Puma are highly speculative and for every success, there are dozens and dozens of failures that are destined for bankruptcy.
And with all the juices and liquidity sloshing around, there's no doubt that excessive risk taking has stretched the valuations of many securities in this sector.
So in that regard, Chair Yellen may be correct.
But I have to tell you that in the biotech space, there are also some top-notch companies that are not only growing revenue and cash flow, but they're generating strong profits.
Three names in biotech where valuations are not "stretched"
If you're looking to add some biotech exposure to your portfolio, you can put these three names on your radar and use any near-term weakness to accumulate shares.
Amgen (NASDAQ:AMGN) is trading at 14 times next year's earnings and currently has a two-percent dividend yield as nice added bonus.
Celgene (NASDAQ:CELG) is a touch more expensive since the stock is trading at 17 times next year's earnings because of its higher revenue and profit growth expectations. And since the company is more aggressive allocating its cash, it does not currently offer a dividend.
And Gilead Sciences (NASDAQ:GILD) is the cheapest of the three, priced at just 11 times earnings while the stock is trading at all-time highs.