by Mike Turner
A historic Federal Open Market Committee [FOMC] meeting is being held this week. The results of that meeting could have a significant impact on what the market does for the month of November and beyond.

We get the results of the meeting Wednesday afternoon, but the Federal Reserve has telegraphed it intends to put a lot of money into the market. Estimates range between $500 billion and $1 trillion. This is real money, although it is created out of thin air, and should have a major impact on the market.

With the Fed's QE2, the results of the mid-term elections and the jobs report this week, the market could see a lot of volatility. I suspect most of it will be to the upside.

My top silver trade for this week is Silvercorp Metals (NYSE: SVM).

If my forecast charts are correct and if the Fed continues to "juice" the market with hundreds of billions of dollars, then the odds are high that precious metals stocks will do well. And SVM is my top silver play in this market right now.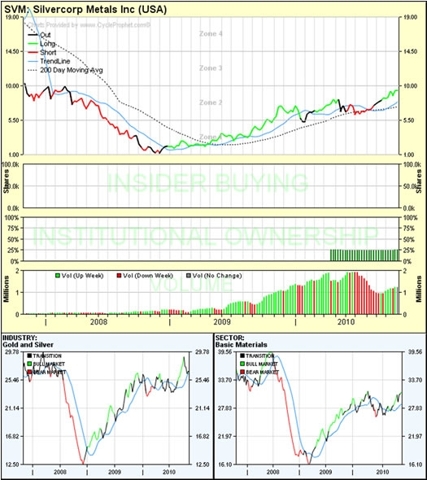 The fundamentals for Silvercorp Metals are strong. The fundamentals that had the largest impact on my systems include:
The growth rate for total sales for the most recent quarter compared with the same quarter a year ago was +62.7%. This compares to the gold and silver industry's growth rate of +29.9%. The S&P 500's average growth rate for the same period was +9.9%.
The total sales growth for the trailing 12 months compared with a year ago is +61.3%. The S&P 500's average growth rate during this time period is +9.10%.
Earnings

growth for the most recent quarter compared with a year ago is +85.3%. By comparison, the industry average is +16.69% and the S&P 500's growth rate is +27.7%.
Earnings have grown +301.8% in the previous 12 months compared to a year ago.
SVM's

price-to-earnings ratio (P/E)

of 34.2 makes it undervalued compared to its peers.
The technicals for are equally promising. Below are some specific technical observations for SVM:
SVM trades in zone 2 and could be looking to trend higher.

The average daily volume has been increasing for the last few months on increasing share price, which can be a good sign that momentum is building in this stock.
Institutional ownership

for this equity is about 25%. This is just below my sweet-spot range of +30% to +60%, but +25% is still very good. It often means that this is a good sign the large institutions have vetted this stock and believe it is a valuable component of their investment portfolios. I tend to believe that if the big institutions hold shares of a company, the future share-price trend is more likely to move higher.
Based on the analysis above, I think SVM is a good trade to put on now with a limit order at $9.40 and an initial stop loss at $7.82. If the trade reaches my target price of $14.00, traders would see a profit of close to +50%.
Disclosure: Neither Mike Turner nor StreetAuthority, LLC hold positions in any securities mentioned in this article.