This article outlines the strengths of Gilead (NASDAQ:GILD) both in the short and long term. I hope to explain the tremendous significance of a number of their products. This is an amazing company with a very strong portfolio of therapies, while at the same time, they are committed to further research, and on more than one occasion, have outdone themselves.
Company Description and Landscape
Gilead is a pharmaceutical company focused on creating new treatment for viral diseases and infections. They are helping to revolutionize the way we view these diseases.
HIV Treatments
Just 30 years ago, HIV was a debilitating progressive disease. In the mid-1990s, with the advent of HAART (highly effective anti-retroviral therapy), we began to view HIV differently. The disease could be controlled, and patients could now live long productive lives. However, it required a patient to take many medications throughout the day. Missing just one dose could jeopardize the efficacy of the treatment, and patients were often switched from treatment to treatment for just that reason. Pill blister packs were created to help the patient, very much like the one pictured below, however, the patient still needed to deal with taking over 20 pills throughout the day.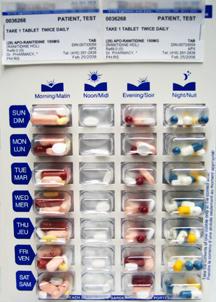 In 2006, GILD came out with a once daily pill, Atripla, that was just as effective as the pill cocktails of the day. In 2012, they came out with yet another once daily pill, Stribild. These two medications are now the most commonly prescribed first-line treatments for patients diagnosed with HIV. They also produce the most commonly prescribed and highly effective HIV prophylaxis, Truvada.
Hepatitis C Treatments
A similar revolution is now occurring in the world of Hepatitis C. Traditionally, treating this disease was very difficult. The only option was a 24-48 week interferon-based therapy ,which has serious side effects and is not very effective. The number of patients who are virus-free at the end of treatment is generally less than 50%. If patients were too healthy, then treatment was not worth the risk, and if they were too sick, it wasn't worth the risk.
Last year, the FDA approved a 12-week course Sovaldi + ribavirin (+/- interferon depending on the Hepatitis C subtype) for the treatment of Hepatitis C. This treatment had a cure rate of 80-90% (depending on the subtype). Remember, our previous treatment was effective less than half of the time! Now, this approved treatment still includes ribavirin and sometimes includes interferon as well, so it is not for everyone. However, the treatment course is much shorter -- 12 vs. 24 to 48 weeks, and therefore side effects are fewer. The current price for a course of Sovaldi runs between $84,000-$160,000.
Now, if that were not enough, GILD has produced another treatment for Hepatitis that was recently shown to be >90% effective and does not include interferon. This treatment is a once daily pill that includes Sovaldi, plus a second antiviral called Lepipasvir. FDA approval is widely expected in early 2015. If approved, this would be the first ever FDA approved treatment for Hepatitis C that does not include Ribavirin or interferon. The price for this treatment is not yet announced, but given the price of Sovaldi alone, I would expect the treatment to cost no less than $100k. With an estimated 185 million people worldwide with Hepatitis C, there is a lot of money to be made.
A Quick Look at Recent Sales Figures
Three Months Ended
March 31,
(In thousands, except percentages)
2014
2013
% Change
Antiviral product sales
$
4,508,497
$
2,061,078
119
%
Sovaldi
2,274,349
-
-
%
Atripla
779,594
877,073
(11)

%

Truvada
759,700
700,242
8
%
Complera/Eviplera
250,733
148,189
69
%
Stribild
215,271
92,148
134
%
Viread
210,625
210,332
-
%
In terms of Hepatitis C treatments, the only competition is Olysio from Johnson & Johnson (NYSE:JNJ). This is a much less popular medication, and worldwide sales for Q2 2014 were only $831 million vs. the more than $2 billion of Sovaldi alone.
Dont Forget...
Don't forget the other products that GILD produces. Just to name a few:
Lexiscan, the medication used for cardiac stress test for patients who cannot tolerate the treadmill.
Ranexa, a relatively new wonderdrug for relieving cardiac chest pain.
Tamiflu, the medication doctors hand out like candy during the flu season.
Three Months Ended
March 31,
(In thousands, except percentages)
2014
2013
% Change
Cardiovascular product sales
$
234,503
$
214,393
9
%
Letairis
122,885
118,107
4
%
Ranexa
111,618
96,286
16
%
Measured Growth
When we take a look at the recent success of Puma Biotechnology (NYSE:PBYI), whose stock price just exploded, the magnitude of Sovaldi, and the soon-to-be-approved Ledipasvir/Sofosbuvir combo pill can be better appreciated.
Puma recently announced the success of Neratinib in a Phase 3 clinical trial for the treatment of early stage breast cancer. It improved disease free survival by 33% compared to placebo. In response to this news, the stock price went from $60 to $230 overnight. There is certainly some merit to an increase in their stock price, but this jump was probably 90% emotional. I expect the stock will come back down to the sub-$100 level in the coming days to weeks.
The advances in Gilead's stock price, on the other hand, have been backed up by success in clinical trials, FDA approvals, and excellent sales. Gilead's stock price will continue to rise on the back of solid performance.
Looking Ahead
A recent article by evaluategroup.com predicts that Sovaldi will be the biggest selling drug by 2020. Take a look at the graph from the article: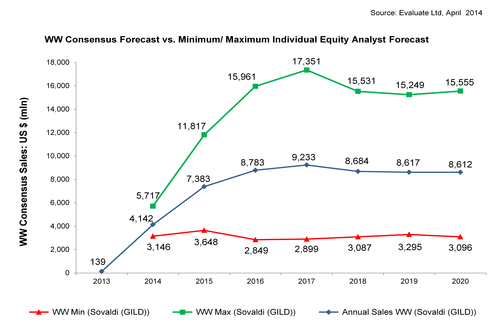 These projections are very exciting, and appear to be supported by the just-released 2014 Q2 earnings report:
Antiviral product sales increased to $6.01 billion for the second quarter of 2014, up from $2.31 billion for the second quarter of 2013 primarily due to sales of Sovaldi [$3.4 billion].
In February of this year, the company forecasted net sales for 2014 to be just over $11 billion. In the Q2 earning report, this figure was adjusted up to $21 billion-$23 billion!
The stock is currently very favorably priced, with a modestly elevated P/E ratio of 33. In a year from now, most investors will be wishing they bought GILD at $90/share. Based on the success of Sovaldi within the first year of release, and the number of other new therapies in the pipeline, the stock price is poised to double if not triple over the next 12-24 months.
Earnings per share for Q2 were $2.20, up from $1.33 in Q1. A very conservative estimate of 2014 EPS is $8-$9. Keeping the same P/E ratio of 33, that gives a projected stock price $264 to $297.
Disclosure: The author is long GILD. The author wrote this article themselves, and it expresses their own opinions. The author is not receiving compensation for it (other than from Seeking Alpha). The author has no business relationship with any company whose stock is mentioned in this article.