In a previous article from January 2014 we analyzed the Spanish gas network operator Enagas (OTCPK:ENGGY) and recommended it as an attractive option for income or dividend growth investors willing to diversify in Europe. This article updates our previous analysis after the stock price has rallied over 30% along 2014.
Earnings and Dividends
At its current price, ENGGY offers an annual yield above 5%. Historical double-digit dividend growth has been partially boosted by regular increases to payout, which is expected to stabilize at the current 75% level. Therefore, future dividends will likely grow at a slower pace and in line with earnings. Company guidance expects a 2.4% rise in both earnings and dividends from 2014.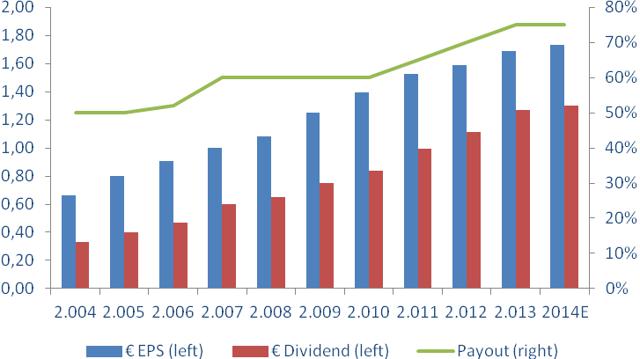 Source: Enagas
The company has managed to increase its earnings year on year, unaffected by the protracted slump in the Spanish economy. This proof of resilience is driven by the regulated prices that Enagas enjoys as the operator of key gas infrastructures as well as by the strong investment cycle carried out by the company in recent years to make the Spanish network capacity catch up with other European countries.
As this cycle reaches an end, both payout and dividends have increased reflecting the lower need for new infrastructure in Spain. As a consequence, earnings growth has also slowed towards the mid single digits. The company reported earnings increase of 3.9% for the first half of 2014.
Balance sheet
The balance sheet of ENGGY remains solid with net debt/EBITDA ratio of 3.6 times over the past year.
The company does not have significant debt maturities for 2014 and will face maturities worth €500 million in 2015 and €700 million in 2017. As of Q1 2014 Enagas issued bonds worth €750 million, maturing in 2022. As pointed in our previous article, improving financing conditions in Spain have allowed Enagas to reduce its long-term financing cost with this new issue at a 2.5% coupon. Price was the issue was set at 99.7% with a 6x demand.
Positive news has also been reflected in ratings. Both Fitch and S&P have reaffirmed their ratings (BBB/A-), while Fitch revised its outlook from stable to positive in Q2.
International Diversification
Enagas assets are heavily concentrated in Spain, which offers investors exposure to an economy that is showing its first signs of recovery after years of a devastating crisis.
When the crisis unwound, conventional demand for gas decreased in Spain together with demand for electricity generation and the company still expects domestic demand to drop by an extra 4-5% in 2014. However, the total transported gas in the network, more relevant to ENGGY, has barely changed along the first half of 2014. A higher demand of LNG ship loading and gas transits towards Portugal have been able to offset the lower demand in Spain, which can be expected to pick again along 2015. This will arguably add tailwinds to ENGGY in the coming years as long as the current expectations of a recovery in the economy materialize.
In the longer term and more speculatively, the current situation in Ukraine and the European dependence on Russian gas could play in favor of a diversification of gas sources within the European Union which would favor Enagas as discussed in a previous article here. Enagas is a strong LNG player and could profit from the development of a wider LNG world-wide market in the longer term.
In order to sustain growth and diversify away from its concentration in regulated activities in Spain, ENGGY is executing steps towards international diversification. On top of its current stakes in Mexico (Altamira, Morelos, Soto La Marina) and Chile (Quintero), ENGGY recently announced new investments in Peru. In Q1 Enagas acquired a 22.38% stake in TGP and reached an agreement with the Canada Pension Plan Investment Board to sell 2.38% of TGP and acquire a 30% stake in COGA, the operator of TPG. Later in Q2, the company announced that the consortium made up of Enagás (25%) and Odebrecht (75%) has been awarded the project Gasoducto del Sur Peruano for the construction and subsequent operation and maintenance of a 1,000-km-long gas pipeline in Peru.
The company is currently outlining its diversification plans for the coming years and will likely release additional details in Q4.
Risks
In our previous article we mentioned the risks associated with the Spanish government gas reform uncertainties. The positive news in this area is that this path has now been cleared. Although Enagas will be impacted, the impact appears lower than initially expected (investors can check more details here and here).
A second matter we warned about in our previous article was currency risk. With the Fed talks about interest rises in the US and the ECB actions pointing towards some sort of European-style QE it is small wonder that the dollar has recently strengthened versus the euro. The trend could continue so in this situation, investors in Enagas (or other European assets) would do well to consider appropriate hedges against a weaker euro for their investments. Also, as Enagas executes on its diversification strategy, currency risk from the investments abroad will need to be taken into account.
Finally, even if evidence in favor of a recovery in the Spanish economy keeps accumulating, the recovery is still weak and investors are advised to approach and consider carefully the potential for a stronger recovery.
Valuation
Combining the recent developments commented above with the strong rally Enagas has enjoyed, the stock looks fairly valued at today's prices around €25. JP Morgan recently updated its recommendation on the stock to overweight with a target price of €25.4.
The expected dividend from 2014 is €1.30. With mild long-term growth assumptions of 1.8% and using a simple dividend discount model, a €25 price equates to a discount of 7%, which looks acceptable given the defensive nature of the stock. We prefer however to set a minimum target of 8% for all our stocks, which would make the stock a very attractive buy target if it dips to €21.
In the upper end, assuming Enagas keeps a 75% payout and is able to reinvest the rest at the current return on operating assets, our valuation would reach an upper end of €31.
From a multiples perspective, Enagas compares positively with other gas or electricity network operators.
| | |
| --- | --- |
| Company | PER |
| ENAGAS | 14.7 |
| EL PASO PIPELINE (NYSE:EPB) | 19.9 |
| RED ELECTRICA (OTCPK:RDEIY) | 15.3 |
| ONEOK (OKS) | 21.1 |
| PEMBINA (NYSE:PBA) | 38.2 |
| SNAM (OTCPK:SNMRY) | 13.8 |
| KINDER MORGAN (NYSE:KMP) | 24.6 |
Conclusion
Enagas is good candidate worth examining for dividend growth investors in search for defensive values in Europe. After recent developments, it looks fairly valued at the current €25 price, with limited downside and positive prospects. Dips to €21 or below can be considered as good buying opportunities.
Regulatory risks associated with the stock in the past have eased and financing conditions improved, making the stock outlook clearer as it gets involved in its international diversification strategy. The company could also see further benefits in the future from a stronger recovery in the Spanish economy, as well as if Europe decides to take serious steps towards diversifying from Russian gas and/or if a wider LNG export market develops in the future.
Disclaimer: This article expresses our personal opinions and should not be taken as investment advice. Potential investors are recommended to run their own due diligence before taking any investment decision.
Disclosure: The author is long ENGGY. The author wrote this article themselves, and it expresses their own opinions. The author is not receiving compensation for it (other than from Seeking Alpha). The author has no business relationship with any company whose stock is mentioned in this article.
Editor's Note: This article discusses one or more securities that do not trade on a major U.S. exchange. Please be aware of the risks associated with these stocks.