Diversified Internet company IAC/InterActiveCorp. (IACI) reported impressive third quarter 2010 results, reflecting better performances by most of its business units. Earnings per share, excluding special items, came in at 32 cents, way ahead of the Zacks Consensus Estimate of 6 cents. However, the reported quarter result was slightly below the third quarter 2009 earnings of 34 cents.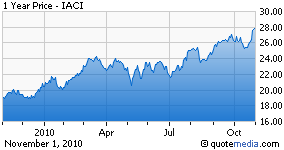 Considering the one-time special items, quarterly earnings came in at 16 cents per share, flat year over year.
IAC generated total revenue of $421.7 million in the quarter, up 25% from third quarter 2009 and surpassed the Zacks Consensus Estimate of $396.0 million.
The company witnessed a 43% year-over-year growth in operating income before amortization ("OIBA") to $55.6 million in the quarter, thanks to strong contributions from Match and Search business segments along with a reduced loss at Media & Other.
Segment Performance
Search: The Search segment posted OIBA of $29.3 million during the quarter, up 10% from the year-earlier quarter. The year-over-year improvement reflects higher revenues, somewhat offset by increased traffic acquisition costs.
Match: The Retail Marketing segment generated OIBA of $39.4 million versus $26.8 million in the year-ago quarter, attributed to deferred revenue write-off in 2009 as well as reduced operating expenses margin.
ServiceMagic: The segment's OIBA plunged 33% year over year to $6.7 million on account of higher marketing and compensation related expenses and losses associated with ServiceMagic International.
Media & Other: The Logistics segment posted a loss of $3.6 million as compared with a loss of $7.7 million in the third quarter of 2009, aided by increased revenues.
Financials
As of September 30, 2010, IAC had cash and cash equivalents of $902.2 million and long-term debt of approximately $95.8 million. Debt-to-capitalization ratio stood at approximately 3.5%.
During the quarter, the company repurchased 6.0 million common shares at an average price of $24.59 per share.
Our Take
We believe that IAC's consistent focus on online businesses with advertising and subscription-based revenue models, site redesigning and healthy financial stand will sustain the company's growth momentum, going forward.
However, slowdown in consumer spending, severe competition and macro headwinds pose a risk for the company's profitability, compelling us to retain a long-tem Neutral recommendation.
IAC currently retains a Zacks #3 Rank (short-term Hold rating).