By Bryan McCormick
Only three economic releases are on the calendar today, making it the lightest reporting day of the week.
Motor Vehicle Sales will be announced by each company independently. Typically this process begins at noon ET but can start earlier. Ford (NYSE:F), Toyota (NYSE:TM), and Honda (NYSE:HMC) shares are likely to be active before and after each news release.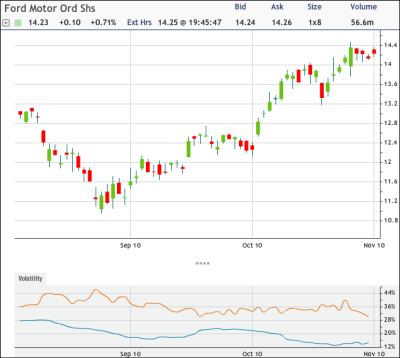 At 7 a.m. ET, the ICSC-Goldman Store Sales report will be released. There are two parts to the report, the week-over-week and the year-over-year changes. Most traders focus on the year-over-year number, as it is a better indicator of the longer-term trend.
The last week-over-week change came in at 0.3 percent. The year-over-year data in the previous report registered 1.9 percent. Stronger-than-expected positive numbers would be seen as bullish and negative numbers bearish.
Redbook Store Sales will be reported at 8:55 a.m. ET. As with the ICSC-Goldman report, there are two components to watch. One is the more volatile month-over-month number, and the other is the year-over-year comparison, which shows the broader trend best.
The last month-over-month change was 0.3 percent. The last report's year-over-year data came in at 2.8 percent. Negative numbers in either series would be bearish.
(Chart courtesy of tradeMONSTER)