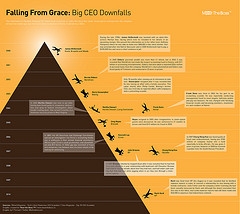 Today, we will cover Number 4 in our 10 Things To Look For When Buying A Stock series. The sports playing field has many corto the business world. A basketball team is only as good as the point guard running the show. Look how bad the Hornets were last season without Chris Paul. A football team is only as good as its starting quarterback. Think of the Colts without Peyton Manning. Likewise, a company is only as strong as the management team that guides it.
Warren Buffett always believed that you can tell a lot about a company by looking at the members of the management team. Great leaders like Steve Jobs at Apple (NASDAQ:AAPL) and Jack Welch at General Electric (NYSE:GE) can take a company to heights that were previously unknown. Great CEO's can end up becoming icons whose careful stewardship makes money for all involved.
Worst CEO's
Poor CEO's can have the opposite effect and turn a blue chip company into a dog of the Dow. Stay away from companies with management teams that are solely focused on quarterly earnings. These management teams are short sighted and may take extreme risk just to beat quarterly expectations. They are more motivated by their own bonuses and stock options than making sure that the company is in good financial shape.
If you want to know exactly how a CEO can destroy a company, see Angelo Mozilo of Countrywide, Kenneth Lay of Enron and Bernard Ebbers of Worldcom. These men singlehandedly ran their companies into the ground and put their own self interests ahead of the company's. These CEO's made a fortune despite their companies being dogs.
Here are 4 things that you should look for when evaluating a management team.
1. Invest in companies that have a strong management team that is devoted to creating value for shareholders.
I like to invest in companies that are focused on growing earnings over the next decade or two. One of my favorite CEO's is Jim Sinegal of Costco (NASDAQ:COST). He has done a great job promoting the Costco brand and delivering value to shareholders. He is the rare customer friendly CEO and has helped Costco deliver an impressive 88% return (excluding dividends) to shareholders.
2. Invest in companies with an honest, accountable management team.
You want company management to tell you the truth when they have a bad quarter. I like executives that admit that they just plain blew it last quarter and will focus on improving results next quarter. Watch out for CEO's that make a bunch of excuses and blame things like cyclical trends or the weather for their porous results. Companies with accounting scandals who fudge their numbers are a no-no.
3. Invest in companies with CEO's whose pay matches their performance.
CEO pay has been a hot topic over the past two years. Corporate executives have been in the crosshairs due to their lofty salaries. I have no issue with company management teams making millions of dollars annually as long as their performance merits it. CEO's like Reed Hastings of Netflix (NASDAQ:NFLX) and Jeff Bezos of Amazon (NASDAQ:AMZN) have done a great job of growing their company's market share and deserve every dime that they have coming to them. Avoid management teams that are just about bankrupting the company with extremely high salaries despite the poor performance of the stock. There are too many CEO's that treat the company's bank account as if it were their own piggybank.
4. Invest in companies that outperform their competitors.
Stats do matter when investing. Find companies whose management metrics are better than their peers. A good place to start is by looking at ROE and ROA. Return on equity (ROE) measures the rate of return on capital provided by shareholders. Basically, it demonstrates how effectively company management is using your money. Return on assets (ROA) is another useful metric because it judges how efficiently a company is managing its assets. Other useful statistics are return on investment (ROI) and return on invested capital (NASDAQ:ROIC).
What CEO's do you think have done a great job of managing their companies?