Tesla (NASDAQ:TSLA) does not release any monthly U.S. sales numbers. In early 2013, it also stopped giving out reservation sequence numbers for Model S. To determine Model S demand and sales, Seeking Alpha contributors tried different methods using public web data. Popular methods so far are based on Vehicle Identification Numbers (OTCPK:VINS) released by Tesla and Google Trends data. To determine demand, people often refer to delivery wait times.
Shortcomings of Present Methods to Determine Model S Momentum
Without going into detail, there isn't any method yet that gives reliable insights. VINs, for example, do not follow a sequential order and therefore even blur Model S output. Delivery time varies greatly and by now depends on Tesla's geographic strategy rather than on demand.
Google Trends data for keywords like "Tesla Model S" or similar show search interest on a daily basis and hence are quite up-to-date. Search interest though can also be driven by negative news. Therefore, it can only be taken as an indicator for attention toward Model S, not affection. Search interest was also high after news about Model S fires. That means search interest does not necessarily lead to demand and sales.
Measuring Tesla Model S Momentum by App Download Ranks
Due to these shortcomings, this article is meant to discuss another method: Measuring Model S momentum by monitoring Tesla Model S app download ranks on iOS. "Momentum" here is used as a general term to describe sales, demand, or at least enthusiasm.
Download rankings on iOS are publicly available, and in comparison to the indicators mentioned above they have the following advantages:
App download rankings are published by an independent third party
In comparison to search traffic, the app downloads cut out negative attention toward Model S
The Tesla Model S app for iPhone/iPad was released in early February 2013. It puts Model S owners in direct communication with their cars. It allows them to check and control the charging progress, or to heat or cool Model S before driving, or to track the car, for example.
Assumptions About Model S App Downloads
Although the Model S app can be downloaded by any person, it can only be used by those owning a Model S. This should mean that people who download the app are either:
New Model S owners (and relatives) who just received the car and download the app for the first time. In this case, app downloads equal Model S sales.
Model S owners (and relatives) who got a new or additional iOS device and download the app for a second or third time.
Enthusiasts who don't own a Model S but want to try the app (although they can't use it). Due to their affection toward Model S, they might be regarded as prospective buyers. In this case, app downloads might equal current or prospective Model S demand.
Tracking Download Ranks Via App Annie
Tesla Model S app download ranks can be tracked on the App Annie website. It offers daily download ranks for the app since Feb. 3, 2013, the day when the app was released.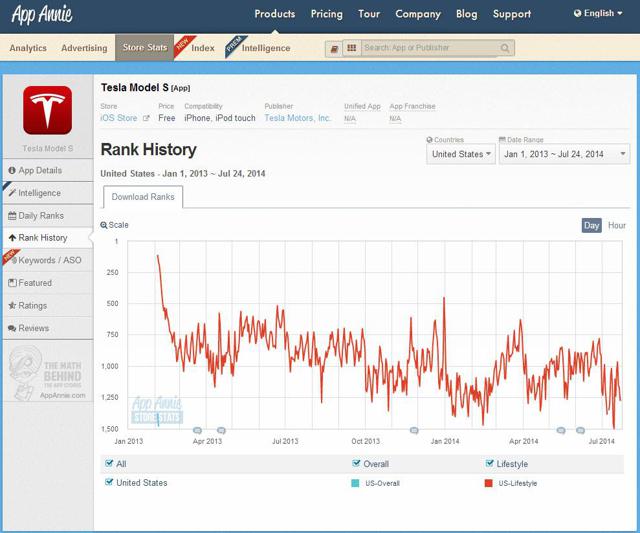 Source: Appannie.com.
If you take a look at the daily ranks, it can be seen that the Model S app in the U.S. ranked highest in early February 2013 right after the app's release. This coincides with my assumptions above. The peak in February was obviously caused by a backlog of owners who purchased a Model S since June 2012 (date of first deliveries) and were waiting for the app to be launched. Due to this anomaly, the peak is of minor importance and should be put aside. To determine a trend, I analyzed download ranks starting in March 2013.
Based on App Annie numbers I calculated the monthly average rank of the Model S app. Note: App Annie shows this rank only for the "Lifestyle" category so other lifestyle apps are the benchmark. The monthly average rank is based on daily ranks.
| | |
| --- | --- |
| Model S App Average Rank | USA |
| 2013-02 | 604 |
| 2013-03 | 849 |
| 2013-04 | 934 |
| 2013-05 | 756 |
| 2013-06 | 716 |
| 2013-07 | 877 |
| 2013-08 | 887 |
| 2013-09 | 852 |
| 2013-10 | 1069 |
| 2013-11 | 1019 |
| 2013-12 | 934 |
| 2014-01 | 1201 |
| 2014-02 | 1209 |
| 2014-03 | 901 |
| 2014-04 | 1127 |
| 2014-05 | 1013 |
| 2014-06 | 937 |
| 2014-07 | 1230 |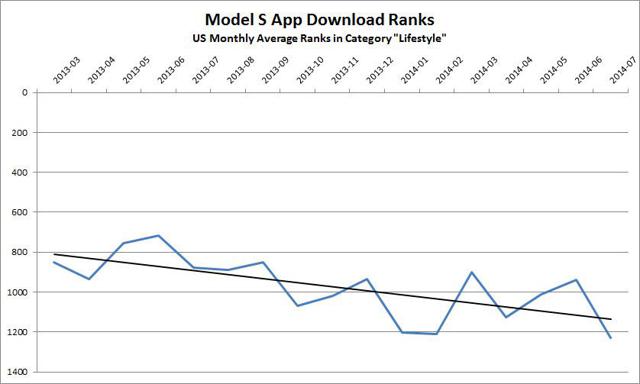 Source: Author's own calculation based on App Annie data.
Analyzing Model S App Download Ranks
Starting in March 2013, monthly download ranks show a negative trend for the Model S app in the U.S. If we look back at the assumptions above this could mean that we have less monthly new Model S sales in the U.S. or less enthusiasts, which would lead to less demand.
Although the chart only shows a slight decline, there is something that might be alarming. If we assume that the number of monthly new Model S owners in the U.S. is flat I would still expect app downloads to rise. That is because we have to add app downloads by existing users who downloaded the app for a second or third time as soon as they got a new/additional iOS device.
A different interpretation would attribute the decline to rising competition within App Annie's "Lifestyle" category. This would mean a lot of new apps entering the market gaining positions in front of Tesla while downloads of the Model S app are steady or even rising. Overall, the Model S app download chart differs from Tesla's stock chart. No question, the former is limited to the U.S. market while the latter also takes global growth possibilities into account.
Yet the decline in Model S app download ranks in the U.S. indicates that Tesla might not be able to meet the high expectations that are still priced into the stock.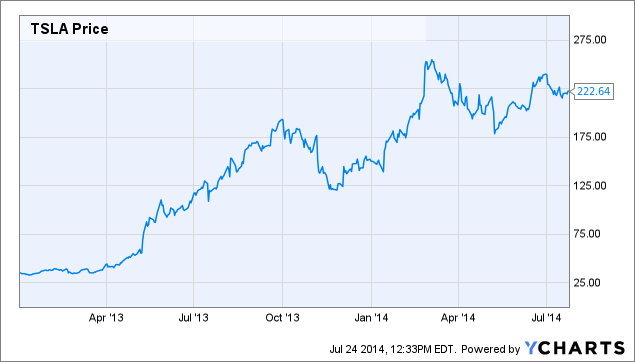 Investment Implications
Even though the decline in Model S App download ranks indicates towards less Model S momentum in the U.S., I do not recommend shorting the stock going into Q2 earnings on July 31, 2014. Apart from Model S sales there are still many factors that could work as a catalyst -- i.e., China, Model X or gigafactory news. It would not be the first time that CEO Elon Musk over delivers in a conference call or comes up with positive surprises. However, if this does not happen, I do recommend considering a short position due to signs of slowing Model S momentum in the U.S.
Conclusion
The article tries to introduce Model S app downloads ranks as a method to determine Model S momentum in the U.S. Momentum in this case is used as a general term for sales, demand, or at least enthusiasm. Data provided by App Annie analytics indicates that Model S app download ranks in the U.S. have peaked in early 2013. The current app ranking graph shows a slowing momentum of Model S in the U.S.
In my future articles, I plan to look into Model S app download ranks abroad, especially in China. I will also try to analyze correlations between app download ranks and Model S sales statistics.
Disclosure: The author is short TSLA. The author wrote this article themselves, and it expresses their own opinions. The author is not receiving compensation for it (other than from Seeking Alpha). The author has no business relationship with any company whose stock is mentioned in this article.