Healthcare has been one of the most scrutinized industries over the past couple years as changes to healthcare are continuing to be made with new healthcare legislation. The laws, though, have not appeared to hurt healthcare insurance providers too greatly as of yet. Thus far in Q3, United Health (NYSE:UNH), Humana (NYSE:HUM), and Cigna (NYSE:CI) have all reported tremendous Q3 earnings and looked positive for the rest of the year. United Health saw income rise 23% and beat EPS estimates by 36%. Humana saw its income rise YOY by 30% and beat EPS estimates by 20% when subtracting one-time gains. Cigna saw its earnings fall YOY, but the company still beat EPS estimates by 4% and projected well through 2010. All three companies rose considerably in post-earnings.
Now, on the slate to report for tomorrow morning is Aetna Inc. (NYSE:AET). Aetna most resembles United Health and Humana in structure. Cigna is a very diversified health care provider, while the others have a larger family consumer. This trend was the first point that attracted me to Aetna (AET). These companies are really looking positive moving out of Q3 with a return to large healthcare items, more individuals taking on new healthcare plans, and lower claims. Healthcare, like many other industries, is starting to see a return to demand, and it is not reflected in estimates. Aetna is slated to report an EPS of 0.67 vs. hitting 0.69 one year ago – much like its competitors that saw analysts expecting less in Q3 than in Q2.
AP reports, "Citi analyst Carl McDonald has said he expects other insurers to trump third-quarter earnings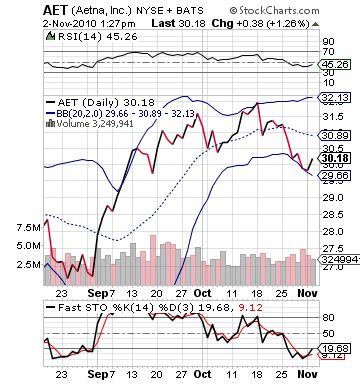 expectations and raise their 2010 profit forecasts due in part to this drop in use. But McDonald also said stocks may not reflect these performances because investors still worry about how the health care overhaul will affect the sector next year."
What McDonald comments about the gains not reflecting in share prices has been true of Aetna. Despite the great gains made by peers, AET investors are not ready to jump the gun. The stock has fallen more than 7% in the past two weeks, and it is trading at its lower bollinger band. The stock is heavily oversold and undervalued on RSI. There is no reflection of any positive earnings or forecasting reflected in the stock. This is true of other competitors that have not reported yet as well.
Until AET beats it won't rise, but a beat looks very likely. Additionally, we have the elections on our side. Democrats have not been viewed as favorable to healthcare, and with Republicans looking to make gains tonight in the House and Senate, it would be another added boost for AET.
Get in while its good!
Entry: We are looking to get involved at 30.00 – 30.30.
Exit: We are looking to exit for tomorrow morning after earnings report tomorrow morning.
Stop Loss: None.