I reiterate my bullish rating on Verizon Communications (NYSE:VZ). The company continues to deliver a solid financial performance; strong wireless and FIOS revenues remain the main top-line growth drivers. VZ has also been growing its wireless segment's subscriber base at a decent pace with its best-in-class LTE network. Also, with increased penetration of FiOS network, the company's wireline segment is progressing to deliver promising results in the near future. However, the company's wireless segment is exposed to competitive pressures, as its EDGE program is still behind AT&T's (NYSE:T) NEXT plan.
Wireless
The company's wireless segment has been an important driver of its overall revenue growth. In 2QFY14, the company's healthy YoY top-line growth of 5.7% was well supported by the wireless segment's YoY revenue growth of 7.5%. With its best-in-class LTE network and improved sales strategy for device payment plan, the company added an impressive number of postpaid subscribers, which also grew VZ's revenues in 2QFY14. The following chart shows postpaid subscribers net additions for VZ in the past few quarters.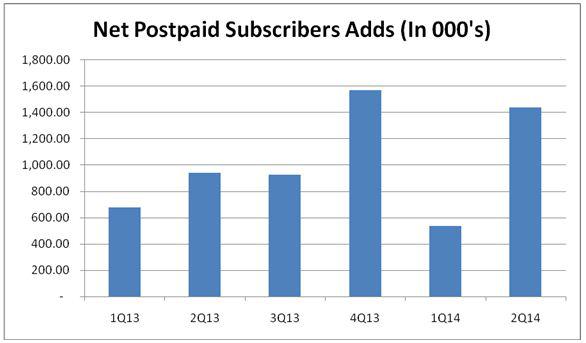 Source: Company's Quarterly Earnings Report
In 2QFY14, 7.1% of VZ's retail postpaid subscribers upgraded under its EDGE plan. As a matter of fact, VZ's improved sales strategy has been attracting customers to its EDGE plan. The extended More Everything plan discount offers to EDGE customers improved EDGE penetration by 18%, as compared to 13% in 1QFY14. However, the company's EGDE plan is lagging behind T's NEXT plan, which allows customers to upgrade their phones once every year, without any down payments. Furthermore, in the coming quarters, both VZ and T are going to face competition pressure from T-Mobile's (NASDAQ:TMUS) recently introduced JUMP plan, which allows customers to opt for upgrades whenever they want, up to two per year. The following chart shows the progress of VZ's EDGE as compared to T's NEXT plan, in terms of percentage of smartphones sold under the respective programs.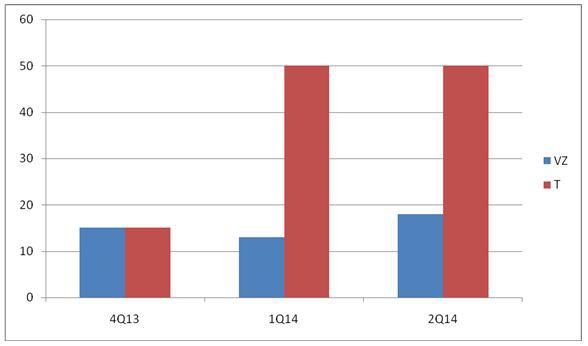 Source: Company's Quarterly Earnings Data
The company continues to focus on network enhancement and expansion to address competition. A strong 4G LTE network remains the major growth driver of its wireless segment. With its focused investments to enhance its 4G LTE network, the company expanded its newly introduced wireless technology XLTE to more than 350 markets in 2QFY14. XLTE, using the company's AWS spectrum, have doubled the network capacity of VZ's 4G LTE network, which enabled its customers to access the network even in densely populated areas. Going forward, with wider area coverage as compared to its peers, namely T, TMUS and Sprint (NYSE:S), VZ's 4G LTE network will continue to strengthen the wireless segment's results. The following map show that VZ has greater LTE network coverage as compared to its peers.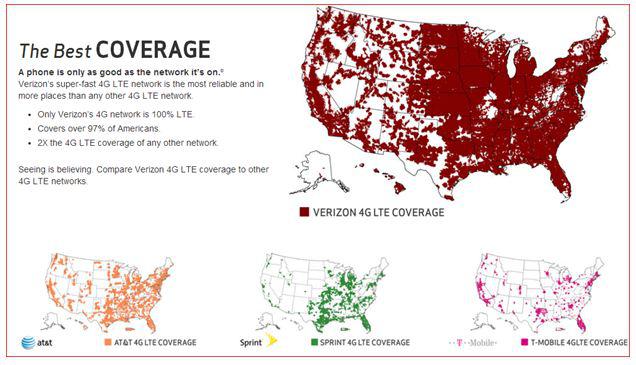 Source: Company's Website
Despite its current wider area coverage, VZ is willing to buy a major chunk of the 600MHZ spectrum in the upcoming spectrum auction to further strengthen its LTE network. However, the FCC has partially restricted VZ and T's participation in the upcoming spectrum auction, owing to their current dominance in spectrum holdings. VZ has made its case before the FCC to remove the restrictions.
On the other hand, in its efforts to strengthen its LTE network offerings, the company will launch LTE multi-cast technology in 2015. Currently, VZ, like other wireless carriers, lets its customers enjoy video-on-demand services using its Unicast streaming technology. Owing to the increasing demand by customers to access video content on all devices and through all channels, the launch of the multi-cast technology is a step forward in delivering video over wireless. I believe with the launch of the multi-cast technology, VZ will not only compete effectively in broadcasting, but will also improve its network functionality.
Wireline
VZ's wireline segment reported decent results for 2QFY14 by posting modest revenue growth of 0.3% year-over-year. Increasing penetration of FiOS is likely to benefit the segment's results in the future. Moreover, a decent increase in quantum broadband and video products also added towards the wireline segment's revenue growth. At the end of 2QFY14, as FiOS internet penetration grew by 3.6% and FIOS video penetration grew by 2.3% year-over-year, VZ managed to pass 19.3 million premises with its FiOS network. Moreover, the company increased its FiOS Quantum broadband speed; this now remains in a range of 50-500Mbps, up 51% quarter-over-quarter. Also, FiOS internet net adds helped in offsetting DSL net losses in 2QFY14, as shown in the chart below.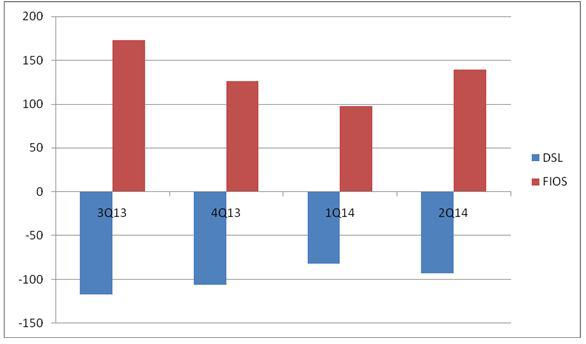 Source: Company's Quarterly Earnings Report
Also, VZ recently announced to upgrade its existing FiOS customers for its 6 main tiers through symmetrical broadband speeds, with no additional charges. I believe with this initiative, VZ's FiOS offerings will become more attractive to customers, which will portend well for the company's FiOS internet customers base in coming quarters.
Conclusion
VZ is moving ahead nicely with its commitment to invest in the ongoing wireless growth opportunities. The company is well placed amongst its peers with the wider coverage of its LTE network. Also, FiOS penetration is delivering results for the wireline segment's growth. I believe VZ will keep on delivering healthy top-line and bottom-line results with its strong growth potentials. Owing to its strong growth potentials, analysts are projecting a healthy EPS growth of 8.2% for VZ for the next five years.
Disclosure: The author has no positions in any stocks mentioned, and no plans to initiate any positions within the next 72 hours. The author wrote this article themselves, and it expresses their own opinions. The author is not receiving compensation for it (other than from Seeking Alpha). The author has no business relationship with any company whose stock is mentioned in this article.