After reporting better than expected second-quarter results on July 23, The Dow Chemical Company (DOW) stock rose 3.04% in the same trading day (DOW reported before the market open). DOW's stock has surged strongly since the start of 2013. In fact, its relative strength index (RSI) technical indicator is indicating almost overbought conditions. Since the beginning of the year DOW's stock has gained 21.1% while the S&P 500 index has increased 7.6%, and the Nasdaq Composite Index has risen 7.2%. Moreover, since the start of 2013 DOW's stock has gained 66.3% while the S&P 500 index has increased 39.5%, and the Nasdaq Composite Index has risen 48.3%. Nevertheless, Dow Chemical still has plenty of room to move up. DOW has good valuation metrics and strong earnings growth prospects. Furthermore, the company is generating strong free cash flows and returns value to its shareholders by stock buyback and by increasing dividend payments.
The Company
The Dow Chemical Company manufactures and supplies chemical products for use as raw materials in the manufacture of customer products and services worldwide. Dow Chemical is the largest U.S. chemical company. The company serves customers in more than 160 countries. In 2013, 36% of the company's net sales came from North America; 31% from Europe, the Middle East and Africa; 17% from the Asia Pacific region; and 16% from Latin America.
Valuation Metrics
The table below presents the valuation metrics of DOW, the data were taken from Yahoo Finance and finviz.com.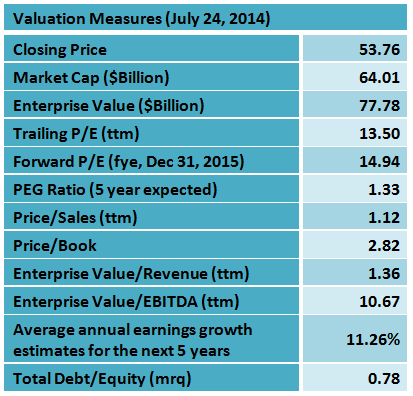 Dow Chemical's valuation metrics are good; the trailing P/E is low at 13.50 and the enterprise value-to-EBITDA ratio is also low at 10.67. According to finviz.com, DOW's next financial year forward P/E is low at 14.94 and the average annual earnings growth estimates for the next five years is high at 11.26%. These give a fairly low PEG ratio of 1.33. However, DOW's total debt to equity ratio is relatively high at 0.78.
Latest Quarter Results
On July 23, Dow Chemical reported its second-quarter 2014 financial results, which beat EPS expectations by $0.02 (2.80%) and beat on revenue.
The Company reported earnings of $0.73 per share, or $0.74 per share on an adjusted basis. This compares with earnings of $1.87 per share versus the year-ago period, or adjusted earnings of $0.64 per share - representing an increase of 16 percent year over year. Sales were $14.9 billion, up 2 percent versus the year-ago period, or 3 percent on an adjusted basis. Gains were reported in all operating segments, led by Performance Plastics (up 4 percent) and Electronic and Functional Materials (up 5 percent). Agricultural Sciences also increased sales, rising 3 percent in the quarter and achieving a first-half sales record of $4 billion.
Dow Chemical achieved seventh consecutive quarter of year-over-year adjusted EPS, EBITDA and Margin Growth.
In the report, Andrew N. Liveris, Dow's chairman and chief executive officer, stated:
Our results reflect excellent progress against Dow's near-term priorities, and clearly illustrate our ongoing drive to execute self-help actions that are delivering growth on both the top and bottom line. Our performance highlights the Company- and segment-specific actions we are executing to grow profitability through an intense focus on EVA momentum, and this constant drumbeat has already delivered a more than 150 basis point improvement in return on capital year over year on an adjusted basis. As we drive these ongoing improvements to return on capital, we will further accelerate shareholder value creation and increasingly reward our shareholders - evidenced by the $3 billion we have returned year to date.
Dividend and Share Repurchase
On January 29, Dow announced that its Board of Directors has declared a 15 percent increase in the first quarter dividend, from $0.32 per share to $0.37 per share. In line with its stated priorities, the company also announced that it has expanded its authorized share buy-back program to $4.5 billion from $1.5 billion of common stock to be completed in 2014.
The forward annual dividend yield is pretty high at 2.75% and the payout ratio is at 35%. The annual rate of dividend growth over the past three years was very high at 28.7%, over the past five years was negative at 5.3%, and over the past ten years was also negative at 0.5%. I consider that besides dividend yield, the consistency and the rate of raising dividend payments are the most crucial factors for dividend-seeking investors. Dow started to raise dividends in June 2011, after decreasing its dividend payments at the beginning of 2009 due to the 2008 world economic crisis.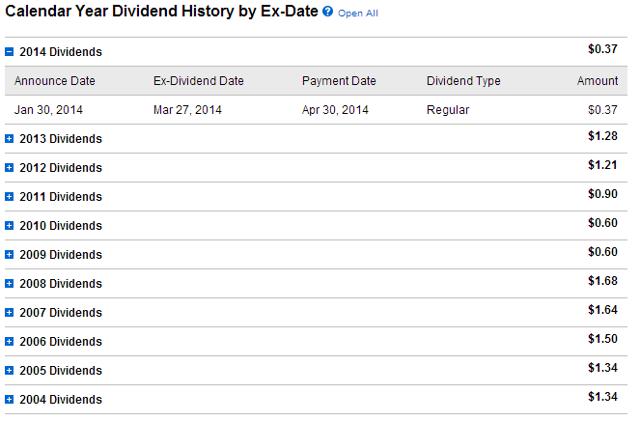 Source: Charles Schwab
Since the company generates lots of cash, and the payout ratio is low, there is a good chance that the company will continue to raise its dividend payment.
Cash flow from operations was $1.4 billion for the quarter. Year-to-date, Dow has returned $3 billion to shareholders through declared dividends and share repurchases.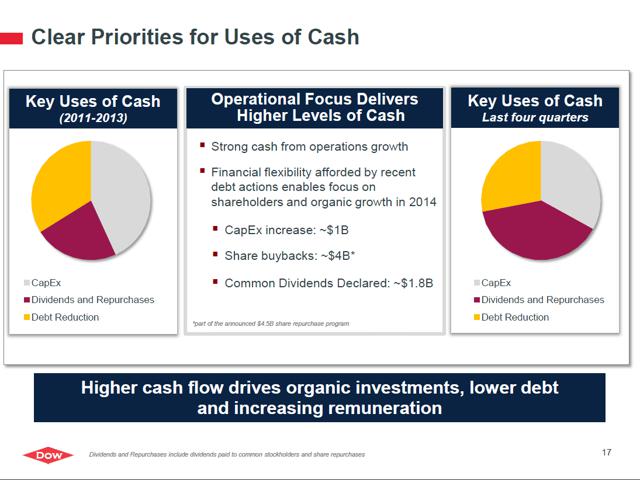 Source: Goldman Sachs European Chemicals 2020 Vision Conference
Competitors and Group Comparison
A comparison of key fundamental data between Dow Chemical and its main competitors is shown in the table below.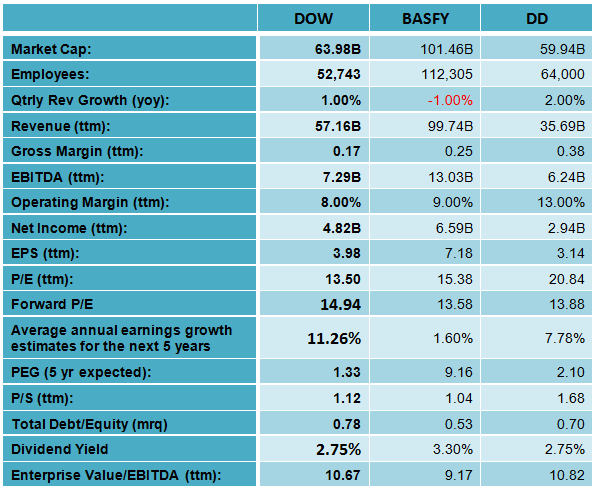 Source: Yahoo Finance, finviz.com
DOW has the strongest earnings growth prospects, the lowest trailing P/E ratio, and by far the lowest PEG ratio among the group. However, it has also the highest debt to equity ratio.
Technical Analysis
The charts below give some technical analysis information.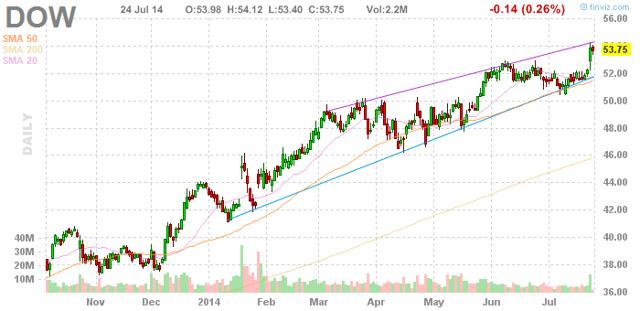 Chart: finviz.com
The DOW stock price is 3.96% above its 20-day simple moving average, 4.60% above its 50-day simple moving average and 17.51% above its 200-day simple moving average. That indicates a short-term, mid-term and a long-term strong uptrend.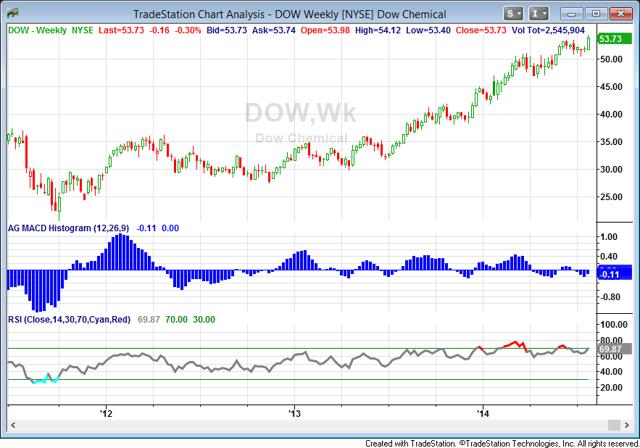 Chart: TradeStation Group, Inc.
The weekly MACD histogram, a particularly valuable indicator by technicians, is negative at 0.11 and ascending, which is a bullish signal (a rising MACD histogram and crossing the zero line from below is considered an extremely bullish signal). The RSI oscillator is at 69.87 approaching overbought conditions.
Ranking
According to Portfolio123's "ValueSheet" powerful ranking system, DOW's stock is ranked fourth among all S&P 500 stocks yielding more than 2.5%; only Seagate (NASDAQ:STX), Intel (NASDAQ:INTC) and Microchip (NASDAQ:MCHP) are ranked higher (see my articles about STX, INTC and MCHP). The "ValueSheet" ranking system is quite complex, and it is taking into account many factors like; valuation ratios, growth rates, profitability ratios, financial strength, asset utilization, technical rank, industry rank, and industry leadership, as shown in Portfolio123's chart below.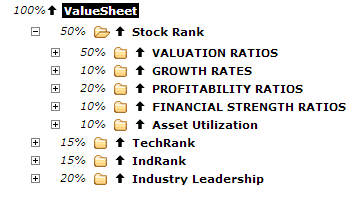 Back-testing over fifteen years has proved that this ranking system is very useful.
Analyst Opinion
Many analysts are covering the stock, but their opinion is divided. Among the 23 analysts, three rate it as a Strong Buy, seven rate it as a Buy, eleven rate it as a Hold, and two analysts rate it as an Underperform.
TipRanks is a website that ranks experts (analysts and bloggers) according to their performance. According to TipRanks, among the analysts covering DOW stock there are only six analysts who have the four or five star rating, three of them recommend the stock, and the other three top analysts have a Hold rating on the stock.
Major Developments
Dow Chemical is benefiting from the lower-cost North American natural gas. A boom in U.S. natural gas production since the recession has lowered ingredient costs for Dow and helped boost profit. Net income last year was $4.41 billion, up from $336 million in 2009.
On July 23, Dow Chemical shares rallied past $53.72 for the first time in nine years. If they close above that price for 20 trading days in a 30-day window, Dow Chemical can convert Warren Buffett's $3 billion preferred stake into common stock. According to Bloomberg, swapping the shares would cut the dividends that Dow has been paying since it turned to Buffett's Berkshire Hathaway Inc. (NYSE:BRK.A) to help finance a takeover in 2009 of Rohm & Haas Co. Mr. Buffett went on a deal-making spree during the credit crisis, lending billions of dollars to companies including Goldman Sachs Group Inc. and General Electric Co. at historically high rates.
The preferred stake is particularly expensive for Dow Chemical with interest rates now near record lows. The securities have an 8.5 percent yield, entitling Berkshire to $255 million in dividends annually. Berkshire and the Kuwait Investment Authority would be entitled to 96.8 million common shares, according to terms in the DOW's most recent annual report. That's about 8 percent of the weighted-average shares outstanding. This move, if it will take place, is representing an annual savings of about $112 million.
Commenting about this issue on Dow's second-quarter earnings conference call, Chief Financial Officer Bill Weideman said; "Our desire there obviously is for our share price to continue to appreciate and then convert those into common. That is the most value-creating option."
Conclusion
Dow Chemical will continue to benefit from lower-cost North American natural gas. DOW has good valuation metrics and strong earnings growth prospects. Moreover, DOW's stock is ranked fourth among all S&P 500 stocks yielding more than 2.5%, According to Portfolio123's "ValueSheet" powerful ranking system. DOW is generating strong free cash flows and returns value to its shareholders by stock buyback and by increasing dividend payments. All these factors lead me to the conclusion that DOW stock is a smart investment right now.
Disclosure: The author has no positions in any stocks mentioned, and no plans to initiate any positions within the next 72 hours. The author wrote this article themselves, and it expresses their own opinions. The author is not receiving compensation for it (other than from Seeking Alpha). The author has no business relationship with any company whose stock is mentioned in this article.