It's often been said that business is the art of getting paid to solve problems. With that in mind, the US shale gas & oil boom has certainly benefited from some of the problem-solving stocks we've covered in our recent articles - they solve major problems such as water treatment and safety issues for the energy industry, and are experiencing big growth.
Here are 2 other problems the industry faces:
1. Shale gas is usually produced at lower well head pressures, which necessitates the use of significant amounts of pressure, (i.e. compression), to move it through the pipelines.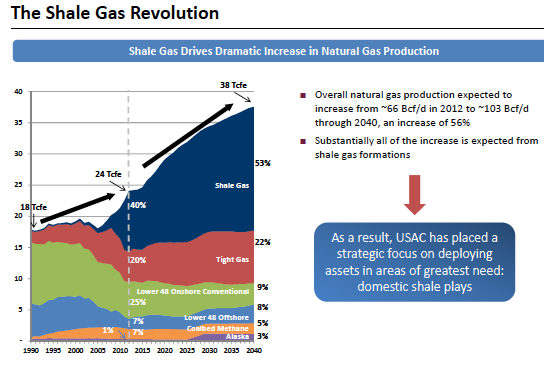 (Source: USAC website)
2. Crude oil producers are also increasingly using compression, via a process known as "gas lift", to raise their oil to the surface, particularly in horizontal drilling environments.
USA Compression Partners LP, (NYSE:USAC), is capitalizing on both of these needs. USAC focuses primarily on large‑horsepower infrastructure applications, with over 90% of its revenue generating horsepower deployed in large‑volume gathering systems, processing facilities and transportation applications. USAC's modern compression unit fleet has an average age of approximately five years. USAC provides compression services primarily in shale plays, including the Fayetteville, Marcellus, Woodford, Barnett, Eagle Ford and Haynesville shales.
Dividends/Distributions: USAC just announced its 5th straight dividend hike - to $.50. It goes ex-dividend this week, on 7/31/14, and currently yields just under 8%, at 7.95%.
USAC has now raised its quarterly distribution every quarter since its IPO in January 2013, from an initial pro-rated $.348, up to $.50. Its current $.50 payout is over 17% higher than its targeted minimum quarterly distribution of $.425. We've added this stock to the Energy section of our High Dividend Stocks By Sector Tables.

Another positive development is that USA Compression Holdings, LLC, the owner of 41.3% of the Partnership's outstanding limited partnership units, and Argonaut Private Equity and certain related parties, the owners of 16.0% of the Partnership's outstanding limited partnership units, have committed to reinvest all upcoming distributions through Q1 2015, with respect to their units pursuant to the Partnership's Distribution Reinvestment Plan, so USAC gets to utilize that cash.
Quarterly Growth: Except for Q1 2014, USAC has had steady growth in Revenue, adjusted EBITDA and Distributable Cash Flow (DCF) over the past 4 quarters. However, comparing Q1 2014 vs. Q1 2013 shows good year-over-year growth: Revenue grew 54%; Adjusted EBITDA GREW 44.4%; and Adjusted Distributable Cash Flow grew 45%.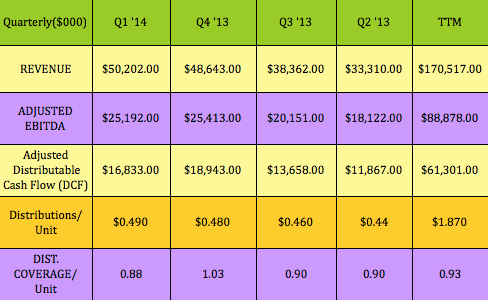 Future Growth Capital Program: USAC has been dramatically ramping up its fleet, investing in additional 280,000 horsepower, 65% of which is already contracted out...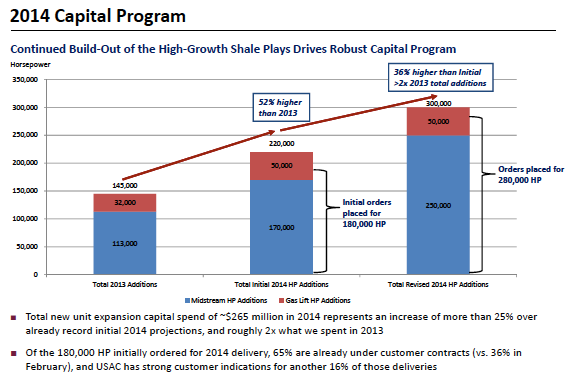 (Source: USAC website)
...which has led the company to make this robust growth forecast for 2014, which indicates at least over 33% Distributable Cash Flow growth, and over 34% EBITDA growth. With this type of growth, more dividend growth should happen in 2014: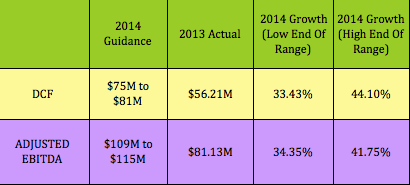 Options: If you're looking for a lower breakeven and immediate income, this December Put trade pays more than USAC's next 2 distributions, and has a breakeven of $23.60. However, you won't receive any distributions, as put sellers don't qualify for them.
You can see more details on this and over 30 other income-producing trades, in our Cash Secured Puts Table.

We haven't added USAC to our Covered Calls Table yet, as its call yields aren't currently attractive.
Performance: USAC is up over 39% since its $18 January 2013 IPO, and has outperformed the market in 2014.

Valuations: Is this a Value play? Not really - USAC only looks undervalued on a Price/Book basis, but certainly not on a P/E or Price/Sales basis.

Financials: So far, USAC's management efficiency ratios look weak vs. industry averages, but, if earnings do ramp up according to company guidance, this should improve in the second half of 2014.

This chart shows how dramatically EBITDA has grown since 2011, and how it is expected to grow in 2014: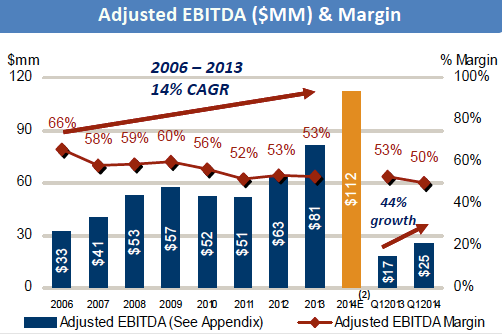 (Source: USAC website)
All tables furnished by DoubleDividendStocks.com, unless otherwise noted.
Disclaimer: This article was written for informational purposes only.
Disclosure: The author has no positions in any stocks mentioned, but may initiate a long position in USAC over the next 72 hours. The author wrote this article themselves, and it expresses their own opinions. The author is not receiving compensation for it (other than from Seeking Alpha). The author has no business relationship with any company whose stock is mentioned in this article.