By Sumit Roy
Some traders have expressed alarm at the rapid inventory drawdown at Cushing, but there is no reason to be concerned.
The Department of Energy reported Wednesday morning that in the week ending July 18, U.S. crude oil inventories decreased by 4 million barrels, gasoline inventories increased by 3.4 million barrels, distillate inventories increased by 1.6 million barrels and total petroleum inventories increased by 5.2 million barrels.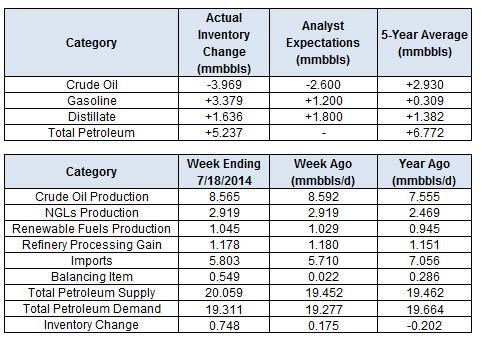 Crude oil rose after the release of the latest inventory data. Brent continues to consolidate following the big plunge earlier this month, as can be seen from the chart below:
BRENT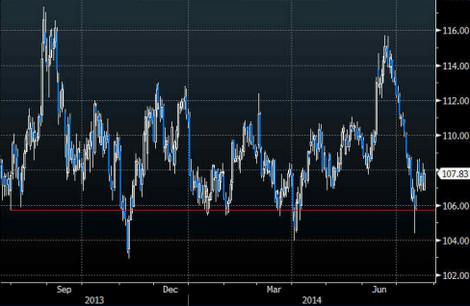 WTI has fared better than its European counterpart, though it remains above $5 below, where it traded last month.
WTI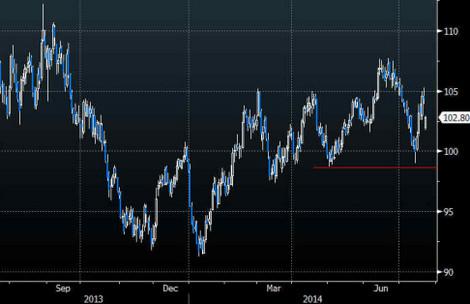 WTI's outperformance stems from a notable drawdown in inventories at Cushing, Oklahoma, the delivery point for Nymex-traded West Texas Intermediate futures contracts. At 18.8 million barrels, Cushing stockpiles are 57 percent below where they were a year ago and at the lowest level since 2008.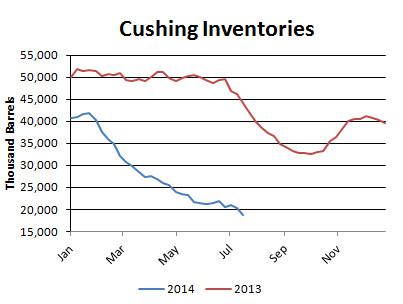 Taking advantage of WTI's discount, refineries in the Cushing area have been operating at extremely high utilization rates. Last week, Midwest refineries operated at 99.5 percent of nameplate capacity, while the week before they operated at an unprecedented 100.3 percent.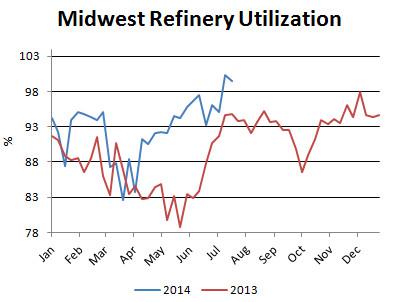 Naturally, that has led to a decline in crude stockpiles in the region. Still, there is no shortage of oil at Cushing by any means. The drop in inventories is a normal, seasonal occurrence-one that had been absent during the last couple of years due to infrastructure bottlenecks in the region, which created a temporary glut. That oversupply period is now over, and we are seeing a more normal situation, which is not something to be alarmed about.
Turning to this week's EIA inventory figures, total petroleum inventories in the U.S. rose by 5.2 mmbbl, against the five-year average of a 6.8 mmbbl increase. In turn, inventories now have a surplus of 17.7 mmbbl, or 1.6 percent, against the five-year average.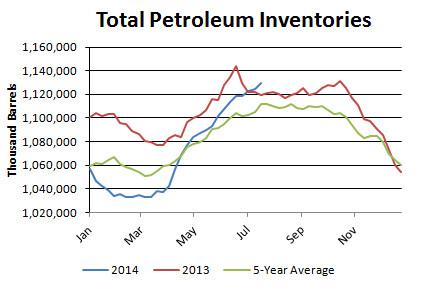 Crude oil inventories fell by 4 mmbbl, against the five-year average of a 2.9 mmbbl decrease. In turn, the surplus in the crude category fell to 9.7 mmbbl, or 2.7 percent.
Regionally, inventories inside and outside the Midwest fell.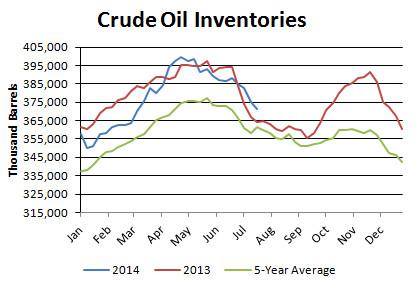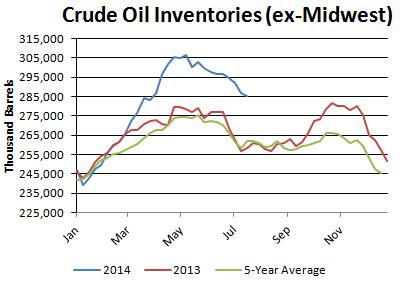 Gasoline inventories rose by 3.4 mmbbl against the five-year average of a 0.3 mmbbl increase. The gasoline surplus now stands at 1.6 mmbbl, or 0.7 percent. Distillate inventories rose by 1.6 mmbbl against the five-year average of a 1.4 mmbbl increase. In turn, the distillate deficit narrowed to 20.8 mmbbl, or 14.2 percent.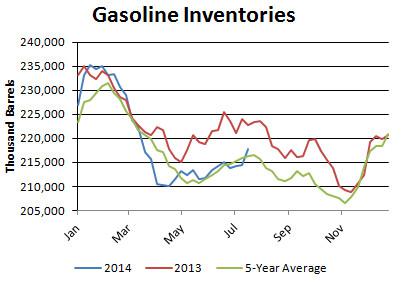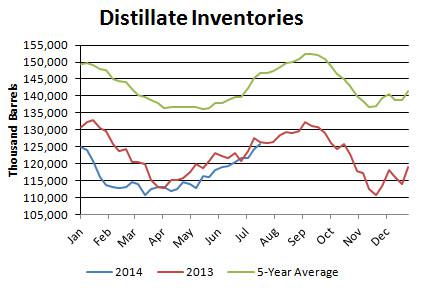 Demand
Total petroleum demand in the U.S. edged up to 19.3 mmbbl/d, while gasoline demand fell to 8.8 mmbbl/d and distillate demand climbed to 3.9 mmbbl/d. On a four-week rolling basis, total demand was down by 2 percent from last year. On that same basis, gasoline demand was down by 1 percent and distillate demand was down by 6.2 percent.
It's worth noting that these figures may be overstated due to the EIA's methodology for calculating demand. The administration does not distinguish between domestic demand and exports. Given that U.S. product exports (distillates, in particular) are running at record levels, U.S. oil demand seems greater than it is.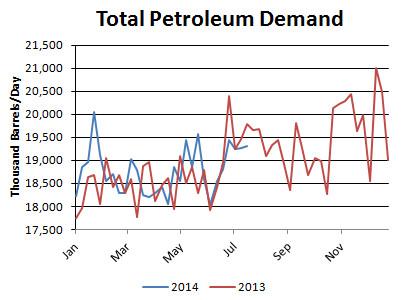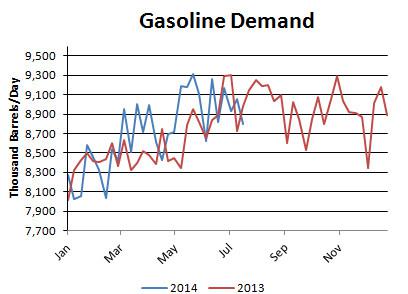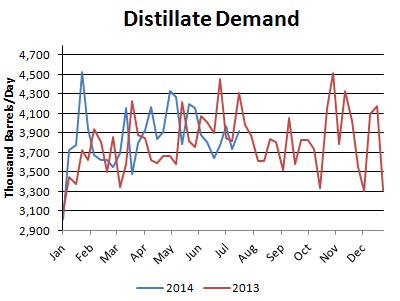 Imports
Crude oil imports fell fractionally to 7.4 mmbbl/d. On a four-week rolling basis, imports have averaged 4.2 percent below the year-ago level.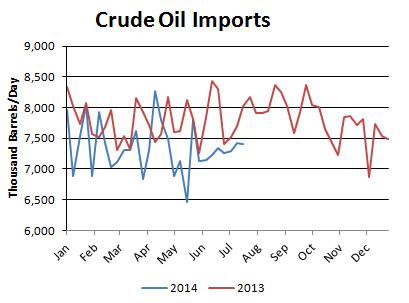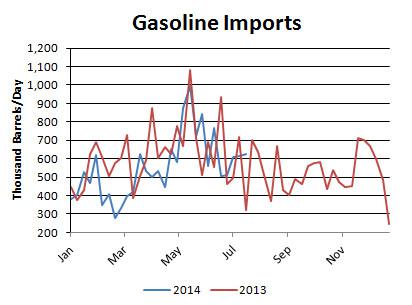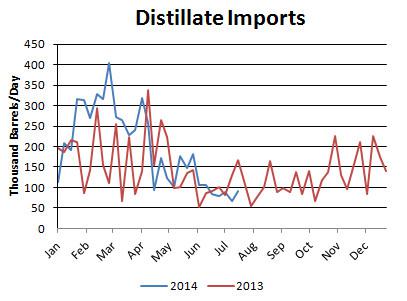 Refinery Activity
Refinery was unchanged at 93.8 percent. Utilization is above the year-ago level and the five-year average. Gasoline production advanced to 9.4 mmbbl/d, while distillate production rose to 5.2 mmbbl/d.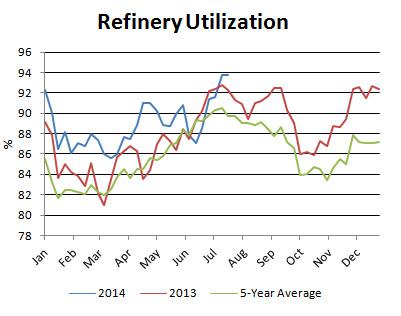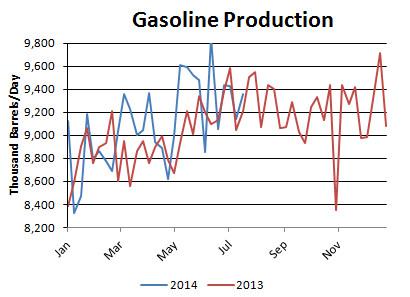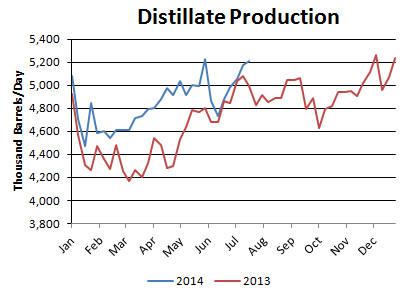 Miscellaneous
U.S. crude oil production edged slightly lower to 8.57 mmbbl/d, but remained near the highest level since October 1986. Output has been rising swiftly due to surging production in unconventional oil plays. Since the start of the year, output has averaged 1.1 mmbbl/d, or 15.1 percent, above the same period a year ago.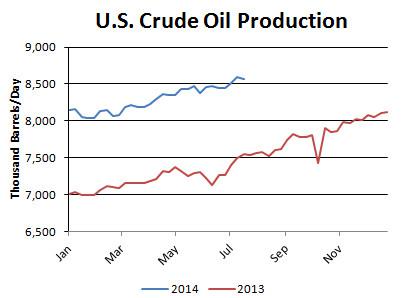 Inventories at the Nymex delivery point in Cushing, Okla., fell by 1.5 million barrels to 18.8 million barrels, or 23.3 percent of the EIA's estimate of capacity. Overall, Midwest inventories fell by 2 million barrels to 86 million barrels, or 53.3 percent of estimated storage capacity.
Front-month WTI calendar spreads remained in backwardation at -$1.16.
Front-month Brent calendar spreads shifted remained in contango at +$0.29.
West Texas Intermediate's discount to Brent rose slightly week-over-week from -$4.97 to -$5.06. WTI's discount to Louisiana Light increased from -$4 to -$4.25.