Osisko Gold Royalties (OKSKF) is a spin-out following the takeover of Osisko Mining Corp. by Yamana Gold (NYSE:AUY) and Agnico Eagle Mines (NYSE:AEM), a transaction which was completed on June 16. In that transaction, Agnico and Yamana both purchased 50% each of Osisko, for $2.09 in cash, .07264 of an Agnico Eagle common share, and .26471 of a Yamana common share. Both Yamana and Agnico gained the world-class Canadian Malartic mine in the transaction, offering $3.9 billion, $1.3 billion more than what Goldcorp (NYSE:GG) had offered.
However, Osisko Mining shareholders also received .1 of one common share of a new company - Osisko Gold Royalties Ltd. - which commenced trading on the TSX under the symbol OR and on the US exchange under OSKFF. The new spin-out company retains a 5% net smelter royalty (NSR) on the currently producing Canadian Malartic mine, $157 million in cash, plus a 2% NSR on the Kirkland Lake assets, the Hammond Reef project, and other properties, plus assets and liabilities in the Guerrero camp in Mexico, and other investments and assets.
Most of the management team at Osisko Mining will be working together at the new company. With a market cap of approximately $750 million, a producing asset and a solid cash balance, Osisko looks like a pretty decent deal at current levels, but I will explore the investment case further below.
Breaking Down Osisko Gold Royalties
Osisko currently trades at $14.83 a share on the US Grey Market, and $15.56 on the TSX. Shares on the Grey Market are extremely illiquid, with average 10-day volume of just 3,000. For this reason, I would recommend investors consider trading shares on the TSX exchange.
Shares launched in late June, as you'll see in the below chart, the share price has fluctuated between $15 and $14.70.

So, what does $14.83 a share buy you currently? With a market cap of $750 million, $157 million cash and no debt, I estimate the company has an enterprise value of $593 million. This gets you:
- A 5% NSR on the Canadian Malartic mine, located in the heart of the prolific Abititi Gold Belt in Quebec. This is Canada's largest gold mine, with 10 million ounces of gold in reserves, plus another 12 million ounces in gold resources, at 1.01 grams per tonne. The mine is expected to produce more than 600,000 ounces of gold a year for the next 14 years. However, if resources can be converted to reserves, I think there is potential that the mine-life can be expanded by at least several years.
- This royalty should produce roughly $30-$40 million in annual cash flow at current gold prices. With annual cash flow estimated at $35 million, the company has a 2014 EV/EBITDA of roughly 17.
- Another big positive is the fact that Yamana and Agnico are the project operators, because these are large cap mining companies with proven track records. So instead of having one project operator in Osisko, investors are backed by two solid operators.
- For those unfamiliar, a net smelter royalty gives payments based on a percentage of the minerals produced, but the royalty holder is not responsible for ongoing capital costs, exploration, maintenance, etc. Royalties are essentially profit interests on production, without the risk of increasing costs due to inflation.
You can see this benefit by simply looking at the performance of royalty and streaming companies versus producers - the royalty companies have consistently outperformed. Here are the three major streaming and royalty companies compared to the gold mining index (NYGDX). You'll see that the three have crushed the miners, with Silver Wheaton (NYSE:SLW) leading the charge with close to 200% returns over 5 years.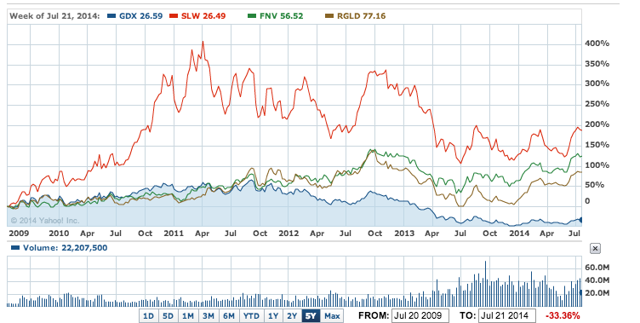 - A huge benefit of gold royalties is that they are leveraged to a rise in the price of gold - the higher the price, the higher the cash flow to Osisko Gold Royalties. I expect Osisko will outperform the gold miners going forward for this reason.
- The company owns a 2% NSR on the Hammond Reef project, which is located 23 kilometers northeast of the Town of Atikokan and 200 kilometers west of Thunder Bay, Ontario. More than 330,000 metres of drilling was conducted by Osisko before the takeover, and the project contains 6.7 million ounces in gold resources. Hammond Reef was acquired in 2010 with a takeover of Brett Resources, a deal valued at more than $372 million. Once in production, the mine could produce more than 400,000 ounces of gold a year, according to the feasibility study. At this rate, Osisko would receive roughly $10 million annually, based on current gold prices.
- A 2% NSR on the Kirkland Lake project, which has 2.1 million ounces of gold resources (1.46 million indicated at 6.62 g/t and 712,000 ounces inferred at 4.85 g/t) with some significant copper by-product (88 million pounds, measured and indicated). It could produce more than 100,000+ ounces of gold a year for 9.5 years. At this rate, Osisko would net $3 million annually.
How Does Osisko Compare to Major Royalty Companies?
Here, I will compare Osisko to the major precious metals streaming companies, Silver Wheaton , Franco-Nevada (NYSE:FNV), Royal Gold (NASDAQ:RGLD) and Sandstorm Gold (SAND). The numbers calculated have been provided by financial statements and EV/EDITBA from Yahoo! Finance.
| | | | | | |
| --- | --- | --- | --- | --- | --- |
| Company | EV (billion) | EV/EBITDA (TTM) | Yield | Producing Assets | Development Assets |
| Silver Wheaton | $10.4 | 21.44 | 1.1% | 19 | 5 |
| Franco Nevada | $7.63 | 24.03 | 1.4% | 47 | 323 |
| Royal Gold | $4.66 | 24 | 1.1% | 37 | 23 |
| Sandstorm | $668 (M) | 15.1 | 0% | 14 | 23 |
| Osisko | $593 | 17 | 0% | 1 | 3 |
| | | | |
| --- | --- | --- | --- |
| Company | Price/Sales | Return on Assets | Operating Margin |
| Silver Wheaton | 14.21 | 4.61% | 49.19% |
| Franco Nevada | 21.02 | 1.49% | 18.75% |
| Royal Gold | 22.40 | 2.33% | 47.93% |
| Sandstorm | 12.72 | N/A | N/A |
Why I'm Not Investing Just Yet
You'll see that Osisko's peers are obviously more mature and have more producing and development assets at this stage, so Osisko has a lot of catching up to do. For Osisko to have a similar valuation to Sandstorm Gold at this stage is a little generous in my view, as Sandstorm has a diverse asset base with 14 producing streams and royalties, plus 23 development assets, $110 million in cash and no debt, while Osisko has just one producing asset (albeit, a great one), and three development assets. Out of this group, my top pick is Sandstorm, and you can read my analysis on the company here.
I do believe it is entirely possible that Osisko Gold Royalties will be a takeover target by one of the major royalty companies mentioned above due to its royalty on a world-class asset in Canada and its hefty cash balance. I think Franco-Nevada or Royal Gold would be better suited, as Silver Wheaton has just $82.0 million of cash in the bank, with over $1 billion in debt.
Osisko has a hefty cash balance and one great producing asset - but the company still has a lot to prove and needs to set forth a strategy for growth. It is simply too early to consider Osisko Royalties for an investment, but that could change once the company's next deal is announced.
Still, Osisko has a ton of potential and I am very excited to see which direction the company heads in. I will be keeping the company on my radar.
Disclosure: The author is long SLW, SAND. The author wrote this article themselves, and it expresses their own opinions. The author is not receiving compensation for it (other than from Seeking Alpha). The author has no business relationship with any company whose stock is mentioned in this article.