Yahoo (YHOO) has announced that it is acquiring Flurry, the mobile advertisement exchange.
This strategy could bolster Yahoo's declining position in the mobile ad segment. Although neither company discussed the financial details, several reports have suggested an acquisition price of at least several hundred million dollars.
Yahoo stated in a current blog post:
"We have reached a definitive agreement to acquire Flurry, the industry leader in mobile analytics. The purchase reinforces our commitment to building and supporting useful, inspiring and beautiful mobile applications and monetization solutions."
Looking For More Money From Mobile Ads
Flurry has become the largest mobile advertising company in operation. In fact, the service monitors more mobile phones than Facebook (NASDAQ:FB) or Google (NASDAQ:GOOG) (NASDAQ:GOOGL). This purchase would enhance Yahoo's objectives to be a "mobile first" organization since struggling to keep up with the increase in mobile ad revenue at competitors Google and Facebook.
Recently, Yahoo reported that it was attracting 450 million unique visitors per month via mobile; however, the company chose not to report revenue from mobile advertisements. This led to speculation about Yahoo's talent for garnering a share of the growing advertising segment. Some forecasts show the value of mobile ads will top $42 billion by 2017.
The potential of targeted ads and high-speed auctions also guided Twitter's (NYSE:TWTR) purchase of MoPub in late 2013 for approximately $350 million.
In a blog post about the acquisition of Flurry, CEO and founder Simon Khalaf said:
"With Yahoo, we will have access to more resources to speed up the delivery of great products that can help app developers build better apps, reach the right users for their apps and more importantly, make money from ads that look great and blend into the app experience."
What's The Fuss About Flurry?
Flurry, as profiled in a Forbes magazine article last year, is on the leading edge of real-time bidding, which is a hyper-quick auction for mobile advertising space driven by algorithms.
The company devised an ad exchange to manage these auctions on mobile devices such as phones. This venue targets individuals instead of groups of people. The core strength of Flurry's program centers on an analytical tool that it makes available free of charge to app designers.
Almost 500,000 apps on Android and iOS use the Flurry tool to gauge how individuals use their services, and Flurry gathers exact information about the users including, gender, age, languages and other interests. This data feeds directly back to the advertisers.
Very interesting graphics can be found on Flurry's blog.
Flurry creates constantly evolving, rich profiles of people by cross-referencing the information collected from various apps in which it is embedded. The analytics tool monitors on average seven apps per mobile phone. Flurry stated that prior to the Yahoo acquisition, the company had considered an IPO.
"The focus the company right now is growth," Khalaf mentioned in an August 2013 interview. "The market is growing and we have to keep up with it. This is an opportunity of a lifetime."
Alibaba Windfall In Sight
Yahoo has another potential windfall in the wings currently with the scheduled IPO of China's Alibaba (Pending:BABA). The e-commerce market in China may exceed $540 billion by 2015, and Alibaba expects to reap considerable profits.
Recently, Alibaba agreed to allow Yahoo to continue holding 68 million additional shares than originally slated for the IPO. Previously, Yahoo was set to sell 208 million shares, which represents approximately 40 percent of its holding in Alibaba. Now, that number has been reduced to 140 million shares, and this means Yahoo will continue to have a significant stake in the profits.
Currently, Yahoo holds a 24 percent position in the Chinese Internet giant.
Outlook for Yahoo And Shareholders: Growth Ahead
For the second quarter of 2014, revenue declined for Yahoo from $1.14 billion to $1.08 billion, down 4 percent. Although several divisions showed strength, that growth was offset by declines in other areas.
Yahoo Search increased 6 percent, and mobile, social, video and native areas grew nearly 90 percent. However, display revenue declined, and the company reiterated its commitment to reverse that negative trend.
An influx of over $20 billion from the Alibaba IPO could certainly help in boosting these sectors-hiring away talent from other tech giants, progressing with innovative solutions, and continuing acquisitions. Since assuming her role as CEO in 2012, Marissa Mayer has continued to acquire companies in core content, social, gaming, and video/conference calls. Despite Q2 declines, YHOO has beat earnings estimates for a consistent nine quarters. Shareholders should watch for a significant boost in the already strong YHOO stock in the run-up to the Alibaba IPO.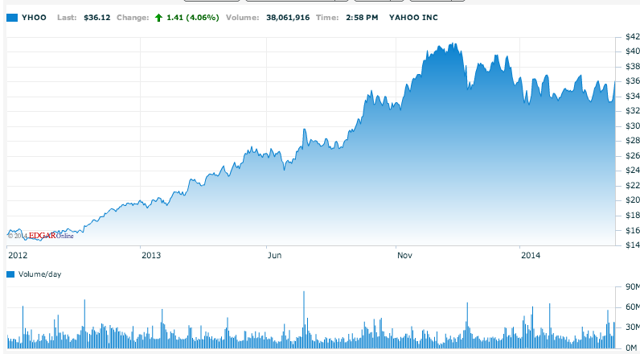 Source: Nasdaq.com
It will be critical to watch YHOO stock and the company's direction following its Alibaba windfall; however, for now, investors should consider taking positions in anticipation of appreciation throughout the summer.
We invite readers wishing to join the discussion on Yahoo to click the +FOLLOW button above the title of this article, and those looking for the latest updates to click +Get real-time alerts.
Disclosure: The author is long YHOO. The author wrote this article themselves, and it expresses their own opinions. The author is not receiving compensation for it (other than from Seeking Alpha). The author has no business relationship with any company whose stock is mentioned in this article.