Dunkin' Brands (NASDAQ:DNKN) reported dismal earnings, as second-quarter sales growth was well below expectations and it missed on revenue estimates. Lowered guidance by management fueled the negative sentiment to prompt a sell-off after-hours. With its growth strategies faltering and no viable explanations given by management, Dunkin' Brands is a perilous investment.
During the conference call, management cited acute competitive market activity and unseasonally cold and rainy weather as the primary causes of the sales miss. Further, the company blamed the impacts of the recession on lower-income households as a contributing factor as well. Since we are several years removed from the recession and Chipotle was able to clearly overcome the "unseasonably cold and rainy weather," it is apparent that management is attempting to make an excuse for their lackluster performance. There is no merit to their excuses, and investors should be disconcerted.
Guidance
Management significantly lowered its outlook on the rest of the year during this release. In 2014, management projects Dunkin' Donuts U.S. to have comparable store sales growth of 2%-3%, compared to previous estimates of 3%-4%. Overall revenue growth is expected to be between 5%-7%, from previous estimates of 6%-8%. Further, operating income is expected to grow between 7%-9%, compared to previous estimates of 10%-12%. Finally, adjusted earnings per share estimates were lowered to $1.73-$1.77 from $1.79-$1.83.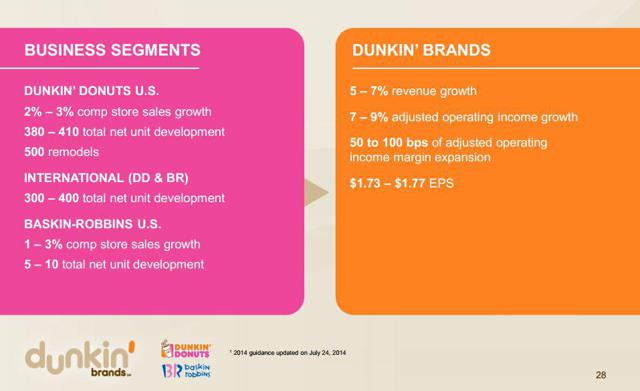 Source: Dunkin' Brands Quarterly Presentation
Concerning Debt
With sales growth falling short of estimates, the large debt DNKN is saddled with is concerning. It has a staggering $2.8 billion in debt. Full-year earnings estimates are approximately only $200 million, or 7% of its total debt load. Furthermore, management instituted a dividend of $0.23 a quarter, which will reduce the amount management has to spend on servicing its debt to approximately $90 million, or about 3.1% of the total debt. With interest rates set to rise in the coming quarters, management will likely have to reduce its dividend to service its debt load, in the face of continued disappointments.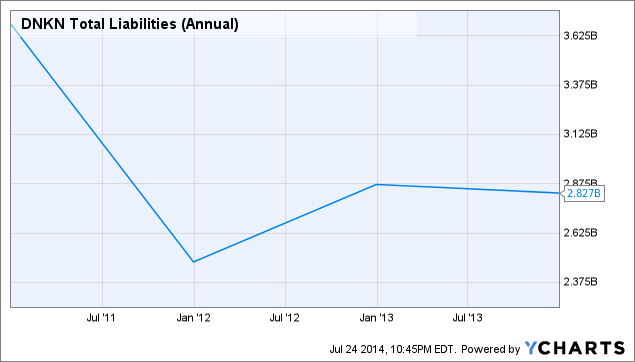 Saturating Its Market
Dunkin' Donuts U.S. comparable store sales growth was an abysmal 1.8%, while management was expecting 3% to 4%. The Baskin Robbins U.S. segment grew 4.2% y/y. However, internationally, Dunkin' Brands is a mess. Comparable stores sales for Dunkin' Donuts declined a concerning 3.1% y/y and Baskin Robbins declined 1.6%.
Management previously discussed divesting from Baskin Robbins at some point, however, with comparable store sales declining 1.6% internationally in the quarter, that plan may be more of a pipe dream now.
Dunkin' Brands has attempted to expand west, but has had notable struggles. Years ago, when Dunkin' had locations in California and Texas, it struggled with supply chain issues. Franchisees complained of having to ship ingredients from faraway distribution centers. With markets saturating on the east coast, its international locations struggling, and westward expansion being difficult, Dunkin' will face mounting headwinds ahead.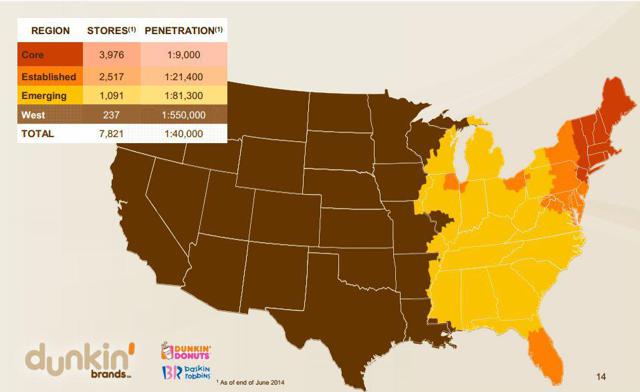 Source: Dunkin' Brands Quarterly Presentation
Conclusion
With decelerating revenue growth, headwinds in expansion, a considerable debt level, and a lofty valuation of approximately 30x earnings, Dunkin' does not appear to be a prudent investment.
Disclosure: The author has no positions in any stocks mentioned, and no plans to initiate any positions within the next 72 hours. The author wrote this article themselves, and it expresses their own opinions. The author is not receiving compensation for it (other than from Seeking Alpha). The author has no business relationship with any company whose stock is mentioned in this article.