When Verizon Wireless (NYSE:VZ) announced its revamped pricing structure in 2012, I thought it would serve to sap its growth momentum and cause AT&T (NYSE:T) and Sprint (NYSE:S) to pick market share in the wireless communications space. However, Verizon continues to dominate the wireless marketplace, even after AT&T announced its big capital investment program to upgrade its mobile communications network. One can see why Verizon's stakeholders had high confidence regarding Verizon Wireless' revamped smartphone pricing plans, as Verizon Wireless' new subscriber volumes continue to outpace AT&T and Sprint in 2013 & H1 2014. Part of the reason why Verizon Wireless is currently the king of the US wireless market is because it has the largest 4G-LTE network.
This market dominance and its 4.2% are two reasons why Warren Buffett's Berkshire Hathaway (NYSE:BRK.A) (NYSE:BRK.B) picked up 11M shares in Q1 2014 ($561M). Verizon Wireless' 4G-LTE footprint is over 500 U.S. Markets as of H1 2014 and covers 97% of Americans. Although AT&T previously had 4G HSPA+ and has built out its 4G-LTE network footprint to nearly 600 markets, Verizon still has the advantage of being the first mover in the 4G-LTE space and has a strong reputation from consumers for network reliability. T-Mobile USA has not begun its 4G-LTE network while AT&T Mobility and Sprint previously bet heavily on different 4G network systems (HSPA+ for AT&T and WiMax for Sprint).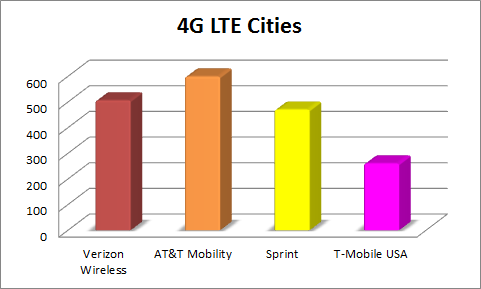 Source: Verizon Wireless
Verizon Wireless
Verizon Wireless continues to be the star-performer and workhorse for Verizon shareholders. Verizon Wireless grew its Q2 2014 revenues by 7.5% versus Q2 2013 levels versus 3.7% for AT&T Wireless. Retail service revenues grew by 5.3%, aided by increased smartphone penetration and positive reception for its Share Everything data plan. Although Verizon Wireless is maintains a solid ability in retaining customers with its 0.94% contract customer churn rate and its 1.25% total retail customer churn rate, it was surprising to see AT&T Wireless achieve 0.86% contract customer churn and 1.47% total retail customer churn. Verizon activated 8.3M smartphones in Q2 2014, up 10.2% year-over-year. Verizon Wireless' smartphone penetration is 75%, up from 64% last year.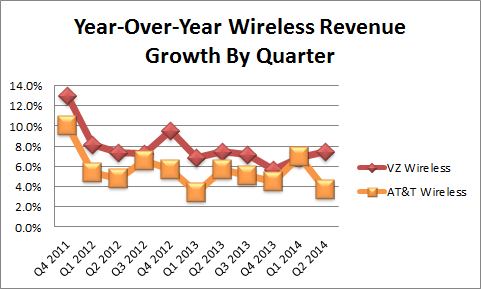 Source: Last 10 Earnings Releases for Verizon and AT&T
Verizon Wireless has made a strong push towards converting its customers from low-end mobile phones into higher end smartphones. In Q1 2010, its proportion of smartphone customers to total customers was 18.6% but it has steadily increased in each succeeding quarter and reached 75% in Q2 2014 (90.8% of new activations were for smartphones). Verizon Wireless ended the quarter with 63.5M smartphones and about 69% of those were 4G. Verizon still has about 20M 3G smartphones and almost 22M basic phones in its customer base which provides it with a good upgrade opportunity. Verizon Wireless' CapEx increased by 21.6% year-over-year in Q2 2014 and 24.7% in the first six months of 2014.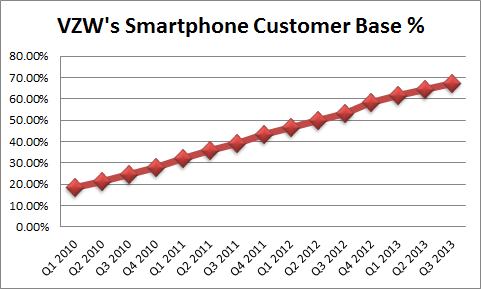 Source: Verizon's Last 15 Earnings Releases
Verizon's Wireline businesses were reliable cash-cows in the 1980s and 1990s and Verizon Wireless is steadily transforming from its phase of breakneck growth into a maturing cash-cow. Although Sprint has more than tripled its CapEx from $2.2B in 2009 to $7B in 2013, it has a long way to go before it catches up with Verizon Wireless' CapEx ($10.5B). It was surprising that Verizon Wireless has been able to continue increasing its net customer additions and that people would be willing to pay $30/month and up more for Verizon Wireless' 4G-LTE network versus its competition, especially since Sprint is steadily building out its 4G-LTE network and has been improving its customer service experience.
Verizon Wireline
The good news for Verizon Wireline is that it generates steady revenue growth from its FiOS product line (digital voice, internet and video), it has increased its proportion of enterprise revenues from strategic communications services (FiOS, Terremark cloud services, security and IT solutions and strategic communications network solutions) and it has steadily reduced headcount in the division. The bad news is that Verizon Wireline is shedding wireline telephone customers at a faster rate than it can increase its penetration of strategic communications services and products. Verizon improved its business operations reporting metrics for the division in 2011 and highlights from these initiatives are as follows:
Wireline headcount has decreased from 118,700 in Q2 2009 to 80,600 in Q2 2014
Strategic Communications Service revenues have increased from 40.6% of total Enterprise revenues in Q2 2009 to 59.2% in Q2 2014
FiOS Digital connections have increased from 5.36M in Q2 2009 to 16.2M in Q2 2014
FiOS quarterly revenue increased from $1.26B in Q2 2009 to $3.125B in Q2 2014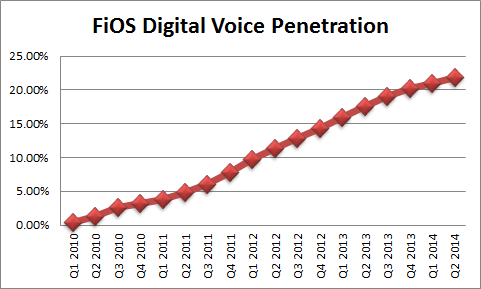 Source: Verizon's Last 14 Earnings Releases
However, these efforts are not enough to offset the continued erosion of its legacy wireline voice services and its legacy High-Speed Internet offerings. Verizon Wireline's Q3 2009 revenue adjusted to account for spinning off its rural wireline operations spinoff to Frontier (NYSE:FTR) was $10.7B but has declined to $9.76B in Q2 2014. This revenue decline has occurred in spite of its Q3 2012 acquisition of Hughes Telematics, its Q2 2011 acquisition of Terremark and the increased sales penetration of its FiOS products. Verizon is not alone in facing the decline of its traditional wireline business with strategic communications services such as its FiOS product line as AT&T and CenturyLink (NYSE:CTL) (Sprint's former rural incumbent local exchange carrier operations) are pursuing the same strategies as Verizon Wireline. CenturyLink also resells Verizon Wireless services in its ILEC footprint. We think that Frontier's management and investors should be seething that Verizon spun-off its weakest wireline operations to Frontier in 2010 while giving the Verizon Wireless resale deal to CenturyLink. Frontier ended up inking a wireless resale deal with AT&T.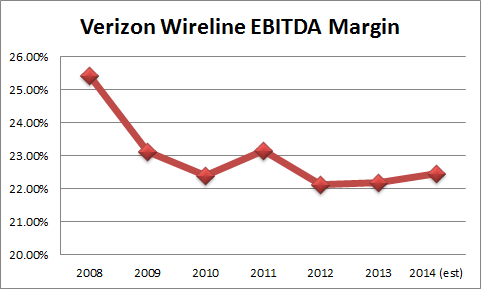 Source: Verizon's Last 22 Earnings Releases
The bad news is that Verizon Wireline posted scant operating income of $809M (2% operating margin). Another piece of bad news is that its closest competitor AT&T generates much stronger performance in its wireline operations than Verizon and the same scenario applies to Verizon Wireless' reseller partner CenturyLink versus Verizon Wireline. At least Verizon Wireline accounted for only 19.4% of Verizon Communications' adjusted business segment EBITDA and its contribution to VZ's operation is getting smaller and smaller, which mitigates the negative impact that this declining business has on VZ's results.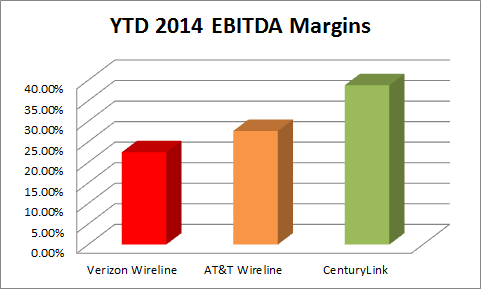 Source: MRQ Financial Reports for Verizon, AT&T and CenturyLink
Corporate and Administrative
Verizon increased its per share dividend distributions by 2.9% last year and this represented the seventh straight year it increased dividends. As Verizon has increased its dividend incrementally each year during this period, investors should expect Verizon to increase its dividend again on or before September and increase it by $.06/share annualized (2.8%). Verizon's stakeholders hope that the company won't be announcing any retirement benefit charges this year considering that interest rates has bounced back from all-time lows. Verizon paid $130B in cash, stock, notes, preferred stock and Verizon's 23.1% minority interest in Vodafone Omnitel to Vodafone (NASDAQ:VOD) for its 45% minority interest in Vodafone. This analyst agrees with Verizon's management that Verizon's acquisition of Vodafone's interest in Verizon Wireless would provide an immediate 10% benefit to its EPS once the deal closes.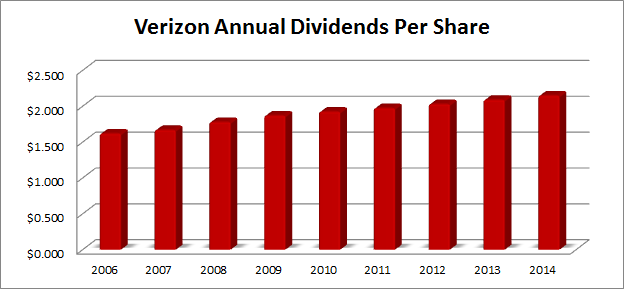 Source: Verizon Investor Relations
Conclusion
In conclusion, I expect Verizon to maintain its leadership in the wireless communications market for the near term. I cannot argue with yield hungry investors who are interested in the company, as it sports a 4.2% dividend yield and the financial strength to cover its dividend payments with free cash flows. It explains why Berkshire Hathaway picked up 11M shares of Verizon in Q1 2014. Although Verizon Wireless will to continue generating solid revenue growth and strong EBITDA growth, it will still face continued weakness in its Verizon Wireline division. Verizon's share price reached $54.31 in April 2013 and this was the highest it had traded since December 2000 ($53.24). Since then, it has generated a negative total return of 1% and we believe that investors should begin to accumulate Verizon shares if the price reaches $44/share or less, especially if Verizon maintains its leading position in the wireless communications industry.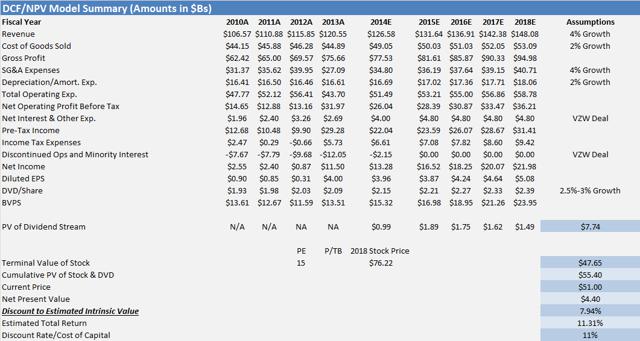 Sources: My Estimates and Morningstar Direct
Disclosure: The author has no positions in any stocks mentioned, and no plans to initiate any positions within the next 72 hours. The author wrote this article themselves, and it expresses their own opinions. The author is not receiving compensation for it (other than from Seeking Alpha). The author has no business relationship with any company whose stock is mentioned in this article.