Recently, I had the pleasure of spending time in the Carlin and Cortez Trends in Nevada with some very special geologists, including Dr. Roger Steininger of NuLegacy Gold Corp [NUG.V, (OTCQX:NULGF)] and Mac Jackson and Steven Koehler from Gold Standard Ventures (NYSEMKT:GSV), as well as Dave Mathewson. This group boasts a very impressive resume collectively, involved with previous significant finds while at other companies and literally writing the book on mineral geology in the Western United States. While learning about the region and geological formations, I was struck by the similarity of their methodology in gold exploration and that of my own methodology for chart analysis.
Nevada is incredibly mineral-rich; if it were a sovereign nation it would be the sixth largest gold producer in the world, and the Carlin and Cortez Trends are the so-called elephant country. This area is argued to have the largest concentration of gold on the Earth's crust, and is the most prolific gold mining belt in the Western Hemisphere. These two adjacent trends contain behemoth deposits like Barrick's Pipeline, Cortez Hills, Gold Rush, Gold Quarry, Meikle, and Gold Strike and Newmont's Leeville, Genesis, Rain, and Emigrant. GSV has been able to procure mineral rights to the entire Railroad district which sits atop the 4th window of the Carlin Trend. NuLegacy's Iceberg project is similarly situated on the 4th window of the Cortez Trend.
It may be possible to dig anywhere in this region and be able to recover gold, but the more concentrated mega deposits that make the capital expenditure of a huge mine a cost effective venture need to be located. Since it is rather expensive to drill very deep holes, there is a need to be more selective of where those holes are placed. Just like in planning a trade, geologists go to their charts. Their understanding of the hydro-thermal and tectonic activity that have shaped the region and given it its mineralization provide them with high probability patterns where gold is found, not unlike Elliott Wave patterns or an Inverse Head and Shoulders. They also have the benefits of numerous historic drill holes (although these were often not deep enough or just off from proving big discoveries), but these allow them to piece together a very clear stratigraphic view of the entire region. Think of this as a detailed candle chart with numerous trend lines showing support and resistance levels, and in between some of those levels are the sweet spots for concentrated deposits. In addition to this, the geologists use other studies like Gravity interpretations, Induced Polarity tests and CSAMT to find anomalies in rock density and retained charge. These indicators are like Stochastics, MACD, and RSI. Information from these indicators, just like in trading, does not provide conclusive evidence of a discovery. However, when used in conjunction with all of the other data, it narrows the target regions for drilling what could be the next big discovery hole or entry for a trade. As in technical analysis, there is nuance and an expertise that comes with passion and experience.
In GSV's Railroad district, several deposits have already been located, and further drilling is being conducted to further explore the extent of these finds and the prospects for mining. North Bullion deposit remains open in all directions with some impressive intercepts. GSV is also exploring the oxide-gold deposits at Bald Mountain and Pinion. Pinion is very exciting as there are numerous historic drill holes showing strong evidence of a still-open deposit that seems very similar to Newmont's Emigrant deposit with impressive visible outcropping. Why has it never been mined? For the past 40 years, it has not been systematically explored due to private, dispersed ownership. The recent near 100% rights acquisitions make this possible, and GSV thinks that the primary feeder structures have not yet been identified. All three of these deposits could each rival other Carlin Trend proven and probable reserves. GSV currently has a market cap of $78M with 112.4M shares outstanding. If GSV is able to prove an average of 600k ounces at each deposit on the low end, and the conservative "in the ground" price of $100/oz, then that would easily add 100M in value to GSV, putting its share price at $1.60.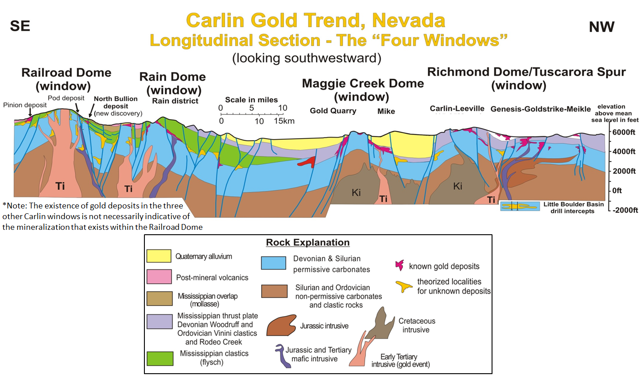 Source: Gold Standard Ventures Website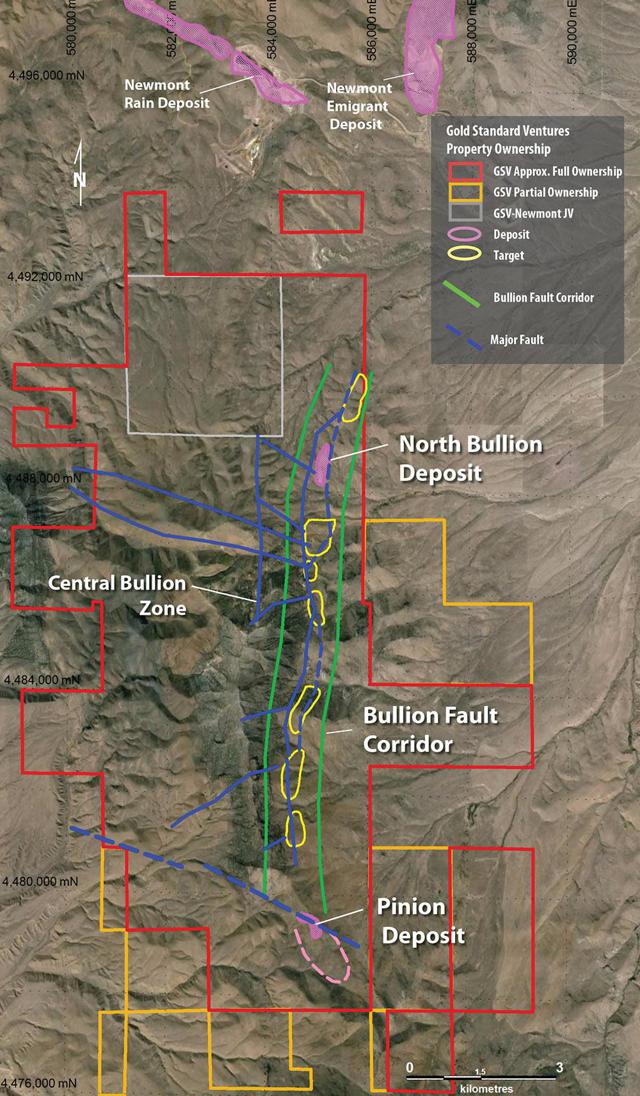 Source: Gold Standard Ventures Website
NuLegacy's development of Iceberg is part of an earn-in to a 70% working interest with Barrick Gold Corp. Currently, NuLegacy is drilling more to further delineate the primary Iceberg deposit that is incredibly similar to Barrick's Goldrush, which in the last 4 years has seen its resources swell from 2.5M oz in 2011 to now over 15M oz. While understandable that the stratigraphy of the two would be similar, given that they are less than 10km apart, the deposits at Iceberg are presenting at shallower depth and are covered by a thin layer of gold bearing volcanic. Also exciting on the larger Iceberg property are the as yet un-drilled Jasperiod Basin and Avocado Anomaly. Jasperiod Basin is a possible collapsed structure identified by outcropping and anomalous surface gold values. The Avocado Anomaly is a huge gold bearing pyrite zone identified by an induced polarity scan. It is 2000m by 1000m and lies right in between the Iceberg deposit and Goldrush (only 4000m from the edge), and well, it looks like a half of an avocado. There is only one historic drill hole that sits on the very outside of the "skin," but NuLegacy is about to drill a very deep hole right in the center in the next 2 weeks.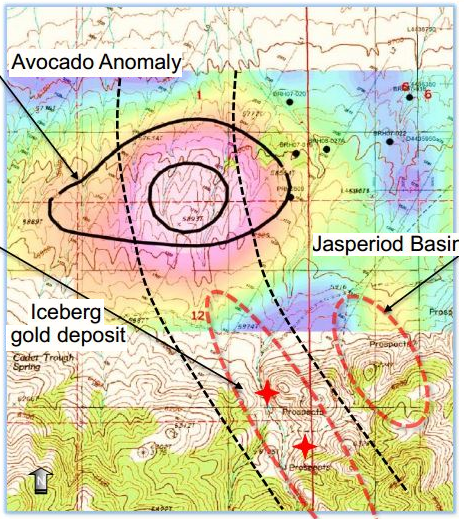 Source: NuLegacy Website
NULGF still has a good deal more exploration to do before defining an NI 43-101 compliant resource, but let's extrapolate just a bit for argument's sake. NuLegacy at a current market cap of $10.43M (yes that is an M) is certainly nano-cap, with 93.1M shares outstanding. Let's say that they are ultimately able to prove reserves of two thirds of that of Pipeline, Cortez Hills, or Goldrush (21+M, 15+M, and 15+M oz respectively), and it was NuLegacy's own COO Dr. Roger Steininger that discovered the Pipeline deposit in 1989. So 10M oz at the conservative "in the ground" price we used above of $100/oz (or only 70% of that to compensate for the earn-in) would balloon NuLegacy an astonishing $700M or $7.63/share!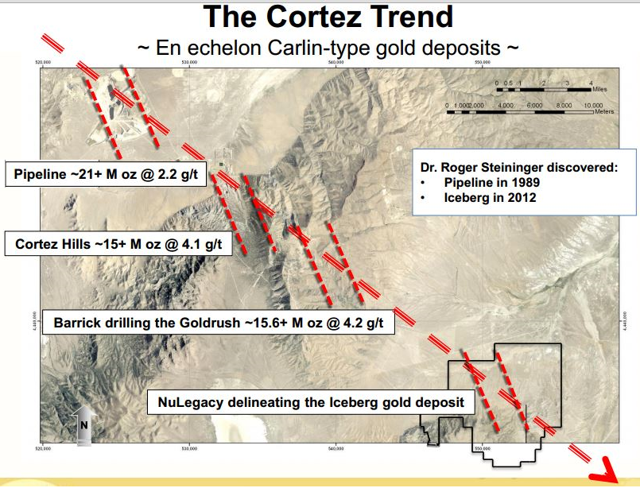 Source: NuLegacy Website
Current chart patterns for NuLegacy can project a move targeting over $5 in the next 5-7 years, but more immediately I am looking for it to hold over $0.08 on its way to $0.46+, and from there it should hold $0.25 long-term. GSV's chart has a similar pattern projected in the short term taking it over $1.50 into early 2015, which fits very well with the analysis above. Longer term, GSV's chart can have it targeting over $5 too, providing it holds support over the $0.70s after accomplishing its $1.50 objective. Both of these charts also line up well with my near term and longer term bullish views of gold (NYGLD) and gold miners (NYGDX) (as well as GDXJ), which should both be nearing the end of corrective retracements off the earlier July highs.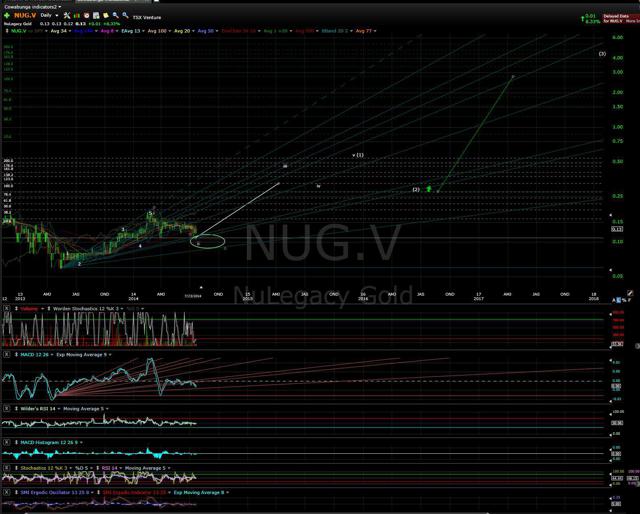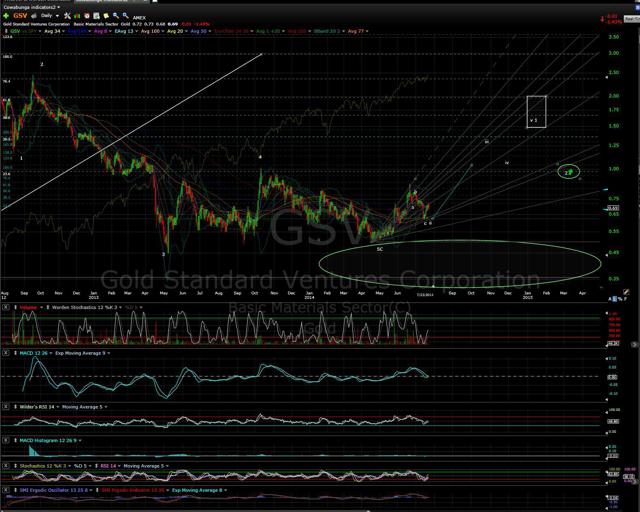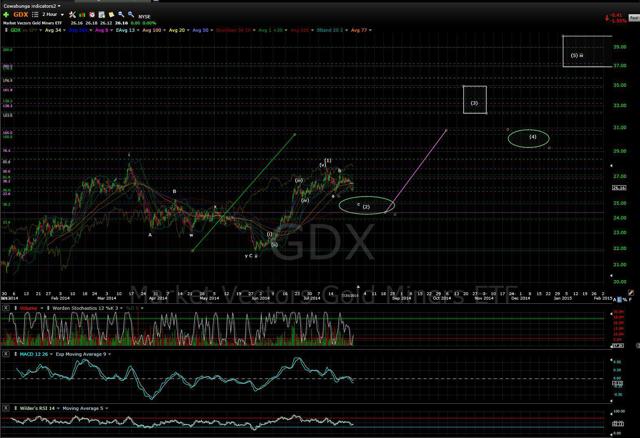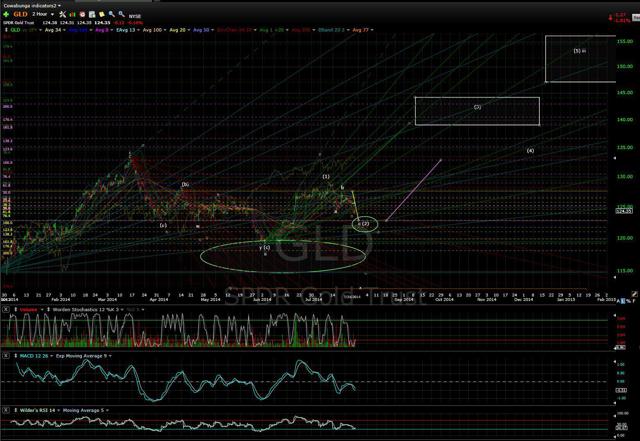 Disclosure: The author is long GSV, NULGF. The author wrote this article themselves, and it expresses their own opinions. The author is not receiving compensation for it (other than from Seeking Alpha). The author has no business relationship with any company whose stock is mentioned in this article.
Editor's Note: This article covers one or more stocks trading at less than $1 per share and/or with less than a $100 million market cap. Please be aware of the risks associated with these stocks.