The province of insurance is often a misunderstood and lightly inspected area of security analysis. It is, however, becoming increasingly important in cash flow and risk analysis in light of rising health care costs, growth in corporate assets, a seemingly higher incidence of natural disasters and lawsuits, and other specialized needs for which insurance is required. This has resulted in the rising use of self-insurance as a cash savings technique.
Self-insuring can be a very effective means to enhance cash flows and market valuation, but is not without risk. If adopted by a weak credit, the effect on cost on capital is pronounced as uncertainty is increased by the probability a payout cannot be met from existing resources.
When Winn-Dixie Stores (NASDAQ:WINN) reported its March 2010 quarter, did analysts account for the change in self-insurance reserves, which boosted the firm's operating margins and cash flows? This maneuver served to decrease other operating expenses and administrative costs, as well as the cost of sales. Were such management decisions properly computed into analysts cost of capital given the new higher level of risk?
Additionally, in its 10-Q, Winn-Dixie's "adjusted" EBITDA excludes adjustments to self-insurance reserves and so represents nothing more than another gift-wrapped booby-trap for unsuspecting analysts and investors.
Self-insurance is shown as an accrued expense under current liabilities on the balance sheet and run through various areas on the income statement.
Self-insurance, if properly used, can indeed be a cash savings technique, especially if the risk of a large loss is low. Excess coverage will be used to insure against such a possibility. However, when firms meet with success (save cash) from the utilization of self-insurance reserve funds, the temptation to see its use grow may be associated with an increased risk profile.
All large insurance companies work with client firms that self-insure, including handling of the administrative costs and risk-sharing above the re-insured levels, for which they are paid a premium.
At CT Capital LLC, we examine self-insurance funds for appropriateness, accounting, funding, excess liability coverage and potential liability. For example, BP was self-insuring against oil platform disasters, hence the large cash payout when disaster actually struck that company. Because of this large self-insurance risk, BP's cost of equity capital (risk to cash flows) was higher than most investors recognized.
If the firm's capital base and free cash flows are sufficiently strong, as with a BP, even a large disaster would not cause failure. However, the damage to shareholders in such events is now obvious. For weaker credits, bankruptcy is often the only course of action. The same would be said with a large number of small claims which could seriously impair the capital base, as was the case with asbestos manufacturers.
Self-insurers can only deduct losses for tax purposes, unlike that for the payment of insurance, as the courts have ruled there must be a transfer of risk for deductibility. Likewise, payments to a wholly-owned captive may not be tax-deductible.
When a captive subsidiary is set up, depending on its structure, including whether it insures other firms as well, it may qualify for a federal deduction. In addition, income earned each year on the investment of the company's reserves may be sheltered from current taxation in certain situations by the deduction allowed for additions to the company's reserve account.
Given several large benefit consultation firms (see my article Death, Taxes, and Health Care Costs) expect medical cost inflation to increase in the low double digits over the coming years, analysts and investors should expect to see larger payouts from self-insurance funds with consequent hits to both cash flow from operating activities and free cash flow, regardless of how the latter two are defined.
Also, under the new health care legislation (IRC § 4375), there is a sliding fee per insured for self-insured plans.
The following three examples illustrate company reporting.
Example "A" — Sysco Corporation (NYSE:SYY)
We maintain a self-insurance program covering portions of workers' compensation, general liability and vehicle liability costs. The amounts in excess of the self-insured levels are fully insured by third party insurers. We also maintain a fully self-insured group medical program. Liabilities associated with these risks are estimated in part by considering historical claims experience, medical cost trends, demographic factors, severity factors and other actuarial assumptions. Projections of future loss expenses are inherently uncertain because of the random nature of insurance claims occurrences and could be significantly affected if future occurrences and claims differ from these assumptions and historical trends. In an attempt to mitigate the risks of workers' compensation, vehicle and general liability claims, safety procedures and awareness programs have been implemented.
Sysco maintains a self-insurance program covering portions of workers' compensation, general and vehicle liability costs. The amounts in excess of the self-insured levels are fully insured by third party insurers. The company also maintains a fully self-insured group medical program. A summary of the activity in self-insured liabilities appears below:

Example "B" — Neiman Marcus (NMG)
We use estimates in the determination of the required accruals for general liability, workers' compensation and health insurance. We base these estimates upon an examination of historical trends, industry claims experience and independent actuarial estimates. Although we do not expect that we will ultimately pay claims significantly different from our estimates, self-insurance reserves could be affected if future claims experience differ significantly from our historical trends and assumptions.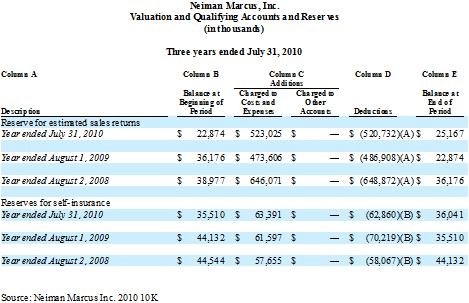 Example "C" — Winnebago Industries (NYSE:WGO)
We are involved in legal proceedings in the ordinary course of business, including a variety of warranty, "Lemon Law" and product liability claims typical in the recreation vehicle industry. We have an insurance policy covering product liability, however, we are self-insured for a portion of product liability claims. Self-insurance retention liability for at least the past five fiscal years was $2.5 million per occurrence and $6.0 million in aggregate per policy year. In the event that the annual aggregate of the self-insured retention is exhausted by payment of claims and defense expenses, a deductible of $1.0 million, excluding defense expenses, is applicable to each claim covered under this insurance policy. We cannot be certain that our insurance coverage will be sufficient to cover all future claims against us, which may have a material adverse effect on our results of operations and financial condition. In addition, if these claims rise to a level of frequency or size that are significantly higher than similar claims made against our competitors, our reputation and business may be harmed.

Source: Winnebago 2010 10K
Disclosure: No positions