A couple weeks ago, KBC Securities of Belgium issued an alert that the price of zinc could start its rise again, as zinc supply is going to deteriorate in the coming years. The severity of this supply disruption could be twice as severe as in the year 2000.
Let's take up a chart of the price of zinc (chart provided by InfoMine.com)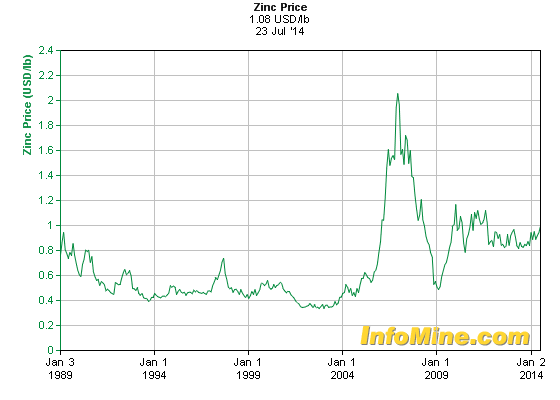 If we just look at what zinc did in the year 2000, we see that zinc had a 300% increase to its all time high at 2 USD/lb. If the supply disruptions are twice as severe today, imagine what the zinc price can do at this stage.
A very good metric is to look at the LME zinc stock level. Price rises in zinc always accompany a decrease in LME zinc stock levels as you can see in the chart below (chart provided by Thomson Reuters). Today, we are at an LME zinc stock level of 700,000 tonnes and we are declining fast. There is still a lot of room for the LME zinc stock level to decline to, if we compare it to the lows of 2007. This also means that the rise in zinc price is only starting.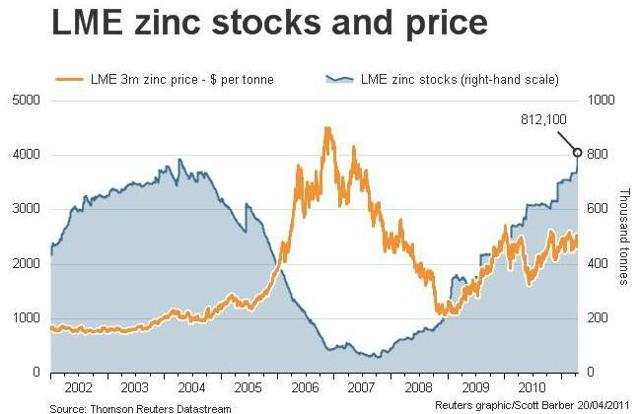 Let's go on to the fundamental picture of zinc supply and demand. Supply is surely going to decline in the future because many large zinc mines will shut down in mid-2015. For example, Australia's largest open-cut zinc mine Century Zinc will close in 2015. Another mine, Lisheen in Ireland, is also set to close next year.
See this chart from Wealthdaily that explains how zinc supply is in decline due to mine closures. We're talking about an almost 6 % decline in supply every year.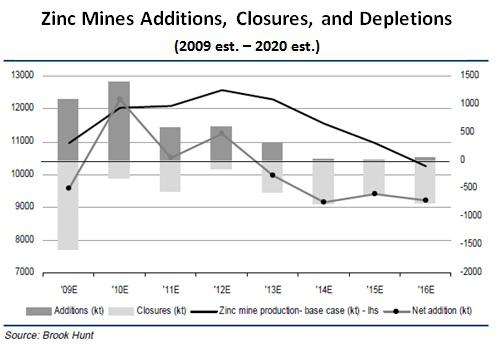 On the demand side I see progress. China is the most important for the zinc market as it is the top consumer. We all know that China and commodities are mentioned in contango. When we take a look at the Chinese power consumption growth, we see improvements (Chart below created by Correlation Economics). The latest numbers of China's PMI are also positive.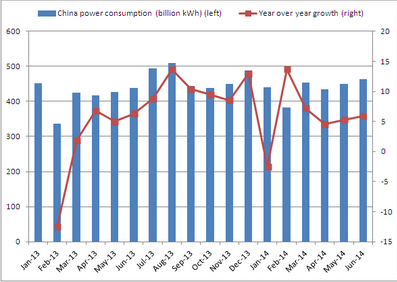 Nyrstar (OTC:NYRSF) would be a good candidate to bet on a rising zinc price. The latest earnings statement said that its net loss had come down from 92 million euro to 66 million euro. Nyrstar is now trading at half book value, so if they manage to get positive earnings again on higher zinc prices, this stock could easily double from here. KBC Securities has a 4.2 euro price target for Nyrstar.
Disclosure: The author has no positions in any stocks mentioned, and no plans to initiate any positions within the next 72 hours. The author wrote this article themselves, and it expresses their own opinions. The author is not receiving compensation for it (other than from Seeking Alpha). The author has no business relationship with any company whose stock is mentioned in this article.
Editor's Note: This article discusses one or more securities that do not trade on a major U.S. exchange. Please be aware of the risks associated with these stocks.