The M&A activity has really carried this market over the course of the year, as investors have sought guidance anywhere they can get it. As more transactions are announced, market participants view this as the insiders seeing green shoots within this economy. Right now, in our opinion, it appears that the green shoots are far too fragile to justify all of this activity, so we are led to believe that management teams are consolidating larger positions within their industries in order to continue to cut costs in the near term while also better positioning for the medium to long-term gains that will result once growth in key areas of the economy does in fact take place.
Consolidation within consumer goods companies and real estate service providers seems to fit this line of thinking. It will take some time to figure out exactly where we stand right now, but we would not be surprised if looking back a few years from now that these transactions in the real estate service industry prove to be a key event in the overall housing market.
Chart of the Day:
Those who made bullish bets on the US Dollar versus the Japanese Yen have done well over the past two years, but since the beginning of the year, the losses have been like Chinese water torture; there have not been many large moves, just a lot of down days, which are beginning to add up.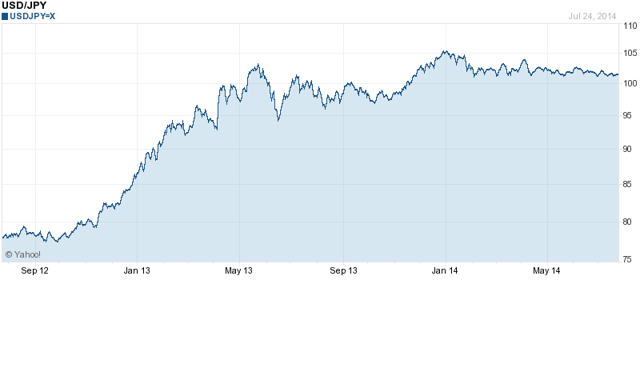 Source: Yahoo Finance
We have economic news today, and it is as follows:
Durable Orders (8:30 a.m. EST): Est: 0.3% Act: 0.7%
Durable Goods-Ex Trans (8:30 a.m. EST): Est: 0.7% Act: 0.8%
The Asian markets are mostly higher today:
All Ordinaries -- down 0.08%
Shanghai Composite -- up 1.02%
Nikkei 225 -- up 1.13%
NZSE 50 -- up 0.38%
Seoul Composite -- up 0.36%
In Europe, the markets are lower this morning:
CAC 40 -- down 1.82%
DAX -- down 1.53%
FTSE 100 -- down 0.44%
OSE -- down 0.11%
Further Beverage Consolidation Ahead?
After the Coca-Cola (NYSE:KO) deal for a stake in Keurig Green Mountain (NASDAQ:GMCR) left SodaStream (NASDAQ:SODA) in a precarious and lonely position, many in the market wondered where the company would end up. The thinking was that it needed to find a tie-in with a larger company and there were quite a few rumors about who and when a bid would finally emerge. Yesterday however seems to be the closest the company has been to finding a buyer, if one believes the Bloomberg report, but we were surprised to learn that the rumored suitor is not a beverage company but instead a private equity firm.
It seems that there are some serious doubts regarding the rumored takeover talks surrounding SodaStream, best illustrated by yesterday's price action.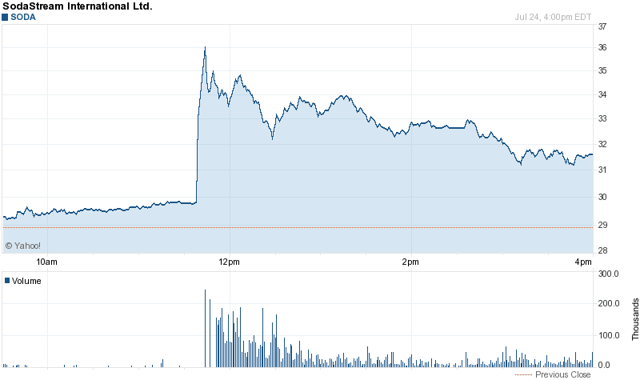 Source: Yahoo Finance
SodaStream shares rose sharply after the news hit, getting as high as $36.53/share. Investors sold into the close as the shares finished the session up $2.73/share, or 9.45%, to close at $31.63/share on volume of 11.7 million shares. The sell-off is a good indicator of investors' confidence that a deal does materialize, something that has not happened in the past. The options might be worth a look for investors looking to speculate, especially if the reported $40/share offer does surface.
Investors Cheer Talks Of Internet M&A
While investors are skeptical of the SodaStream rumors, they were more than willing to buy into reports that Zillow (NASDAQ:Z) is looking to launch a $2 billion bid for rival Trulia (TRLA) as the closing market capitalization of Trulia at the close was $1.98 billion. The deal would not only be good for Trulia shareholders, but Zillow shareholders as well due to the combined entity's ability to cut overhead and use its market leading sites to cement its hold on real estate ad dollars. It is odd to see a purchaser's stock rise when these rumors break, let alone rising by over 15%, but that was the case with Zillow yesterday.
Investors really liked yesterday's reports that Zillow was looking to further consolidate the industry, with the stock taking out old highs.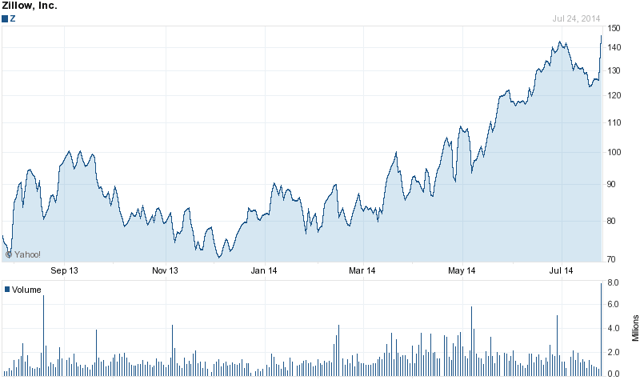 Source: Yahoo Finance
Usually we would play devil's advocate here, but shortly after the rumors broke, CNBC reported that Zillow's CEO left the conference he was at to fly to San Francisco, which happens to be where Trulia is based. This deal makes too much sense not to happen and when coupled with the events that played out yesterday we have to believe that there is fire associated with the smoke.
Disclosure: The author has no positions in any stocks mentioned, and no plans to initiate any positions within the next 72 hours. The author wrote this article themselves, and it expresses their own opinions. The author is not receiving compensation for it (other than from Seeking Alpha). The author has no business relationship with any company whose stock is mentioned in this article.