BreitBurn Energy Partners (BBEP) has been under pressure this week, after making an announcement that it will buy QR Energy (NYSE:QRE) for ~$3 billion. I believe the dip in the stock presents a good entry point for this fast-growing energy partnership that provides an over 9% distribution yield, for myriad reasons: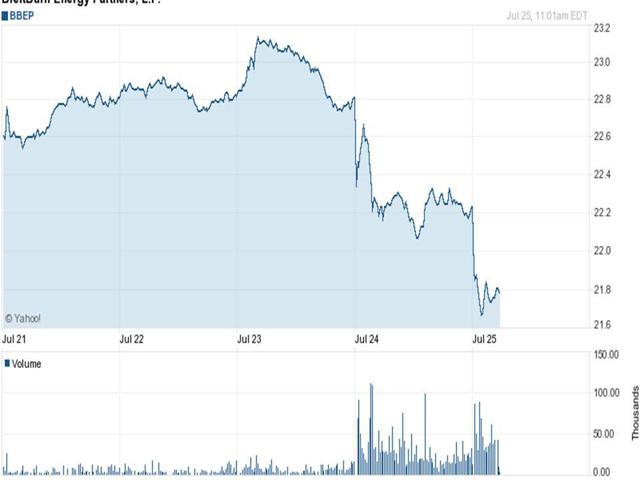 An Accretive Acquisition:
I believe investors are being short-sighted this week by selling out of BreitBurn. The merger with QR Energy should provide several benefits. These positives were captured nicely by a report out of Wunderlich this morning that raised its price target to $25 a share from $24 a share previously as it reiterated its Buy rating on BreitBurn.
Wunderlich's Abhishek Sinha (a four-star rated analyst according to TipRanks) notes, "Upon closing of the transaction, BBEP is expected to increase distribution by 3% to $2.08/unit. We believe the QRE acquisition complements and diversifies BBEP's existing asset base and should propel long term growth."
Growth:
Before the acquisition, BreitBurn already has significant growth prospects. Pre-merger, it was tracking to deliver over 35% growth year-over-year in 2014, and analysts believe another ~15% gain was in store for 2014. This large merger will boost the combined entity's long-term growth significantly. It will be interesting to see how analysts factor in the acquisition of QR Energy into their growth prospects in the weeks ahead.
Yield Opportunities:
BreitBurn had already doubled its operational cash flow since the end of FY2011, and I would look for this latest acquisition to accelerate that growth. Before the merger, the entity paid an annual distribution payout of $1.99 a unit, and if Wunderlich is correct, that will move to $2.08 a unit after merger closes. This payment is made on a monthly basis since earlier in the year when the company moved from a quarterly payout. At its current stock price of ~$21.75 a unit, this equates to over 9.5% annually.
Finally, Global Hunter and RBC Capital had come out with positive comments/rating on BreitBurn over the last month before the announcement of the acquisition. I expect this acquisition will be positive for their outlook on BreitBurn. I actioned the dip on BBEP on the merger announcement to pick up shares on this high-yielder, and I offer it to income investors for consideration. ACCUMULATE.
Disclosure: The author is long BBEP. The author wrote this article themselves, and it expresses their own opinions. The author is not receiving compensation for it (other than from Seeking Alpha). The author has no business relationship with any company whose stock is mentioned in this article.