I reiterate my bullish rating on AT&T (NYSE:T). The company continues to deliver a solid financial performance, despite the competitive industry environment. The company reported strong postpaid subscriber additions and an improved churn for the wireless segment in 2Q14. The company's initiatives, like the equipment installment plan and competitive pricing, continue to strengthen its subscriber base. However, top and bottom line growth is soft due to competitive pricing. Also, in 2Q14, the wireline segment's consumer revenue benefited from optimization of U-Verse. Moreover, despite the current ongoing capital expenditure to strengthen and expand network coverage, T's attractive dividend yield of 5.20% is sustainable, as it is covered by its solid cash flows.
Wireless
As the wireless segment of the U.S. telecom industry remains competitive, carriers have opted to drive subscriber growth through better services, competitive pricing and attractive equipment installment plans. The company also is following the industry dynamic, and recently introduced the NEXT plan, which allows customers to trade their phones after every 18 months and pay over a period of 20-26 months with no down payments. Although the company's major rival, Verizon (NYSE:VZ) also introduced a similar device payment plan, EDGE, the penetration rate of T's NEXT (as percentage of smartphone sales) was 50% in 2Q14, as compared to VZ's penetration of only 18%.
In fact, the effective pricing initiatives under the Mobile Share Value (MSV) plan increased smartphone upgrades on NEXT and also resulted in an addition of 1.026 million postpaid subscribers in 2Q14. Moreover, these pricing initiatives meant to keep investors satisfied increased consumer confidence in T, which effectively lowered the company's churn to a historical low of 0.86% in 2Q14. I believe that with the combination of NEXT and MSV, the company will sustain the low churn in coming quarters. Also, the success of the company's recent plans like NEXT is evident from the fact that T's equipment revenue grew 44.8% year-over-year in 2Q14.
The company's competitive pricing might keep its ARPU under pressure in the near term, however, continuous upgrades to the NEXT plan will portend well for the ARPU. Also, I believe more data consumption will positively impact the company's ARPU in the long term. The following table shows T's wireless service revenues, equipment revenues, ARPU and churn for the last six quarters.
| | | | | | | |
| --- | --- | --- | --- | --- | --- | --- |
| | 1Q13 | 2Q13 | 3Q13 | 4Q13 | 1Q14 | 2Q14 |
| Service Revenue (Y-O-Y Growth) | 3.4% | 4.1% | 3.7% | 4.8% | 2.2% | (1.4%) |
| Equipment Revenue (Y-O-Y Growth) | 3.8% | 21% | 17% | 3.1% | 52.2% | 44.8% |
| Postpaid ARPU (Y-O-Y Growth) | 0.9% | 1.3% | 1.5% | 2.1% | (1.6%) | (9.6%) |
| Churn | 1.04% | 1.02% | 1.07% | 1.11% | 1.07% | 0.86% |
Source: Company's Quarterly Earnings Report
Competitive pricing to attract subscribers and address competition is weighing on the company's EBITDA margin, as EBITDA margin for 2Q14 dropped to 42.6%, as compared to 45.4% in 1Q14. Moreover, the company ramped up its advertising activities, in response to its peers' competitive activities, which also adversely affected EBITDA margin for the quarter. I believe competitive pricing and competitive activities will continue to pressure ARPU and EBITDA margin in the short term, but will continue to strengthen T's subscriber base.
Wireline
In the wireline segment, the company has been effectively rolling out its U-verse technology, under the project VIP, which continued to add subscribers for the segment. U-verse pay TV subscribers increased by 190,000 to 5.9 million, which outpaced VZ's pay TV subscriber adds of only 100,000 in 2Q14. With a steady gain in the subscriber base, total U-verse revenue is growing approximately by 25% year-over-year. Moreover, the company has been enhancing the speed of its U-verse broadband service, and it has been successful in offering a 45mbps broadband speed package to 70% of its broadband subscriber base.
Moreover, to support its wireline segment growth, T is effectively expanding its TV and video services through bundle offers. As the TV and video service bundle offers have been generating growth for the company's wireline TV and video subscriber base, T expects to expand U-verse broadband by bundling it with other broadband services. In addition, T's initiative to deploy ultra-fast broadband services of U-verse with GigaPower has been portending well for revenues. Going forward, the company expects to deploy U-verse with GigaPower in more areas, which will help grow the U-verse broadband subscriber base and revenues. The following map shows the areas currently covered by the company's GigaPower.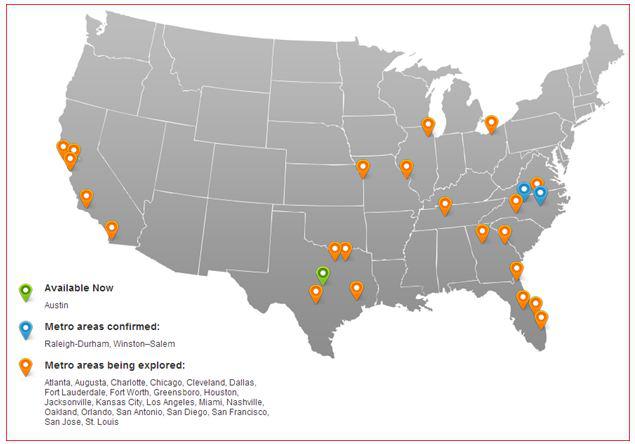 Source: Company Website
Strong Cash Flows = Secure Dividends
The company's strong cash flows have been supporting dividends. Currently, T offers a high dividend yield of 5.2%, which is backed by its healthy free cash flow yield of approximately 7%. Also, T is on track to achieving its $11 billion target for free cash flows for FY14, as it managed to report free cash flows of $5.1 billion and dividend payments of $4.8 billion year-to-date. And also, the company continued to repurchase shares aggressively to fuel EPS growth. In 2Q14, the company returned $159 million cash to its shareholders through share repurchases. As the company has been consistently sharing its successes with shareholders through dividends and share repurchases, I believe the stock remains a good investment option for dividend/value investors.
Conclusion
As the industry environment remains competitive, T has been taking the right measures to strengthen its subscriber base through the equipment installment plan and competitive pricing, which will portend well for its long-term performance. Moreover, the company's wireline VIP project is well on track to roll out U-verse technology in new metro areas. However, in the short term, APRU and margins are likely to remain under pressure due to competitive pricing and the expansion of U-verse. Consistent with the company's growth potential, analysts have projected a healthy growth rate of 5.47% for the next five years. Also, the company offers a high dividend yield of 5.2%, which makes it an attractive option for dividend investors.
Disclosure: The author has no positions in any stocks mentioned, and no plans to initiate any positions within the next 72 hours. The author wrote this article themselves, and it expresses their own opinions. The author is not receiving compensation for it (other than from Seeking Alpha). The author has no business relationship with any company whose stock is mentioned in this article.