As the world markets including the currency markets eagerly await the Fed's decision on further quantitative easing, the Australia's central bank unexpectedly raised interest rates yesterday fueling optimism in the global economic recovery. As a result the Australian dollar traded at its highest levels against the US dollar since 1982.
The RBA rate hike and hawkish statement gives some further upside potential for the AUD. Indeed, the RBA hiked by 25bps to 4.75%, which is consistent with the continued strong domestic data coming from Australia. RBA governor Stevens gave the impression that this hike is pre-emptive with modest inflation trends probably about to end.
Meanwhile analysts at BNP Paribas feel that AUD will stay supported from the positive readings of Chinese data. The AUD has been correlated to the Chinese PMI, which has rebounded strongly over the past couple of months, and analysts maintain their bullish AUD positions looking for AUDUSD to sustain a move above parity targeting the 1.02 area. BNP Paribas experts also expect AUDNZD to continue to push higher.
AUDUSD Outlook
AUDUSD gained over a full cent to trade just under parity after the RBA surprised by delivering a 25 bps rate hike to 4.75%. In explanation for the hike, the RBA cited tight labor markets, a likely end to the recent moderation in inflation and, in an echo of Governor Stevens' comments from last month, the large expansionary shock from the high terms of trade. It also said that fears of a larger than expected slowing in Chinese growth have lessened recently.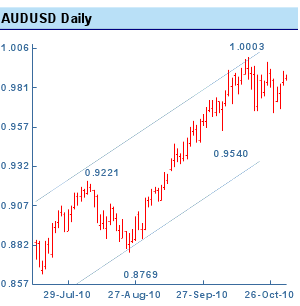 Yesterday's rate increases by the Australian and Indian central banks have served to highlight the fact that the Fed is now the only major central bank looking at further easing in the short-term.
Analysts at BNP Paribas have however questioned whether the move will have legs ahead of FOMC's final decision, as Investors are unlikely to add further to AUD risk. Fearing that Fed's decision may just run RBA hike out of steam, as another test of parity analysts expect AUD to struggle to break much beyond the previous highs of 1.0003 – at least until FOMC is out of the way.
Disclosure: No positions