Last year I spent some time exploring small and mid-sized dividend paying Canadian energy companies that are relatively unknown to US investors. One of these companies is Inter Pipeline (OTCPK:IPPLF) -- the dominant provider of oil sands transport services. In an article at the beginning of this year, I suggested Inter Pipeline would deliver annual total returns of 20% over the next 5 years and predicted these returns would be front-end loaded. Year-to-date the stock is up ~30%, yet still yields 3.9%.
Several recent catalysts have improved the company's outlook and the potential for continued growth in FFO and dividends:
Polaris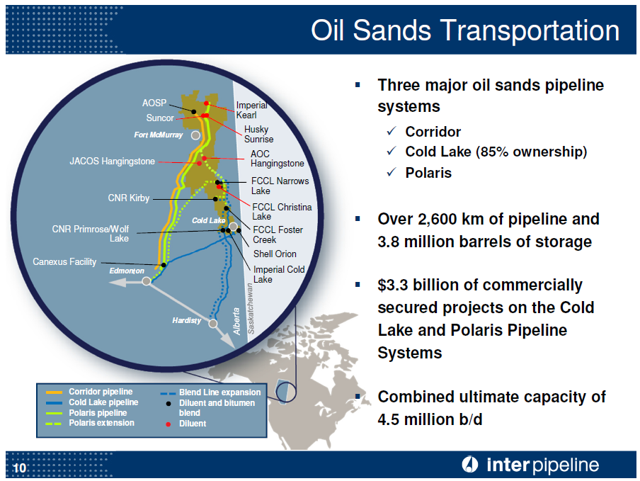 Completion of the Polaris pipeline Phase I expansion project is a big deal. The newly installed mainline and accompanying laterals account for roughly $1.1 billion of the estimated $1.4 billion total cost of the project. Phase I was placed into commercial service earlier this month and Inter Pipeline has begun generating cash flow under its 20-year diluent transport agreement with the Foster Creek Christina Lake Partnership ("FCCL"). FCCL is a business 50/50 joint venture between Cenovus Energy (NYSE:CVE) and ConocoPhillips (NYSE:COP).
A July presentation shows the impact of the Polaris expansion project on commercially secured EBITDA (the orange bar):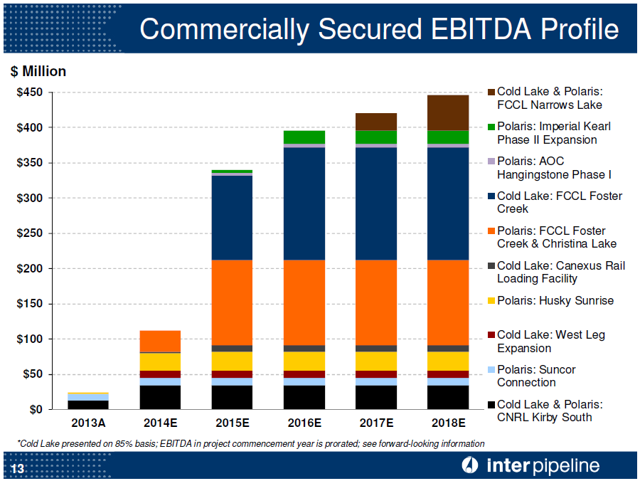 In total, Inter Pipeline expects to earn ~$130 million in annual EBITDA under the Polaris FCCL contract when the full expansion is in commercial service. It is important to compare this one project's contribution with full-year 2013 EBITDA of just over $600 million. It is also important to note on the chart above that the largest proportion of the increase in commercially secured EBITDA from these oil sands projects will be between 2014 and 2015. This is why my initial article predicted the majority of total returns (especially capital appreciation) would be near term as Mr. Market anticipates in advance the value of these secure, low risk, fee-based transport contracts.
Conventional Oil Pipelines
The $100 million expansion of the Mid-Saskatchewan pipeline gathering system is also a big deal from the perspective that the project is backed by commercially binding agreements. Five producers have entered into ship-or-pay contracts with terms ranging from 4 to 10 years. Inter Pipeline expects the expansion to enter commercial service in phases beginning late this year with the project fully completed by Q2 of 2015. Once the new pipelines are in service, ~95,000 bpd of new capacity will be added to the system. The new agreements are expected to generate ~$25-$30 million in incremental EBITDA on an annual basis.
The Hangingstone Project
Hangingstone is a jointly owned oil sands project between Japan Canada Oil Sands Limited ("JACOS") and Nexen Energy ULC, a wholly owned subsidiary of CNOOC (NYSE:CEO) Limited. JACOS has said that their initial stage of bitumen production is estimated to reach 20,000 bpd with the potential for future expansion.
Under the initial terms of the 20-year ship-or-pay diluent transport agreement, Inter Pipeline will provide 7,000 bpd of committed capacity on its Polaris pipeline system. Diluent transportation services will be provided through the existing Polaris 12-inch diameter diluent mainline. A new $25 million, 2 km pipeline lateral will connect Polaris to the Hangingstone oil sands facility. Construction of the new lateral is expected to begin in 2015 and enter into commercial service in mid-2016.
Excellent Access To Low-Cost Capital
The $900 million in notes Inter Pipeline recently issued were in two parcels:
$500 million in fixed interest rate (4.637%) 30-year notes.
$400 million in floating rate (3 month CDOR + 49 basis pts) 3-year notes.
Standard & Poor's Ratings Services and DBRS Limited have assigned preliminary credit ratings of BBB+ and BBB (high), respectively, to the notes.
The CDOR, or "Canadian Dealer Offered Rate," is currently ~1.25%, according to a chart from this Bank of Canada webpage: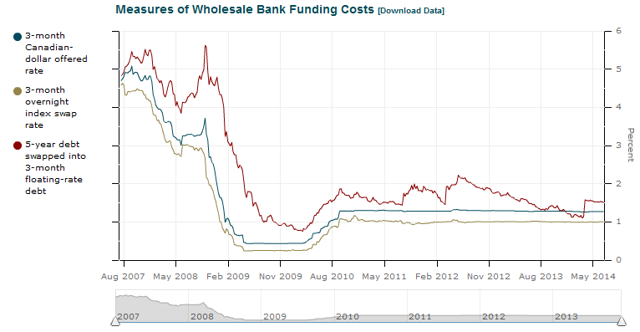 So these short- and long-term notes were issued at very advantageous rates. Of course, the US 10-year Treasury is currently trading at around 2.5%, so it is no surprise that practically the entire MLP space has continued its very bullish move. Here is a list of the top-10 MLPs' ETFs and their YTD returns: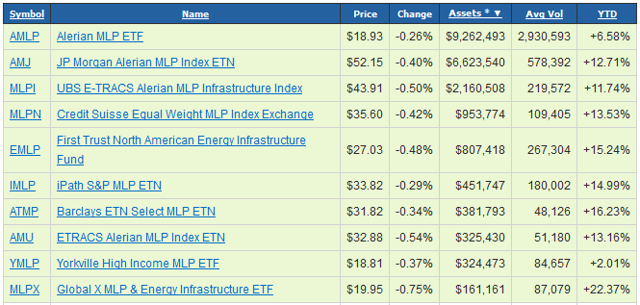 While the largest MLP ETF, the Alerian (NYSEARCA:AMLP) MLP, has obviously underperformed, the rest of the top-10 MLP ETF list has significantly outperformed the S&P 500's 8.5% YTD return.
While IPPLF is not an MLP (it is a dividend paying corporation), it shares many of the same fundamental business activities of energy MLPs, and benefits in two ways from the availability of low interest rate capital:
It makes the company's dividend yield more attractive.
Low-cost capital enables the company to grow its enterprise value via capital expansion funded at very desirable rates of return.
While higher interest rates could pressure the company (and the entire MLP space) going forward, IPPLF appears to have already locked in its short- and long-term funding requirements. Going forward, the completion of its existing expansion projects will deliver significant growth in FFO. As a result, the company should be able to increasingly finance significant capital projects from internally generated cash flow.
Risks
Considering Inter Pipeline is moving toward fee-based take-or-pay long-term contracts that are not tied to underlying commodity prices, and has ample access to low-cost capital, the primary risk facing the company is simply executing its expansion projects. On this basis, the company has an excellent long-term track record. This is one reason the company's credit terms are so favorable -- the other being that there is zero exploration risk when it comes to exploiting the oil sands.
From a long-term macro perspective, Canada appears to have lost patience with the US's Keystone-XL approval process and recently approved Enbridge's application to build the Northern Gateway pipeline. While there is environmental and legal opposition to this pipeline, its completion would bring 525,000 bpd of oil sands production to the West Coast of Canada for export to Asian markets. IPPLF is in an excellent position to deliver diluent to oil sands producers as well as to provide exit capacity transport service.
Competition
Inter Pipeline's competitors include Pembina Pipeline (NYSE:PBA) and TransCanada (NYSE:TRP). These are both quality companies. PBA is slightly larger than IPPLF. TransCanada is much bigger with 3x the market value. IPPLF's dividend yield is slightly higher than both these competitors. But IPPLF is a dominate player in Alberta as the company:
Gathers ~35% of Canadian oil sands production.
Transports ~15% of western Canadian conventional oil volumes.
Processes 40% of the natural gas exported from Alberta.
Yet at the end of the day, there is plenty enough pipeline infrastructure needed in Canada for all these companies to thrive over the long term. Oil sands production is expected to double by 2023 and demand for additional diluent capacity will also grow: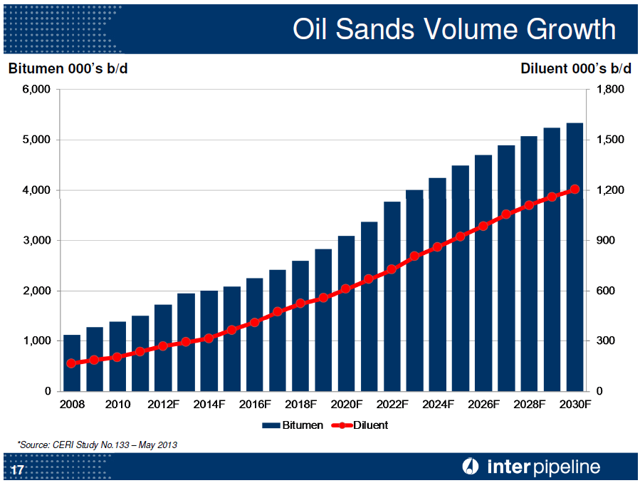 Opportunity
In my Seeking Alpha PRO article reporting on Inter Pipeline's excellent Q1 earnings report (FFO and net income both up 20% or more yoy), I mentioned IPPLF could grow EBITDA from 2013's ~$600 million to over $1 billion by the 2015/2016 time frame. Completion of Phase I of the Polaris Project, combined with the announcements of new long-term contracts and expansion projects, are good signs the company is on track to do so. In addition, the company's ability to raise capital at very attractive rates continues to be a positive catalyst.
If IPPLF does grow EBITDA to $1 billion by 2015/16, that implies a 67% improvement over full-year 2013. So while the stock has moved up 30% YTD, it would appear to me it could easily move another 30% over the next 12-months. And yes, this does take into account the 10.4 million share offering completed in March. This share offering was a minor 3.4% dilution of the 306.8 million shares outstanding as of 2013 year-end.
Dividends
Meanwhile, the company continues to pay a healthy monthly dividend that currently equates to 3.9% on an annual basis. As can be shown from the chart below, the dividend is growing, easily covered by FFO, and sustainable: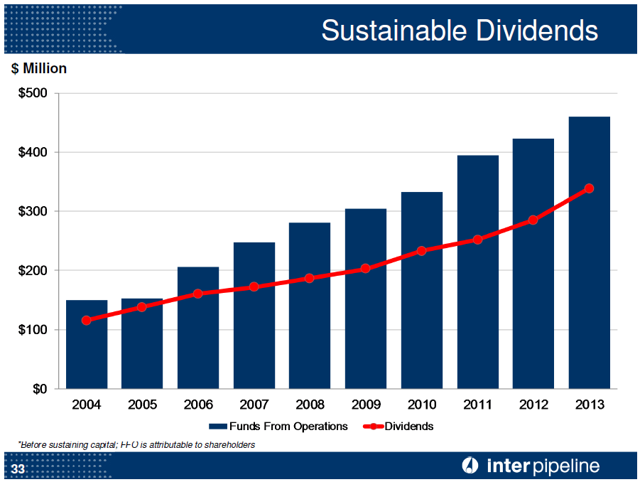 You can view the company's long-term dividend growth history here. Considering the company's long-term dividend growth track record, investors can safely assume the company's management will increase the dividend along with the expected growth in EBITDA as described in this article.
Additional Notes For US Investors
Inter Pipeline converted to a dividend paying corporation in September of last year. As a result, the company's monthly dividends are not subjected to the 15% Canadian foreign tax if US investors hold the stock in a qualified retirement account.
Inter Pipeline trades primarily on the Toronto Stock Exchange under the symbol IPL. It also trades in the US as IPPLF on the OTC market, though it is much less liquid -- watch the bid/ask closely when placing orders for Inter Pipeline on the OTC. If possible, I would suggest you buy the stock on the TSX.
IPL will report Q2 earnings on August 7. You can get information on the conference call and webcast here. I expect IPL will post excellent Q2 results and expect the stock to continue trading higher into the earnings report.
Yahoo Finance is not a good website to track small and mid-sized Canadian energy companies. For Inter Pipeline, please consider using this webpage from TMX Money: IPL.
Summary and Conclusion
I reiterate my STRONG BUY on Inter Pipeline. The company could easily gain another 30% by mid 2015 based on growth in EBITDA as explained in this article. Meantime, investors can bank the 3.9% dividend. I have a year-end price target of $36.50 on shares of IPPLF.

Disclosure: The author is long IPPLF, COP. The author wrote this article themselves, and it expresses their own opinions. The author is not receiving compensation for it (other than from Seeking Alpha). The author has no business relationship with any company whose stock is mentioned in this article.
Additional disclosure: I am an engineer, not a CFA. The information and data presented in this article were obtained from company documents and/or sources believed to be reliable, but have not been independently verified. Therefore, the author cannot guarantee their accuracy. Please do your own research and contact a qualified investment advisor. I am not responsible for investment decisions you make. Thanks for reading and good luck!
Editor's Note: This article discusses one or more securities that do not trade on a major U.S. exchange. Please be aware of the risks associated with these stocks.