DreamWorks Animation (NASDAQ:DWA) has struggled recently to match the success it had with franchises like "Shrek". In fact, all major studios have, as "Shrek" is still the highest grossing animated franchise. The search for the next big franchise has forced DreamWorks to spend "sequel money" (which I consider to be anything more than $140 million) on brand new, unproven films like "Mr. Peabody & Sherman" and "Rise of the Guardians", resulting in losses and write-offs. However, DreamWorks has a solid portfolio of content that should continue to bring in revenue while it strives to find growth.
Solid Core Portfolio Of Content
DreamWorks' recent write-offs have gotten a lot of attention, and rightly so. In my opinion, DreamWorks allocated too much capital into the production of unproven characters in films. Its budgets for the production of both "Mr. Peabody & Sherman" and "Rise of the Guardians" exceeded $145 million. This is probably in part due to the success of "How To Train Your Dragon", in which $165 million was invested, but that movie was heavily marketed which helped its success; I will touch on that a bit later. Despite these large profile flops, DreamWorks still has a portfolio of franchises that will help pull in revenue in the short term. "How To Train Your Dragon" and "The Croods" are still in their infancy and are extremely popular films. They should continue to bring in revenue for the next few years with sequels and possible spin-offs. Other franchises including Madagascar, Kung Fu Panda, and Shrek have seen continued success and have even expanded into multiple mediums. These five franchises will provide DreamWorks with a stable income for the next 2-4 years, at least, while the company searches for its next "Shrek".
DreamWorks' acquisition of Classic Media in 2012, re-branded to DreamWorks Classics, and their properties will also provide DreamWorks' with a consistent yearly income. The acquisition came with the licenses and intellectual property rights of Veggie Tales, Casper, Frosty, and Rudolph the Red-Nosed Reindeer, among others. As stated on its 2013 Annual Report, "Classic Media generates revenues from home entertainment sales, television and video licensing, licensing of intellectual property for sale or use (including consumer products, merchandise and live performance) and music publishing." As stated, the acquisition will allow DreamWorks to capitalize on the classic holiday characters through merchandise, licenses, broadcasting them on TV, or possibly seasonal showings on Netflix (NASDAQ:NFLX), Hulu Plus, Amazon Prime Video (NASDAQ:AMZN), or Yahoo Screen (NASDAQ:YHOO) (who have been aggressively building their video portfolio, recently signing on to provide the 6th season of the comedy sitcom, Community).
Stable Revenue. Poised For Growth.
Revenue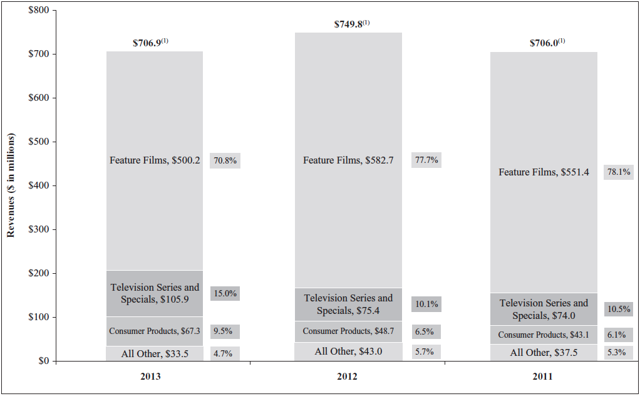 Revenue: Feature Films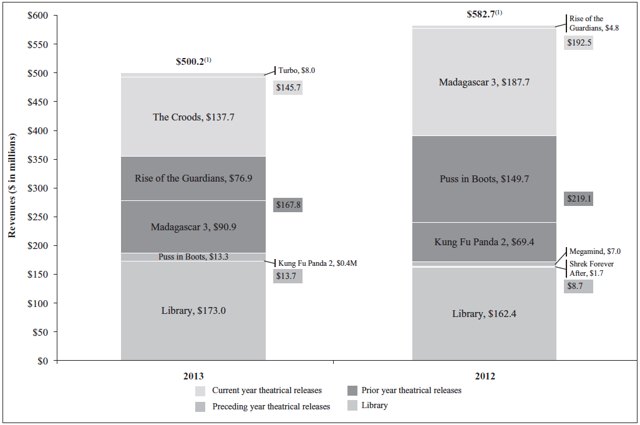 As depicted by the Revenue graph above provided on its 2013 Annual Report, DreamWorks Animation has seen fairly consistent revenues over the last 3 years. It averaged $720.9 million over that period, only varying by ± $29 million, which is fairly consistent for an animation company.
The Revenue graph also shows the impact of DreamWorks' acquisition of Classic Media and AwesomenessTV (also known as ATV). Classic Media's revenues contribute to the Television and Consumer Product segments, and ATV contributes to All Other. ATV was acquired in May so DreamWorks was not able to realize a full year of revenue. On the other hand, you can immediately see the impact of Classic Media on the company's revenue. Television, Series and Specials revenue increased by 40%, increasing its contribution to overall revenue by 5%; and Consumer Products revenue increased by 38%, increasing its contribution to overall revenue by over 3%.
The Feature Film segment was where DreamWorks fell short. The $87 million write-off of "Rise of the Guardian" took a hit on DreamWorks' bottom line. "Mr. Peabody & Sherman" will likely do the same this year. Be that as it may, it is not all bad. Given the increase in revenue provided by Classic Media, if DreamWorks can avoid major flops in its Feature Film segment, the company could realistically see its overall revenue increase 10-15% by year-end 2015.
Controlling Its Spending Habit; Focus On Marketing
With the hopeful success of its core franchises, including Dragon and Croods, DreamWorks should have sufficient capital to invest in sequels as well as new developments. However, DreamWorks cannot continue to dump money into unproven material. Movies are an expensive business to be in, and we all know the vast amount of cash computer generated content requires, but DreamWorks' bank account isn't the largest in the industry and it can't keep spending money like it is Disney (NYSE:DIS). Obviously, DreamWorks is not the sole provider of funding for its films, many other companies invest in these films as well; however, if its films fail to succeed, the potential funding for future films diminishes as well. Companies like Disney can afford to write off a few movies every year if forced to, DreamWorks cannot. Disney is a global brand with an impressive marketing ability and an even more impressive budget. DreamWorks has said it would change its cost structure for future films, effectively reducing the average cost of production. However, if DreamWorks can reallocate some of its production funds into aggressive marketing as well, it can hopefully see more of its new movies (non-sequels) succeed, and avoid write-offs. The slight problem with this is that nearly all of the marketing is done by the distributors DreamWorks partners with (i.e. Fox (NASDAQ:FOX), Paramount (subsidiary of Viacom (NYSE:VIA)). Nevertheless, a lower production cost and a stronger emphasis on marketing will better allow DreamWorks to see more profits.
Expand Distribution
Along with increasing its marketing emphasis, DreamWorks could benefit by expanding distribution on more of its content. Franchises like Shrek, Turbo, and Madagascar have spun off specific characters into episodic series, including "Puss in Boots", "Turbo F.A.S.T.", "The Penguins of Madagascar" (not to be confused with the upcoming movie "Penguins of Madagascar"), and "King Julian", available on Nickelodeon (owned by Viacom) or Netflix. A similar distribution for feature films would be very beneficial for the company. Instead of allowing films stay idle after their theater runs, DreamWorks could capitalize on the demand for new movies on online platforms by offering its products. Online steaming platforms do not like releasing costs for acquiring content, so it would be difficult to account for revenue increase, but considering DVD sales have been on the decline, this could make up for contracting DVD sales.
Also, with children having access to mobile streaming devices at a much younger age, streaming services like Netflix are trying to capitalize on this, even increasing their budget to acquire content directed towards children. DreamWorks has the content necessary to take advantage of this industry trend. Starting with "The Croods" and "Turbo", DreamWorks began releasing films on what it calls 'Subscription Video-on-Demand' (SVOD) platforms, specifically, Netflix, a year after their theater debuts. This is in part with agreements made with Netflix in 2013 to carry DreamWorks' films. The specifics of the release were not discussed in its Annual Report, but we can assume a similar SVOD release can be expected for some of its future productions. It may be with new future franchises only, as "How To Train Your Dragon" is not included on online streaming platforms, but we will have to see what it does with recent releases to better understand its plan for SVOD distribution.
Conclusion
Overall, I think DreamWorks has the building blocks in place for future growth. It has five core franchises that continue to bring in demand, and along with revenue from DreamWorks Classics and its episodic series, it should have sufficient funds for the creation of new content. However, the company needs to stop being quick to pull out the checkbook on every new endeavor but put focus on marketing and capitalize on distribution while there is heavy demand for new content, including children's content, in the market. If its new cost structure proves to be profitable, DreamWorks may be a solid long-term growth investment.
Disclosure: The author has no positions in any stocks mentioned, and no plans to initiate any positions within the next 72 hours. The author wrote this article themselves, and it expresses their own opinions. The author is not receiving compensation for it (other than from Seeking Alpha). The author has no business relationship with any company whose stock is mentioned in this article.