Debate About First Rate Hike Looms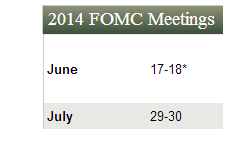 Even if you follow the markets from a distance, you know the Fed's near-zero interest rate policies have played a big role in the stock market's recent gains. Markets get jittery when the expression "first rate hike" starts to make the rounds. The Fed is due to release a policy statement on Wednesday, July 30. From The Wall Street Journal:
While Fed policy makers are unanimous on the bond-buying program, they are increasingly divided on when they expect to start raising short-term interest rates from near zero, where they have been since late 2008. "I am finding myself increasingly at odds with some of my respected colleagues at the policy table," Richard Fisher, president of the Federal Reserve Bank of Dallas, said in a speech earlier this month. He predicted the Fed could start raising rates by early 2015 "or potentially sooner."
Investors Having Second Thoughts?
Regular readers know we make decisions based on observable evidence, rather than predictions. The weekly charts of the broad NYSE Composite Index below provide an example of an observable shift in investor conviction.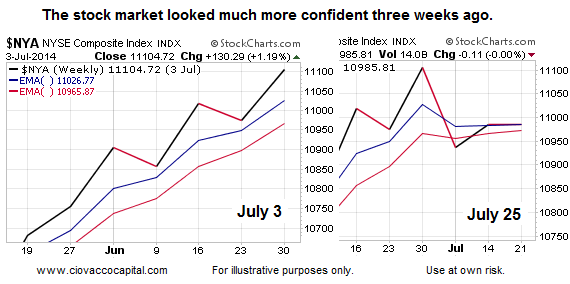 Can The Fed Keep Stepping Back?
When the Fed considers raising interest rates, or is in the midst of tapering, the question becomes can the economy stand on its own? A mixed report on the U.S. economy Friday did not clarify things for the economic bulls. From Reuters:
Shipments of these so-called core capital goods fell 1.0 percent. Core capital goods shipments are used to calculate equipment spending in the government's gross domestic product measurement. It was the third month of decline in shipments, prompting some economists to temper their second-quarter growth estimates. "The weak performance in core capital goods shipments during the quarter suggests that this segment of the economy is unlikely to contribute much to economic activity," said Millan Mulraine, deputy chief economist at TD Securities in New York.
What Is The Market Telling Us Now?
While it is far from time to panic, the market is not as confident as it was 20 calendar days ago. The bulls are still in control, but the odds of a stock market correction have increased a bit. This week's video compares confidence vs. concern as of Friday's close.
After you click play, use the button in the lower-right corner of the video player to view in full-screen mode. Hit Esc to exit full-screen mode.

While markets tend to get jittery during periods of Fed policy reversals, volatility has been tame in recent weeks. It is important to keep an eye on both the stock and bond markets in the coming weeks. A spike in interest rates could usher in a rough period for stocks and bonds similar to 1994.
Monthly Labor Report Coming Friday
The Fed will not be the only big event for investors in the coming week. The always-obsessed-about monthly labor report is due to be released before the opening bell Friday. From Bloomberg: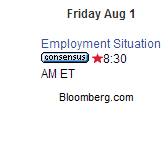 Employers probably added more than 200,000 jobs for a sixth consecutive month in July, according to the median estimate of 35 economists surveyed before nonfarm payrolls data due Aug. 1. "The payroll number is going to be strong," said Phyllis Papadavid, a senior global-currency strategist at BNP Paribas SA's corporate and investment-banking unit in London, on July 23. "That will underpin shifting expectations around the dollar for the second half of the year."
Investment Implications - Risk Management
Based on the evidence we have in hand, it is fair to say we remain about 80% confident and 20% concerned about equities. While the 80% figure is still encouraging, it is not as high as it was even a week ago. Therefore, we continue to hold U.S. stocks (NYSPY), and leading sectors, such as transportation (NYIYT). However, we reduced our stock exposure Friday and took a relatively small stake in bonds (NYTLT). Since rising rates are a concern, we kept some powder dry in the form of cash. We will enter next week with a flexible and open mind given the busy calendar of events. If we are willing to listen to the market's pricing mechanism, and allocate accordingly, managing risk and reward will be much easier in the weeks ahead.
Disclosure: The author is long SPY, IYT, TLT. The author wrote this article themselves, and it expresses their own opinions. The author is not receiving compensation for it. The author has no business relationship with any company whose stock is mentioned in this article.