Company Overview

RetailMeNot (NASDAQ:SALE) operates the largest digital coupon marketplace in the world. In 2013, the company generated about $3.5 billion in retailer sales from digital coupons on an estimated 590 million visitors to their domestic and global websites. The company recently reported about 16 million app downloads as mobile monetization continues to grow. The company operates the largest digital coupon marketplace in the United States with global operations in Canada, United Kingdom, Germany, Netherlands, and France. The company competes in the same space as Groupon (NASDAQ:GRPN) and Coupons.com (NASDAQ:COUP). However, RetailMeNot has turned the corner and became a profitable enterprise. Management is continuing the expansion with a close watch on maintaining profits.
After going public back in July 2013 at $21 per share, RetailMeNot traded up to a 52-week high of $48.18 before reversing direction in February 2014 and sliding to a 52-week low of $22.08 on July 10, 2014. The stock price was clearly ahead of earnings at $48.18, as earnings were in the red. But over the past 9 months, management has skillfully executed its plans to profitability and proven it is a strong contender in the digital coupon space with across the board growth and profits.
The company's current market cap is approximately $1.3 billion or 3.9 times gross revenues. This is about 2/3 less than the 12.2 times gross revenues we saw in February at $48 per share. Clearly, shares are selling at a huge discount at today's $24 to $25 range.
Improving Financials
Q2, 2014 earnings will be reported on Monday, August 4th after the market close. Analysts expect $0.17 EPS, but we could see earnings exceed guidance just as they have for the past two quarters. It appears the company's conservative guidance is beginning to payoff. Understating and over performing is the path of choice for now and I like that. We could see an upside surprise between $0.18 - $0.20 EPS for Q2 2014.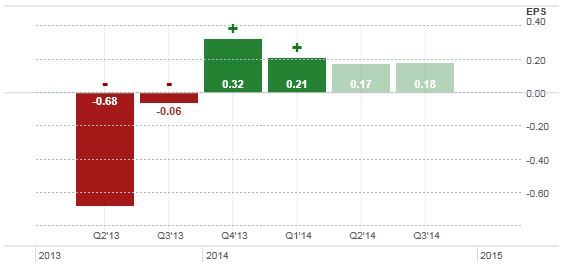 Institutional Ownership Increases
William O'Neil, founder of Investors Business Daily loved to speak about elephants getting in and out of bathtubs. The allegory goes something like this. When you see an elephant (institutional investor) get into the bathtub, join him. When the elephant gets out, you get out. The idea is that the elephant is privy to esoteric information that the average investor is not and it is undeniably a major event when an elephant gets in or out of a bathtub. Consider this investment strategy:
Don't chase bulls, follow elephants (RJ).
The following summary demonstrates that institutional ownership is on the rise and ownership is huge, 68.36%. While we have seen some profit taking by insiders and institutions, the elephants are herding in at a steady clip. Approximately 23 institutions exited their positions by selling about 842 thousand shares while 36 new institutions jumped in purchasing over 6 million shares. New shares purchased outnumbered sold shares 7 to 1. With over 145 institutional elephants in the bathtub and RetailMeNot trading just above its IPO price, the scenario is extremely compelling for upside gains.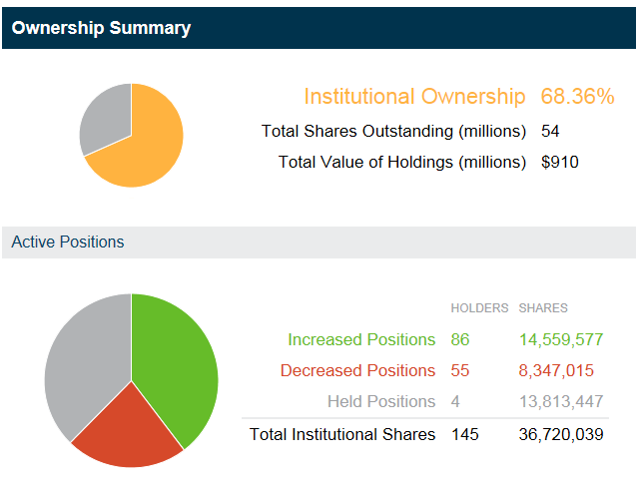 Fundamentals Continue To Look Strong
Management has succeeded in guiding the company into profitability and continues to see sequential growth through 2014. Let's review a few of the company's most recent achievements and highlights:
More than 70,000 retailers and brands.
Past two quarters produced better-than-expected earnings beating estimates by $0.02 in both quarters.
Net revenues grew 51% to $61.3 million and organic net revenues were up 47% in Q1.
Mobile net revenues of $9.3 million, or 127% growth were approximately 15% of net revenues.
International net revenues grew to $13.7 million or 55% and represent about 22% of net revenues.
Adjusted EBITDA was $21.4 million, or 17% and resulted in adjusted EBITDA margins of about 35%.
Gross margins were strong at 93% for Q1 2014 and should be strong in Q2 2014.
Cash and cash equivalents increased to $196.4 million.
How The Company Generates Revenue
RetailMeNot's revenues flow from coupon commissions, retail display advertising, socializing coupons, affiliate referral programs, and printable email coupons or printable website coupons. About 63% of their traffic flows from search engines, according to company information. More noticeably, is the fact that the company is turning a profit -- something that Groupon and Coupons.com is struggling to figure out.
Price Projections, Risk and Analysts' Ratings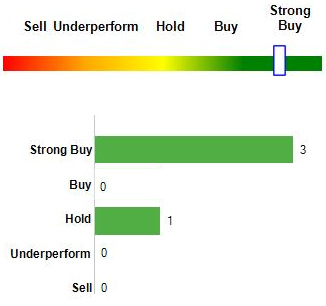 Goldman Sachs, (NYSE:GS), Jefferies, and William Blair have Strong Buy ratings over at the NASDAQ. Goldman, one of the lead underwriters of the company's IPO, has raised its previous $40 PT to $44 PT on the company's shares according to an article published in the Wall Street Journal. Conversely, Stifel Nicolaus (NYSE:SF) lowered their rating to a Hold (see "Downside" below).
Obviously, historical charts and ratings cannot predict future price movement, but they do provide valuable insight and psychological inflection points for the astute investor. Look for the elephants to begin exiting around the $41 range as they drive the price to $44.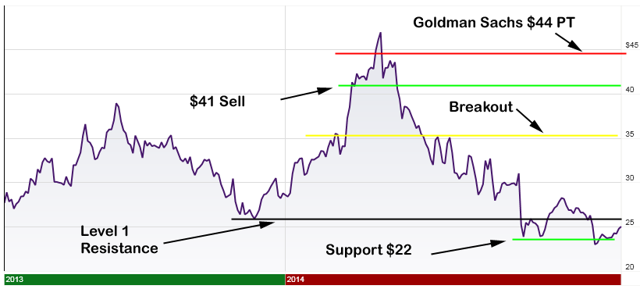 Downside
RetailMeNot's shares plunged nearly 20% on May 22, 2014 after Google's (NASDAQ:GOOG) Panda 4.0 algorithm upgrade temporarily scared the market. RetailMeNot immediately issued a press release stating the "reports greatly overstate the impact."
The company believes these reports greatly overstate the impact on RetailMeNot.com. Over RetailMeNot's history, search engines have periodically implemented algorithm changes that have caused traffic to fluctuate. It is too early to judge any potential impact of the latest Google algorithm change. While RetailMeNot's traffic with Google continues to grow year-over-year, the company has experienced some shift in rankings and traffic. The company continues to believe its focus on content quality and user experience will continue to help grow the business, enable consumers to save money and drive retailer sales.
I agree with the company, the reports are skewed. The market has overreacted to what may prove to be a nonevent. I searched for "discount coupons" on Google and the results show RetailMeNot in the number 3 and 4 position out of 62.3 million results.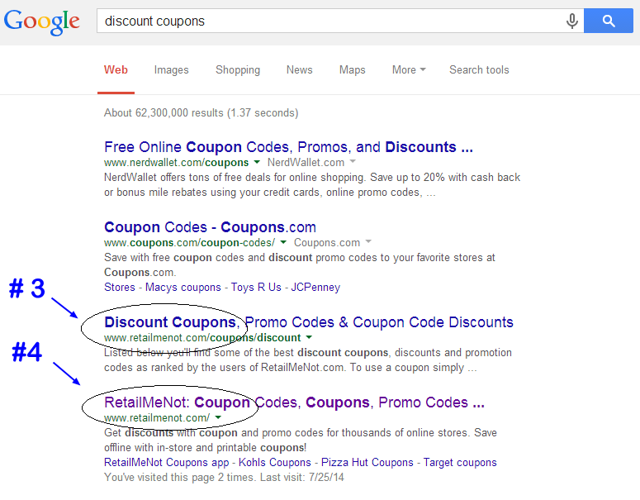 It should be noted here that Stifel analyst Jordan Rohan, changed his rating from a Buy to a Hold. Rohan's knee-jerk reaction is viewed as an overreaction.
Conclusion
Since going public, the company has increased its cash and cash equivalents to $196.4 million, consumers to 590 million, retailers and brands to 70 thousand and turned profitable ahead of its competitors. With a $44 price target on the horizon, the risk-reward ratio is just too compelling to sit on the sideline.
Disclosure: The author is long SALE. The author wrote this article themselves, and it expresses their own opinions. The author is not receiving compensation for it (other than from Seeking Alpha). The author has no business relationship with any company whose stock is mentioned in this article.